MTB Race Nights Round 1
Local racing starts right in Nottingham
Free entry for under-12s proves a hit for first round of the MTB Race Nights, held Friday June 12.
Words and Photography: Jenny Gretton
Friday June 12th saw a fantastic night of racing in the first of the Mtb race nights at Bingham Leisure Centre in Nottingham. The course featured a spectator friendly start/finish arena, short bank climbs, single track and technical cambered sections and was very well received by the competitors.
As a result of the recent School program activity in Nottinghamshire by Go-Ride Coach Steve Crosland, and the local youth coaching activity delivered by Nottingham Clarion & Witham Wheelers, there was a good turnout of enthusiastic riders for the U12 event.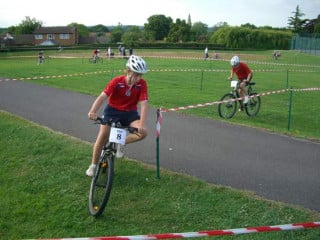 The under-12 racing was a hit
Ben Addlesee (Witham Wheelers) had a great start and led the race as they headed through the 'S' bends and out of the arena towards the tennis court climb. Heading back towards the arena, Ben took a great line through the descent in the trees, with team mates Carl Jennings and Reece Egner just behind him. The only rider close enough to challenge Ben throughout the race was team mate Carl Jennings who briefly took the lead when Ben suffered a mechanical problem at the end of the first lap. However, Ben recovered and came back strongly to regain the lead at half distance and hold it all the way to the finish to take a great win in his first MTB race. Meanwhile Josh Snodin (Melton Olympic) was steadily making his way through the field, picking off riders one at a time to eventually claim 3rd place.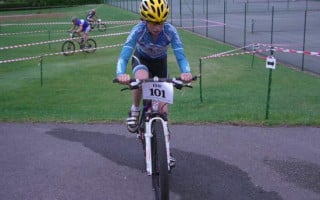 Jack Poole in action on his way to the Youth win
In the Youth event, Jake Poole (Velo Club Lincoln) led from the start and continued to put time in to second placed rider Peter Cocker (Witham Wheelers) who was eventually forced to retire from the race with a snapped chain. This meant Ashley Money (Witham Wheelers) came through to claim second place, with Gabriel Bird (Nottingham Clarion) taking 3rd.
By the end of the first lap in the Senior race, a lead group of 6 riders had formed, containing Philip Roach (Rugby Velo), Joe Peake (TSW Cycles), Leigh Andrews and James Shaw (www.zepnat.com) Damian Baker (Lincoln Wheelers) and Gareth Whittall (Beauvale CC).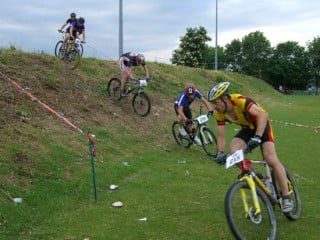 Joe Peake was very active at the front of this group early on, causing James Shaw to loose contact with the leaders after 20mins of racing and dropping back to a small chasing group containing Robert Howden (Beauvale CC) and Steve Poole (www.zepnat.com).
After almost 50 minutes of racing, Damian Baker attacked the leading group and went clear on his own. At this point Joe Peake lost contact with the lead group, leaving a chasing group of just three. Baker continued to extend his lead, up to a maximum of 18 seconds advantage. At the bell, Gareth Whittall went clear and held his lead throughout the final lap to finish 2nd, with Philip Roach 3rd and Leigh Andrews 4th. Behind them, Joe Peake held on to 5th place and first Junior, followed by Robert Howden who'd left the chasing group to finish on his own for
6th place.
It was a great night's racing and the course at Cotgrave Country Park next Friday (19th June) promises to be even better.
Entries are on the night & race times are as follows:
U12's 10mins 6.45pm FREE Entry
Youth 30mins 7.00pm £5.00
Senior/Junior 1hr 7.45pm £8.00
For more information go to www.vcnotts.com/mtbracenights
RESULTS
U12
1st Ben Addlesee Witham Wheelers
2nd Carl Jennings Witham Wheelers
3rd Josh Snodin Melton Olympic
4th Reece Egner Witham Wheelers
5th Daniel Conejewski Witham Wheelers
6th Karl Baillie Witham Wheelers
7th James Swadling Nottingham Clarion
8th Tom Dussell 4 Life Tri
9th Matthew Coughtrey
10th George Mitchell Witham Wheelers
11th Chris James
12th Ellen Baker Nottingham Clarion
13th Callum Hancock Nottingham Clarion
14th Guy Jenkins SCC
15th Katie Brown Nottingham Clarion
16th Clementine Bird Nottingham Clarion
17th Adam Shaw
Youth
1st Jake Poole Velo Club Lincoln
2nd Ashley Money Witham Wheelers
3rd Gabriel Bird Nottingham Clarion
Senior
1st Damian Baker Lincoln Wheelers
2nd Gareth Whittall Beauvale CC
3rd Philip Roach Rugby Velo
4th Leigh Andrews (U23) www.zepnat.com
5th Joe Peake (J) TSW Cycles
6th Robert Howden Beauvale CC
7th James Shaw www.zepnat.com
8th Steve Poole www.zepnat.com
9th Pete Harris Pearce Cycles
10th @ 1 lap David Perry Go Sports Spex RT
11th Simon Watts www.zepnat.com
12th Dean Hughes 4 Life Tri
13th Mike Woodward Velo Club Nottingham
14th Tom Sleet (J)
15th Jake Poole (Y) Velo Club Lincoln
16th @ 2 laps Sam Parker (J) 4 Life Tri
17th Dave Gretton Velo Club Nottingham
18th Andy Jackson Tonge CC
19th Darren Fisher