Interview: XC Racing By The Dozen - Event Management With Martyn Salt
Currently organising the British Mountain Bike Series, Twentyfour12 and the Soggy Bottoms Martyn Salt has spearheaded a new culture in mountain bike racing. Luke Webber discovers the difference to professional event organisation.
Words and Photography: Luke Webber
In the past ten years, race organisation has undergone a revolution. What started with Pat Adams' Mountain Mayhem in 1998, suddenly raised every mountain bikers' expectation of what was needed to create a 21st century production. Sprawling trade villages, extended sponsor support and sideline events within the main race rapidly became de rigueur and races which previously had a monopoly were losing numbers.
An onset of foot and mouth was enough to break many local scenes whose organisers were running out of money and reasons why it was worth racing, when for no entry fee riders could enjoy trail centres with purpose built waymarked routes and a centre with homemade local food at reasonable prices.
With a backlash in the mountain bike press already raging, the dawn of the 'XC Jeyboy' and little international success to shout about, cross country was becoming the most unfashionable form of cycling. With their underground labyrinth of systematic drug deals, even roadies were perceived cooler and for many, the identity of mountain biking was being redefined.
NEW SCHOOL, NEW RULES
Meanwhile, somewhere in Marjons College, Plymouth a disillusioned retail manager turned mature student was planning a career move. Somewhen during a lecture for Physical Recreation and Community Studies Martyn Salt volunteered to help out at Newnham Park during the 1998 Mountain Bike World Cup - a move which would eventually see a summer job transform into a role as event manager; all whilst completing said degree.
This impressive start would set Salt's direction over the next decade to become one of the most renowned mountain bike race organisers in the UK, and more astonishing for a scene awash with budding amateurs was that the man from Plymouth held no initial interest in the sport. It wasn't until the following year that mountain biking as a spectacle made sense, as he explained.
"One job was ferrying the press and VIPs to the Pipeline descent and there were thousands there, it was dusty, it was going off; Nick Craig led them over the top - it was hairs on the back of your neck stuff. That one lap really bit me and I changed direction. I wanted to get involved in sport and do something more varied and this was it."
A NEW REALITY
Unfortunately, not every event or opportunity would be as lucrative or well supported as the World Cup and quickly discovering the realities, limitations and possibilities of mountain biking as a sporting event was essential for any newcomer. More importantly however the experience of managing a World Cup on local ground would establish a route into providing a totally original Martyn Salt production.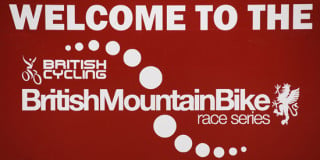 In 2004 the British Mountain Bike Series was the platform and with title sponsor Trek on board Salt could take a long-term view on the progression of XC racing in Britain. Though if you thought that meant taking the money of a sure-fire deal you'd be wide of the mark.
"There has always been a stigma about event organisers making a living, but for the first two years of the National Series I made no money. That is pretty hard to justify to a wife and child who need supporting, especially when that includes working twelve hour days through winter in a car door factory to stay alive. I think a lot of people believe it is easier that it looks. We came in off the back of foot and mouth and had to go from scratch. We were very lucky to get sponsorship from Trek and put a long term plan in place and every year increased participation by 15-20%."
Such gains were influenced by the introduction of weekend-long racing with XC on Saturday and the ever-popular Marathon format on the Sunday. This both raised the perception of good value racing, a weekend atmosphere and served to reintroduce riders back to XC under the more acceptable marathon banner. With such success it started to figure that being detached from competitive level cycling was not a disadvantage.
NEW DIRECTION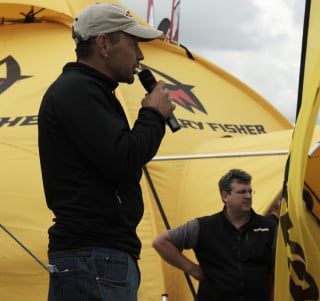 Bringing big names to endorse big events has been key to Salt's success. Above, Keith Bontrager takes the mic at Twentyfour12; below Olympians Oli Beckingsale, Robin Seymour and Liam Killeen wait under a watchful eye.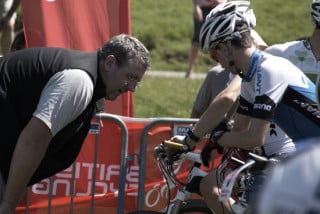 By his own admission Martyn is a bit of an obsessive, attending various events which for some are the highlights of the year but for a self-confessed "typical Virgo" is just another part of the job. But despite the success of the British Mountain Bike Series from 2004-2007, the following year would see a change of priorities.
"The reason we didn't renew for 2008 was that we weren't able to get the right answers from everyone involved in the series to renew for a further three years. People were stalling and with my family increasing in size I didn't have time to wait around. At the same time Trek had some interesting new event ideas they wanted to develop and they were prepared to commit so for the sake of security I followed that lead."
A year of experimental events was a big step away from attracting the biggest names to UCI class races, but with Twentyfour12 a cult classic thanks to a series of adventurous courses, Salt retained credibility. Even with these successes though, it was still obvious that this was an incomplete set and when in July 2008 British Cycling made the approach to secure Salt's services there was little hesitation.
"I knew I wanted to do it, but needed to know how committed British Cycling were about stepping up to a level I'd be happy at. We said 'no' a couple of times because all the momentum we'd created was gone. Under different organisers the numbers were poor in 2008 and the recession was bad news; it was scary and took a big amount of thinking. You need to know you have the opportunity to make a living or you need to go get a job. When you have two kids and a house it is real."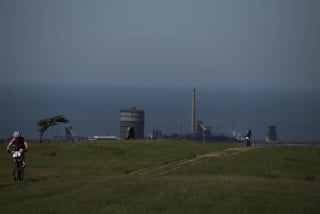 But just as in 2004, Salt knew the way to bring back a struggling event that should have been the most prestigious on the domestic calendar.
"The raw test is to ask the family whether they would like to spend some time at a venue because most racers like to make a weekend out of it and being able to bring along the kids and partner makes that decision easier. Sherwood, Margam and Newnham are great venues and the reason why we keep returning. As for race structure we introduced shorter courses closer to the arena, UCI events, more promotion, Sunday races with no enduro (as they had ran their time) but instead weekenders with already established Sunday races - like the Marathon Championships."
RIGHTING WRONGS AND NEWFOUND SUPPORT
Two areas that most mountain bikers continued to hit back on however were the most contentious. Funding and support from a National Governing Body which seemed to be out of touch was the first, but Martyn was fast to explain that although not common knowledge British Cycling had stepped up to the mark in 2009 as never before.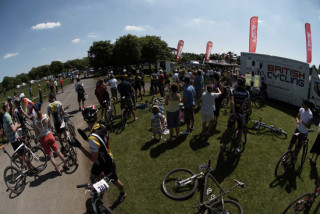 "I don't think people fully realise the support given to mountain biking by them (British Cycling) - something which is due to either lack of communication or gross modesty, I'm unsure which. There has been a five-figure investment into the series - they are the headline sponsor, without the headline. That means other sponsors can be freed up to cover different areas. This on top of supporting young riders on development plans from a local level up, the whole background of that and how many people it takes. Within the organisation it seems there are a lot more people supporting the cause, especially when as an organiser you are serious about doing UCI races to build for 2012. Roger Wilbraham has been a great contact along with others who want to see a strong series and potential English World Cup."
The second bone of contention was based on the nature of the courses, especially the flats of Thetford and Sherwood and surprisingly this criticism was not something that Martyn takes to well.
"If one person from 500 complains on a weekend, it will be the complaint that sticks in my mind and I suppose that's the nature of event organisation. I'm pretty thin-skinned really but you have to keep perspective. There are a lot of courses that the hardcore love but generally people won't show. You have to play devils advocate, there are some great courses but first you have to choose somewhere that will be financially viable to race at. When we have raced in Scotland before the numbers are low, they already have their own successful national series and it seems the appetite for our racing isn't there. Our signature to racing is looking at more than just the track. I try to get opinions on where nice places to go are, where people would want to come even if there was no bike race."
This level of commitment and development would be seen in two very different ways at rounds one and two of the all-new British Mountain Bike Series. Sherwood was a sellout event - something Salt still can't give a definitive reason for - while Dalby set a new standard to which all following courses would be judged.
"Dalby raised the bar, not only because of the course which cost over £100,000 to create but also because we did a lot of local publicity for that race to get people coming to the event. A lot of riders were prepared to travel, there was international competition and it made for a great weekend. Should the bid be successful I can't wait to take the event on to its full potential. As for Sherwood, it was the first time ever we turned away entries. We don't know for sure why the extra riders were there but it was a nice surprise. It is important if you do the event to try and get the support and a culture of mountain bike racing. To change the view that racing is not a dirty word. As much as people con themselves about racing in a Merida it is just a leisure ride; still everyone wants to know the results. There is no better test than at XC."
BYSTANTER TO EVANGELIST
This bold attitude is surmised no greater than by the monster only known as XCRacer. The website created by Salt as the home of XC racing in the UK was done with no outside funding at first and because of an anger at the misrepresentation of the side of mountain biking the rookie event organiser had seen in 1998 at Plymouth.
"Creating the site was about making a home for racing - not just a home for my events. We could still do loads more but it is too much time and money right now. I like the fact that if I don't like it I am in control and can put a stop to it. We have 6000 members and it is totally out of control, I could spend all day and night updating as we are sent a constant stream of emails from readers and organisers who want to promote their events through the site."
Perhaps the proudest moment would come in 2007 though, when pressure from members - including many notables in the sport - came out and supported a petition to get more British riders selected for the World Championships at Fort William following a low amount of riders being selected by British Cycling, despite a full allocation of potential places at the biggest International mountain bike race Britain had ever seen. This protest resulted in several more riders and three women selected onto a team with a previous count of zero. It was a serious show of power from a site that had been considered as niche and negligible.
EARNING THE RIGHT
A site which can at times, be seen to treat those in power with disregard, which is edited by the organiser of the British Series, that would not be possible without the support of British Cycling sounds like a recipe for disaster. But with a resurgent National scene recreated in little over six months, a World Cup bid in process and the fourth edition of Twentyfour12 imminent 2009 is a packed calendar and there is full confidence in Martyn Salt from riders and officials alike. Already talks are on for 2010 and beyond with a view to continuing the British Mountain Bike Series through to 2012 and along the way Martyn hopes to create a few more originals to keep the riders excited.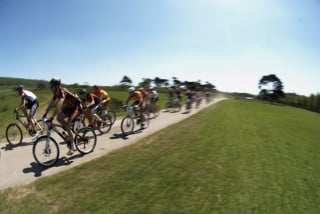 "I'd like to think that we have a successful real business running events - but that is partly down to doing a lot of them and also thanks to the riders that keep coming back and growing the sport. It proves we must be doing something right. Ultimately your success is only there if the people come. I don't feel embarrassed about earning money from it now and to reinvest with a possible HC event and even a street race would be great."
And even though the aims are high, there are still the basics to focus on though and according to Martyn, that doesn't change from Soggy Bottom to World Cup.
"There aren't ten steps to getting a good event - probably more like 100 ever-changing ones. There are some things that are the same but those are only the basics. It is the scale and the detail that changes. Ultimately you surround yourself with good people who are happy to do the proper job, while taking on any job no matter how high up the chain you are. On Monday morning after Sherwood I spent half a day picking up discarded gel packets. There are certainly easier ways to earn more money, but it would not be so much fun along the way."