Above: Brendan Fairclough in celebratory mood
Above: The hotseat leader sitting pretty on the Descent Gear potty, atop the Monster Energy truck.
Helen Gaskell maintained her stranglehold on the Elite Women's series, winning by some four seconds from Katy Curd, with world number one Sabrina Jonnier surprisingly back in third - neither she nor Mio Sumasa got to grips with the tough new typically British course.
Brendan Fairclough, who has had a much more consistent season this year, made mincemeat of the rest of the entry in winning the Elite Men's race. The Specialized/Monster rider was over four seconds clear of runner up Joseph Smith, with Rich Thomas having one of his best rides to date, claiming third.
Above: Riders emerged into blazing sunshine at the bottom of the course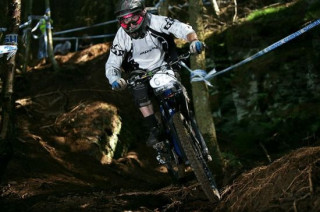 Above: A rider negotiates the ultra technical top section of the course
The Expert race saw another rider who missed the opener making an impact as Scott Mears narrowly edged out Alex Stock for the win in one of the closest fought races of the day. Alex Bond was third with round one winner Jack Reading having a troubled run ending up 39th.

In the Senior Men's race, Kurt Brain, who didn't race the opening round, made an impact in round two with a convincing win over Oliver Burton, who was the winner at Ae Forest.

Manon Carpenter made it a fine double for her family, backing up dad Jason's win in the Vets' race with a second successive win in the women's race - once again she had plenty in hand over the best of the rest, with Monet Adams claiming second, some 20 seconds down.
Above: Nice Helmet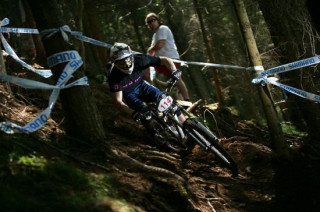 Above: Sunlight streams through the trees as a rider negotiates a rooty off camber corner
Chris Akrigg took the Masters' race by two seconds from first round winner Joe Bishop, with Dave List claiming his second third place of the series.
The Juvenile Men's race went to Ross Wilcox, who blitzed round one winner George Gannicott to the tune of almost 6 seconds. Meanwhile, in the Youth race, Lewis Buchanan made it two wins on the trot, and with his main rivals all inconsistent at the moment, he looks like any early favourite for the series.
The Junior race was another to see a shake up, with Aussie Tomac rider Rhys Willemse claiming the win from Gareth Brewin, who didn't score at the first round. Brad Mather was another mover, improving vastly on his 13th at Ae forest with third. Ae winner Arran Gannicott could only finish 6th.
Jason Carpenter's been on the scene for years - he is a Vet after all - and in many guises, ranging from organizer to track builder, but it was as a rider he made an impact at Llangollen, winning the Vets' race by two clear seconds from Darren Howarth. Round one winner, Stevie Boyd, was fourth, behind Gary Burns.
Above: Downhilling - it's an emotional thing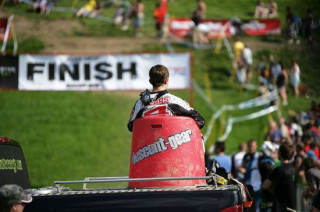 Results
Race 1 Juvenile Men Descent-Gear.Com
1 Ross WILCOX I-Cycles 02:38.0
2 George GANNICOTT Icycles/Inners MTB 02:43.6
3 Stuart WILCOX I-Cycles 02:46.7
4 James GIBSON Bike Nutz/TIW 02:50.2
5 Philip ATWILL 02:50.3
6 Callum MOSES PS Cycles/Cwmdown 03:16.7
7 Fraser LEADBETTER Last Bikes/FUNN 04:07.1

Race 2 Youth Men Lizard Skins
1 Lewis BUCHANAN Empire Cycles 02:05.7
2 Mark SCOTT All Terrain Cycles 02:10.6
3 Fraser McGLONE All Terrain Cycles 02:21.1
4 Moss MACRINER Kustom Bikes 02:22.5
5 George BELK W Homer Cycles 02:24.9
6 Nathan MILLION 4 Mountains 02:28.4
7 Jim SHAW W Homer Cycles 02:28.9
8 Sam FLOCKHART MSC Bikes 02:29.6
9 Brandon LOVE 02:31.5
10 Mathew SCOTT Gala CC 02:31.7
11 David KYNASTON 02:32.3
12 Mathew STUTTARD 02:34.5
13 Gregor NOTMAN 02:39.0
14 Benjamin WILLIAMSON 02:39.9
15 Billy MATHEWS Peaty Syndicate 02:40.4
16 Joe CONNELL Alpine Bikes 02:40.9
17 Isaac ANDERSON UK Bike Park/Torico Bikes 02:45.1
18 Josh LEWIS Peaty Syndicate 02:45.2
19 Michael TURNBULL Walkers Cycling 02:50.6
20 Sam WAKEFIELD 02:50.7
21 Alex GLASS 2 Stage Bikes 03:00.6
22 Jacob RUDDOCK 03:10.4
23 Clavin ROGERS Ukbikepark.Com 03:23.7
24 Gavin CARROLL Bike.Ie/Arkwood 03:31.6
25 William MAPSTONE 03:38.1
26 Christopher McGLINCHEY MSC Bikes/CRC/Gamut 03:46.8
27 Jordan DOIG Icycles/MSC Bikes 03:48.2
28 Mathew DOWNES Balfa/Hamsterley/Fox 04:19.3
29 Dan JOYCE Zero G Cycles 04:25.6

Race 3 Junior Men Fox
1 Rhys WILLEMSE Tomac 02:04.0
2 Gareth BREWIN 02:04.1
3 Brad MATHER Empire Cycles 02:08.4
4 Tamryn MURRELL Tomac 02:08.6
5 Harry MOLLOY DMR/Resurgence/Last 02:09.1
6 Arran GANNICOTT Alpine Bikes 02:09.8
7 Joel MOORE Team Skene 02:09.9
8 Harry HEATH Funn/5.10/Broxap/Sneyd/Ashi 02:12.8
9 Alastair WILSON Ancillotti UK 02:14.6
10 Ronan TAYLOR 2 Stage/High Line Racing 02:17.4
11 Willem HERD Perth City Cycles 02:18.5
12 Greg WILLIAMSON 02:18.9
13 Todd KIERNEY Solid 02:21.1
14 Callum DEW MSC Bikes 02:21.6
15 Joe YOUNG North East Freesider 02:23.6
16 Ben MOORHOUSE Ticket 2 Ride/Descent Gear 02:24.4
17 Andrew KELLY All Terrain Cycles 02:27.2
18 Josh SWIRE FDHR/Fenwicks 02:27.9
19 Charlie COLLINS 02:28.5
20 James SCOTT Cycle Jersey 02:29.0
21 Ben WEIR W Homer Cycles 02:29.6
22 Pete ROBINSON PS Cycles/Cwmdown 02:31.1
23 Adam BURNSIDE Santa Cruz/Fox 02:35.6
24 Tom HOUSMAN Brooks Cycles 02:36.5
25 Daryll RICHARDSON 02:36.9
26 Simon STUTTARD 02:37.9
27 James DOWER Adidas Eyewear 02:38.9
28 Jamie CRUMP Pure Ridersco.Co.Uk/Bike Ta 02:39.1
29 Tom KNIGHT Momento Moni 02:39.6
30 Craig MUNRO Vibe Racing 02:41.8
31 Danny BRADFORD Monster Energy UK 02:44.4
32 Joe FLANAGAN All Terrain Cycles 02:46.1
33 Akib AHMED 02:47.7
34 Oli WAKEMAN Sun Microsystems 02:48.9
35 Stephen MILLYARD 02:52.4
36 Cameron LEADBETTER Perth City Cycles 02:52.8
37 Vivian JONES 02:53.5
38 James STOREY Pscycles/Cwmdown 02:58.2
39 Scott JONES 02:59.8
40 Alex POWELL 2 Stage/Extreme Medics 03:00.2
41 Joseph VIALS 03:12.5
42 Josh WALKER JE James Cycles 03:39.3
43 Sam POTTER Mountain Trax 03:40.3
44 Jamie SCOTT 03:42.9
45 Richard ACOTT 03:45.1
46 Joe EDGE Stendec 04:02.3
47 Sam WEBSTER Team Skene 08:27.8

Race 4 Veteran Men Ticket2RideBC.Com
1 Jason CARPENTER 02:29.4
2 Darren HOWARTH Marzocchi/Guak 02:31.7
3 Gary BURNS Team Spode 02:33.0
4 Stevie BOYD 02:33.4
5 Jerry TWIGG Cycleworld 02:36.9
6 Rich SIMPSON Bikeactive.Com 02:39.2
7 Tim WEBB 02:44.6
8 Dai Silver Fox JONES Eyri DH 02:45.8
9 Seb RAMSAY NW MTB Centre 02:49.8
10 Steve FELSTEAD T2R/Descent-Gear.Com 03:17.9
11 Jason Gun BRENNAN Rave Racing 03:22.2
12 Peter HOGGAN PMH/Pincier Vodka 03:24.7
13 Graeme COCHRANE Ride On/Empire 03:48.4

Race 5 Master Men No Limits
1 Chris AKRIGG Mongoose/Aire Cycles 02:20.0
2 Joe BISHOP Zero G 02:22.5
3 Dave LIST Stourport Cycles 02:23.4
4 Chris COATES Cycle Jersey/MTB Cut 02:24.6
5 Sandy PLENTY Leisure Lakes 02:26.8
6 Andrew TITLEY Kona Sombrio Paligap 02:27.1
7 Sion JONES MTB Direct 02:28.3
8 Daron OSBORN OZZ 02:30.2
9 Jamie SMITH 02:32.6
10 Thomas REED Descend Hamsterley 02:34.7
11 Zac HUBERY Mountain High Cycles 02:36.3
12 Jason GIDNEY Guak Cycle Centre 02:42.2
13 Tom SMITH Revolver QT/NZ 02:43.6
14 Alex SLATER Rave Racing 02:49.5
15 Paul BOWYER 02:50.6
16 Phil GRAY Rave Racing 02:54.2
17 Chris WHITFIELD All Terrain 03:00.2
18 Niall INGRAM Redmist Racing 03:10.3
19 Paul BLIGHT 03:50.5
20 Marvin SMALL 04:58.6
21 Drew FREEMAN Merlin Cycles 06:45.2
Lee HAMMETT Mulisha Crew DNF

Race 6 Women Swiss + Swallow
1 Manon CARPENTER 03:00.5
2 Monet ADAMS All Terrain/Nikita 03:20.3
3 Bex REILLY 04:04.3
4 Emma ATKINSON 777 Racing 04:17.5

Race 7 Elite Women Nema Clothing
1 Helen GASKELL Zumbi 02:30.5
2 Katy CURD Ashton/Diamond Back 02:34.1
3 Sabrina JONNIER Maxxis/Rocky Mountain 02:36.0
4 Mio SUMASA Intense/Fun Fancy 02:55.9
5 Aimee DIX Mojo Orange 03:06.2
6 Sarah NEWMAN Www.Pureridersco 05:32.5

Race 8 Senior Men Continental Black Chili
1 Kurt BRAIN Ashton Diamond Back 02:06.0
2 Oliver BURTON 02:08.6
3 Olly HOOPER 02:15.2
4 Tom GLEAVE W Homer Cycles 02:15.3
5 James McKNIGHT K9 Indus/SB-DH.Com 02:16.9
6 Sean RADCLIFF Merlin Cycles 02:17.0
7 Nick TURNER The Development/Orange 02:23.2
8 Andrew COOPER 02:24.0
9 Thomas KELLY 02:25.7
10 Gavin BLACK Perth City Cycles 02:25.9
11 Daniel JOHNSON Descend Hamsterley 02:26.1
12 Sam BOARDMAN 02:27.7
13 Ben RODGERS All Terrain Cycles 02:28.3
14 Lewis HAWTHORNE Team Skene 02:28.7
15 Tom ATTLEE 02:28.7
16 Chris BREEZE Utopia 02:29.0
17 Elliot MACHIN RG Squadron 02:29.2
18 Chris ASTLE Www.Thebigadventurestore.Co 02:30.2
19 Rhys EVANS 02:30.4
20 William JONES PS Cycles 02:30.5
21 Robin WEAVER 02:30.9
22 Ian CAMPBELL Cole 02:34.2
23 Daniel JENKINS 02:34.8
24 Ian STARK Kustom Bikes 02:35.0
25 Martin YOUNG 02:35.5
26 Chris LAZENBY Bikefax/Ride On 02:36.5
27 Tom FRYER Revolution Bikes 02:36.6
28 Andrew HEATON Pro Chem International 02:37.1
29 Dan HAINES Redmist Racing 02:37.8
30 Jake HANCOCK 02:38.0
31 Ryan CHAMBERS Ae Cycles/Solway Insul 02:41.5
32 Simon WARD Wentwood DH 02:41.9
33 Robert McDONALD 02:42.6
34 Duncan PORTER Red Mist Racing 02:43.7
35 Jason HARTWRIGHT 02:45.0
36 Carl HOOD 02:45.2
37 Jason MORGAN All Downhill.Co.Uk 02:45.3
38 Adam WILES Faux Pro Racing 02:45.6
39 Lewis PENDLE Portsmouth Uni 02:48.1
40 Chris COLLINS Pearce Cycles 02:49.8
41 Paul BARNES 02:51.1
42 Ralph RICHARDSON Bikeoutlet.Co.Uk 02:52.5
43 Thomas CLARKSON Fenwicks/2 Stage/Tuff CYmru 02:53.5
44 Johnathan WEAVER 02:53.6
45 Gavin DUKE Freedom Bikes 02:57.0
46 Tom SKILLICORN Manx MTB Club 02:59.2
47 Roger VALLER 03:03.1
48 Arran LEVER 03:04.7
49 Ross YOUNG 03:05.6
50 Huw OLIVER Activ Cycles 03:11.2
51 Grant GARDEN 04:15.1
52 John BOLTON 04:53.9
Jonny LODGE DNF
Race 9 Expert Men Leisure Lakes
1 Scott MEARS 4 Mountains 02:06.2
2 Alex STOCK 02:07.6
3 Alex BOND MSC Bikes 02:07.8
4 Lee HUSKINSON 661/Royal/Maxxis 02:08.6
5 Sion WHITECROSS Team Skene 02:10.5
6 Mark MILWARD Swinnerton Cyc/Fox 02:12.1
7 Emyr DAVIES Santa Cruz/Howies 02:13.4
8 Ashley MALLER 02:14.3
9 Scott LAUGHLAND Team Castle Melamine 02:14.6
10 John HOLBROOK 02:14.7
11 Nathan VIALS Solid Bikes 02:15.1
12 Simon PARSONS Freedom Bikes 02:15.2
13 Ross ANDERSON MSC Bikes 02:15.5
14 Richard CHALLINOR Leisure Lakes 02:16.2
15 Liam LITTLE 2 Stage/Knox/KeswickmTB 02:17.2
16 Jethro WHITFIELD Leisure Lakes 02:17.3
17 James STOCK MSC Bikes 02:17.9
18 Rob YOUNG Cross Trax 02:18.2
19 Andrew PHILIPS 02:18.7
20 Chris SINDEN Phil Corley Cycles 02:18.9
21 Joe WINSTON Banjo Cycles 02:19.6
22 David DUGGAN 02:19.6
23 James GREEN MSC 02:19.7
24 James FLINDERS MSC Bikes 02:20.0
25 Kyle FARROW Derry Air/MSC 02:21.8
26 Jack GRAHAM Pure Ridersco.Co.Uk 02:24.1
27 Alastair MacLENNAN Pinkbike.Com 02:24.2
28 Will SOFFE Torico/2Stage 02:24.4
29 Dave VALLER 02:25.6
30 Andy WOODVINE Leisure Lakes 02:25.6
31 Adam HOLLEYMAN Whight Mountain 02:27.0
32 Callum GAULT Icycles/Uplift Scotland 02:28.6
33 Jack GEOGHEGAN 02:29.3
34 Rob SCULLION Continental/Nicolai 02:31.3
35 Alistair PARKIN All Terrain Cycles 02:32.2
36 Gary DRAKE Aw Cycles 02:33.6
37 Martin NAIRN I Cycles/MSC Bikes 02:35.3
38 Simon PARKINSON Ticket2Ridebc.Com/Descent G 02:35.7
39 Jack READING 02:37.0
40 Billy CAMPBELL 02:42.4
41 Tommy WILKINSON Hemmel Tune 02:44.8
42 Leon ROSSER Bicycle Doctor 02:51.1
43 Ben WHITEHEAD All Terrain Cycles 03:06.3
44 Thomas WHEELER MOJO /Orange 03:08.7
45 Seb FROST Just Riding Along 03:25.9
46 Damon SMITH MTB Direct 03:29.7
47 Ross SEARLE Total Bike Tuning 04:33.0
48 Ewan DOHERTY OC Tuning/Potato Bred 04:49.9
49 Jason DAVIES 06:15.0
Michael INMAN Continental/Nicolai DNF
Don HOWE Kustom Bikes DNF
Luke MARSHALL Retired

Race 10 Elite Men Nema Clothing
1 Brendan FAIRCLOUGH Specialized/Monster 01:54.7
2 Joseph SMITH Kona Factory 01:59.0
3 Rich THOMAS Ancillotti UK 02:01.0
4 Adam BRAYTON Just Reid Racing 02:02.0
5 Tom DEACON 2 Stage/Extreme Medics 02:03.4
6 Tom BRAITHWAITE Hope Racing/23 Degrees 02:04.8
7 Robert SMITH 3 Smith/Leisure Lakes 02:06.6
8 Chris HUTCHENS Cyclejersey/MTB Cut 02:06.7
9 Luke STROBEL Maxxis/Rocky Mountain 02:07.5
10 Cameron COLE Maxxis/Rocky Mountain 02:07.7
11 Dan STANBRIDGE Mojo/Orange 02:07.9
12 Dan CRITCHLOW CRC Intense 02:11.2
13 Philip ASHBRIDGE Mountain High 02:14.6
14 Rowen SORRELL South Wales Trail Centres/O 02:16.6
15 Liam MASON Astrix Europe 02:19.4
16 Alex FLORIAN Pearce Cycles 02:20.7
17 Nikki WHILES Team Skene 02:22.0
18 Ralph JONES Dirt MTB Mag 02:24.3
19 Ashley MULLANE Cove Bikes 02:25.9
20 Richard CHEETHAM 02:28.9
21 Peter WILLIAMS Icycles/MSC 02:43.8
22 Dave SMITH 3 Smith/Leisure Lakes 02:56.9