| | | | | | | | |
| --- | --- | --- | --- | --- | --- | --- | --- |
| | Follow britishcycling.org.uk on | | | | | | |
Road To 2012
World Championships Training Camp 2009

Posted August 10 2009
Words and Photography by Luke Webber

Homepage: Road To 2012 | British Cycling's Performance Programs Explained
Team GB Mountain Bike Roster | Join Team GB
Mountain Biking: Olympic Qualification Explained | UCI National Rankings
In part two of Road To 2012 we visit British Cycling's Olympic Academy house for the team's Mountain Bike World Championship training camp. Talking with under-23 riders Annie Last and Lily Matthews - who form the women's contingent of the Olympic Academy Programme - Luke Webber discovers how British Cycling Development operates for both established and emerging riders.
Today I recognised cycling as a sport is making a big impression; because when I pulled up on the doorstep of a typical semi in Macclesfield I was not the only person anticipating the arrival of Team GB riders. Waiting on the pavement, I'm approached by a couple of kids on lookout for their new neighbours who have cool bikes and a dream lifestyle.
Eager to find out more about the British cyclists who call this suburban side road home, I'm interrogated; and an instant impression is made as I mention the occupants of number thirty-nine will travel to the upcoming World Championships.
First of the contingent to land in the team car - headed by Olympic Programme Coach Phil Dixon - are Kenta Gallagher, Scott Thwaites and Steve James. They're happy to beat the van back after taking a different route home and as the second vehicle arrives - containing Annie Last, Dave Fletcher and Lily Matthews - the banter starts.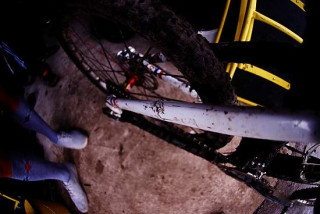 Bikes are unloaded, some in a better state than others following an intense day of skills work on Steve Peat's local Wharncliffe trails. Kenta's swingarm is held together with a stick and both his and Steve James' rear tyres are flat. For Steve though a worse fate befell his Giant the night previous. Boredom struck and someone added custom decals to liven up the look of his hardtail.
As bikes get washed and Scott debates the finer points of hat height, this is probably the most relaxed atmosphere I've experienced at any British Cycling Team Camp. And that's a good thing.
ALL ABOUT LILY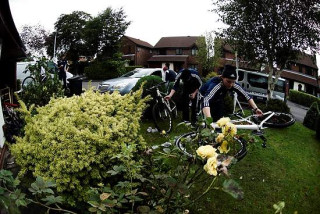 I'm invited indoors by Lily Matthews who makes me a drink before we sit and talk about life on the Academy. As one of the newest recruits and a mountain bike history spanning little over two years, Matthews is the atypical rider of the team - something she quickly acknowledges. With an air of respect in her voice, she tells me of the "incredible people" also on the programme; "National Champions, those who are the best in the country."
"Sometimes that's a hard thing to accept" is her somewhat surprising, if honest appraisal of the current situation.
But it is not a limiting factor - far from it. If Phil Dixon's goal for the British Cycling team is rider development then Matthews is surely the star pupil. In 2008 an Expert rider with one National Series win, no formal training beyond local club rides and a base of Dutch cycling holidays; the transformation to Lily 2009 is near-unrecognisable.
Since deferring a place at Cardiff University to study medicine, cycling has taken over. But it was far from a planned change in direction, as Lily explained.
"I was totally ready for Uni. If you'd asked me this time last year what I'd like to do then it was all about Uni and the medicine course. I'd still love to study and become a doctor one day - but at the same time it wasn't a dream. But what I am doing now, I suppose this is living the dream a bit."
That sentence was spoken with a little disbelief and reflected Lily's reaction on making it on the team - even if that wasn't the initial impression she'd like to give. On seeing the application form for the Academy programme and its conditions, she believed chances of acceptance to be "quite unlikely."
But the right attitude for success was there - clearly a factor in Dixon's selection of the unproven rider from mid-Wales.
"You can't put a limit on your ambitions" was a particularly poignant moment of conversation - as was that aforementioned claim of expectation of selection. Lily backtracked quickly, breaking into a smile and rush of words.
"I was so excited, I kept it really quiet at the time, but then I called round my friends. Everyone was so shocked when I showed up on results day with this change in attitude - from a successful University applicant to a full-time cyclist in just a couple of months."
But to those that knew the competitor in Lily Matthews, it was not so much of a departure. Previously a runner, missing out narrowly on selection for the Welsh national team and forced into retirement by an injury there would always be a replacement sport.
"I would get asked by my friends if I would be at the Olympics and of course, I said yes. I would watch on TV, I would compare my times so I could know what I had to achieve to get there. When I had to stop running I didn't do much for two months - there was a big gap in my lifestyle. So when cycling came along it was just a case of when there was a convenient race."
Racing is only part of the story however - as moving from the podium in Expert to Elite is quite the achievement, especially when you examine the improvements required in terms of lap times. From finishing last at the 2008 National Championships, to second in 2009, with selection for the European and World Championships following is definitive progress. And it doesn't end at physical improvement, as Lily is quickly discovering the mental aptitude required for the larger races.
"Right now I am still getting excited about results at National level events, whereas some more seasoned competitors might be a bit over that scene. So when I went to the European Championships, you can imagine it was sensory overload. I put too much pressure on myself and it was a bad race. Hopefully I can improve on that for the World Championships and put in a performance reflective of my hard work and domestic form."
ALL ABOUT ANNIE
Riding alongside Lily is Annie Last and both have followed a spookily similar path onto the Academy. Pending successful exam results, Annie also plans to defer her University place to study medicine at Sheffield University.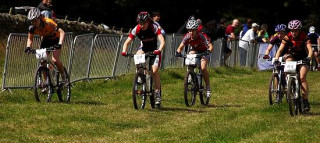 In her first year of under-23 racing Annie has quickly created her own reputation with standout results in 2009. After a busy schedule with exams she would waste little time taking on the lifestyle of a full-time athlete and delivering on her newfound status. Two days after finishing school there was a top ten in the revered Swisscup and at the Tour de l'Ain came greater achievement with one stage win and another second place; both ahead of current Olympic Champion and World Cup stalwart Sabine Spitz.
And while these results were unexpected, Last remained calm as she ran me through each race.
"At the Tour de l'Ain I didn't expect to win the time trial stage because it was a bad lap, not at all smooth. On the other stage where I came second I knew how I had to ride. I didn't think about the result, I just rode the same as I'd been riding before. I wasn't sure how the event would go because it was a point to point and not laps; but we'd studied the course profile before the race so we knew it was up, down then flat.
"On the line I was on Sabine's wheel, I was guessing she would know what she was doing so it was a good place to sit and watch. At the start she went off steady - we were all together with the men to and I thought there was no reason why I shouldn't be riding in the middle and getting towed along. On the main climb it broke up a lot with the guys going off the front and all the women coming back together. So from there I just rode. It was different than a normal XC race because I knew it was down and flat therein with no surprises. I could sit on the wheel, do a bit of work or whatever."
This no-nonsense attitude reminded me in part of a timid Mark Cavendish - but I was, for a moment at least - invited into a place of less conviction; at least where emotional attachment to results was concerned.
It was mention of the European Championships which bought about this deviation from the script. Fourth place after four weeks of consecutive racing in four countries was significant when considering Annie has another three years remaining in the under-23 category. Last's initial reaction when asked about the event was to answer those who questioned if missing the podium was her biggest disappointment.
"I went in to that race thinking a top ten would have been nice" Annie smiled, briefly putting down the glass which she had agitated throughout the interview.
The only other point at which I would get Annie's full attention in forty minutes of talk would be when I mentioned training. I quipped that with such an uncomplicated attitude cycling would cover little more than ten hours per week. Annie retorted; "It hasn't been over that until now."
After a silence, and realising another question isn't forthcoming she continues.
"I didn't start April in good form. I had loads of coursework and late nights. I'd not rode my bike much, three days a week maybe. When I was at school I just had to go out and do it, I wanted to ride well and knew what I had to do. But I knew I had a lot of time to catch up on form, a lot can change in four months."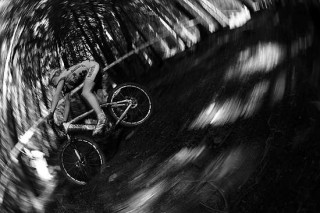 In strict juxtaposition to these short term successes, and something that convinces me as to Last's longevity in mountain biking is her dedication to school and a fascination with cycling that began when she was taken to the races by her dad and elder brother Tom.
"My first racing experience must have been in cyclocross in the under 14's. I'd go along with dad and Tom and saw you'd get a goodie bag with sweets if you finished - it's better than some of the more prestigious races I've won today! I'm still riding now because I enjoy it and the past winter was the same as usual. Of course I had study to balance with riding - I had been in school for ten years and wasn't about to disregard all of that.
"The one thing that made a big difference in winter was that Phil (Dixon) would come over and do a long ride with me every Wednesday. That, along with my usual cross racing schedule set me up pretty well."
This preparation is about to culminate in the form of the World Championships - a race which Annie admits to enjoying - with the cheering crowds and unique atmosphere and one in which she has good history; top ten as a Junior in 2008. But when I asked about any special provisions for the race, there was nothing to write home about.
"The Worlds are like the Europeans; it is just another race. You can't change how you go into it. All you can do is your best and be happy to be there, when you are in the race there's not much time to think about a result or position. You are going as fast as you can and it would probably only make you more stressed."
Both Annie and Lily are now in France completing their preparations for the World Championships at l'Hexagonal VTT. Both are in a great position to bring home career best finishes at the biggest annual mountain bike race and we'll have all the latest news on their progress here at British Cycling Online.
And if you want to follow this story, watch the mountain biking homepage for the next instalment of Road to 2012, check out the British Mountain Bike Team News page and stay tuned to the latest British Cycling Rider Diaries for the inside story from the riders themselves on the British mountain bike scene.