---
Redditch Road and Path CC held the first round of the Muddy Mayhem winter series at Morton Stanley Park in the heart of the Redditch community. On a beautiful, fresh but sunny day 45 riders aged 3-15 from many of the local clubs took part in a short, but steep hill climb on the park path followed by a dual on the two downhill tracks set up on the grass.



The riders had a chance to practice on both courses, and given the recent weather this resulted in the event living up to its name before it had even started. The young hopefuls started the hill climb at 30 second intervals and as the racing progressed quite a number of the local park users stopped their afternoons walk to join in the cheering and support.

Next up, after a short breather, riders chose one of the two narrow, zig zag tracks to race down. This although on the face of it seemed easy on paper, at full speed, with little room for error was tricky and saw a number of slips and slides along the way. Riders then had to make their way back up the hill, wipe the mud from their faces and race down the opposite course. Race times were combined to give a total time for every rider.The racing was close with only a few seconds separating all the competitors in their relative age groups.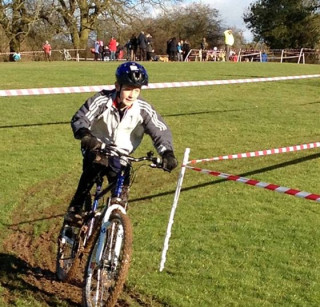 Ryan Oldfield won the Under 7s with a combined time of 96.79s; Phoebe Strain was second in 107.24s and Lewis Tinsley was third in 107.43s. Sulli Berry was the fastest in both downhill races and won the Under 9s in 78.31s. Local Halesowen, rival and friend Luke Harris was second in 83.05s and another Redditch rider, Oliver Cook was third in 90.08s. Alex Barker won the Under 11s in 78.70s. Redditch riders, Sam Wainwright and Matthew Lowe were second and third respectively in 81.37s and 85.36s. Josh Hubble and Simon Wylle were joint first in the hill climb with 27s, but Hubble took the lead in the downhill times with 72.82s and 72.91s respectively. Cameron Mcleod finished in third with 81.71s. Jake East was the fastest u15 in his first ever race in a combined time of 73.98s.

For what was a relatively simple format, all of the riders were united in one thing; that they all ended up without exception very muddy and with smiles on their faces regardless of age or ability. Round 2 of the series is on 1st March and will be a full cyclocross event, using some of the same courses that were on show in this event. For further information click here.

National Youth Rep and club member Steph Holmes is hosting a less muddy take on racing on 19th January with a womens only Go-Ride Racing event being held at Solihull Tudor Grange circuit starting at 2pm. Click here for full event information.
---