Everybody at British Cycling would like to congratulate Go-Ride Club Hamsterley Trailblazers and Leeds Urban Bike Park, which have been recognised in the MBR Trail of the Year awards. Both the club and facility have received support from British Cycling in recent years, and are evidence of our commitment to providing great opportunities for mountain bikers.
Hamsterley Trailblazers
Hamsterley Trailblazers are a British Cycling Go-Ride club in County Durham, and this year their K-Line trail won Volunteer-built Trail of the Year.
Transforming an out-of-the-way forest, without the hype and buzz of the big players, into one of the best riding trail centres in the UK, Trailblazers continue to run weekly coaching sessions for young riders as well as immersing them in trail repair and maintenance.
The club chair Alex Talks is also a British Cycling MTB Leadership Tutor through our partners Cyclewise, and uses his extensive understanding of trails and repair to tutor Forestry England's Trail Inspection courses through British Cycling.
In response to the award, Alex said: "I am just proud of what a few dedicated, selfless volunteers can achieve and thrilled to be part of something so awesome. Hamsterley Trailblazers-definitely making it happen."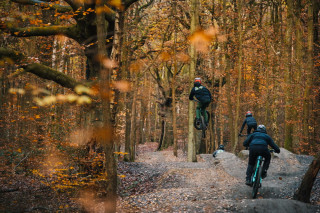 Leeds Urban Bike Park
British Cycling and Sport England provided significant funding support to the development of Leeds Urban Bike Park (LUBP), working with Leeds City Council and Cycle Pathway, a Community Interest Company to transform a run-down municipal golf course into a vibrant facility. While it's known to us for its extensive riding opportunities, it also provides a whole host of other amenities and activities for local residents, including: a café, yoga and exercise sessions, Saturday morning Parkrun, and vocational courses for young people on cycle maintenance.
Anyone is welcome at LUBP, regardless of age, skill level or bike. BMXs and scooters fill the two tracks next to the café while others head off to their respective trails. British Cycling coaching courses for road, BMX and mountain bike also run here.
Jeremy Hayes, international BMX coach, British Cycling Coach Tutor and the driving force behind the development of LUBP, said: "It's great to get this award for everyone who has contributed to this facility, the hard work which our staff and volunteers put in every day so our customers and the local community get a fantastic experience, this is for them."
Places to Ride
Congratulations to everybody involved with the successful trails, which brilliantly demonstrate the very best of trail culture: community, care and commitment!

Earlier this month we announced that applications for the £15 million Places to Ride legacy fund close in a year's time, and we are encouraging anybody looking to develop cycling activity in their community to apply.
So far the fund has considered applications from closed road circuits, BMX tracks, disability cycling groups and several off-road facilities, and you can find out more here.
Further information