| | | | | | | | |
| --- | --- | --- | --- | --- | --- | --- | --- |
| | Follow britishcycling.org.uk on | | | | | | |
SENIOR MEN'S RACE

Left to Right: Crawforth, Bazin & Cant
A previous winner at Mallory Park, Nicolas Bazin made his trip over the Channel well worth while when he won the senior men's race by 13 seconds from Belgian rider Kevin Cant. Cant had looked likely to finish third, but he moved up a place on the final lap when Jody Crawforth fell a moment or two after he'd attacked and gapped him. Along with Lee Williams (Team Wiggle), these riders dominated the race. Williams was initially dropped, but rejoined the leaders just before Bazin attacked and cracked his rivals with a big acceleration early in the second half of the race.
Series leader Paul Oldham, who spent much of Friday on the wrong end of a wheelbarrow, whilst renovating his house, had a day to forget, finished in 10th place and he now leads Crawforth by just a single point. Oldham had said before the race that he wasn't in the best of form, citing a cold and fatigue from trying to fit in work, house renovations and training. But, whilst Oldham suffered on the muddy course, so did the winner of round two Liam Killeen, who also finished well down in eight place.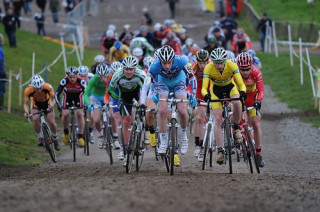 Post-Race Rider Reaction
Nicolas Bazin (1st): The winner yet again at Mallory Park, Nicolas explained his strategy by saying "I prefer to stay in a little group in the beginning and then I had to attack in the middle of the race to be alone at the front. The course is a beautiful one. Always slippery and not so muddy this year and parts of it quite technical. My form is good too. I won a big race in November in France and I am happy to win again today, it is good to come back here."

Kevin Gant (2nd): "This was the first time I race in England and it was pretty nice. I was in third place and then Crawforth crashed on the last few corners so it was good to be second. The course is a little bit different to Belgium but it was nice track and a little bit slippery."

Jody Crawforth (3rd): "I felt good from the start really. I like it round here, this track. I have ridden well here the last few years but haven't been feeling the greatest the last few weeks. I kept telling myself that this track suites me well and I just have to attack it from the start."

"It was very sloggy round here. You have to keep trying hard all the way round. It's greasy and the rest is such a slog, you have to plough through. I was changing bikes every lap as I saw a lot of rear mechs ripped off."

"We got a gap but Nicholas is riding pretty strong. When ever he put in a hard effort, we were struggling a bit. I was going well in the technical sections and pegging him back a bit and then over the last few laps, I told myself I have to start thinking about second place because Nicholas was way gone by then. On the last lap, up the really greasy climb, I nailed it up there and put a few seconds into Cant."

"Then on the off camber section, I went a little too wide and hit one of the wooden posts and went over the handlebars. Of all the places to fall off, I do it a few hundred metres from the finish!"

"Hopefully my form is going to get better now. It's on the way up. I intend to have a bit of a rest after Southampton, a week or so, then starting to build up through December for the National Champs. I'm going to try and get out to Belgium over Christmas because the racing is so tough over there. It either brings you on or kills you! I just want to enjoy it though and get the national champs jersey back again."
Paul Oldham: "I rode pretty terrible today and it was about 55 minutes too long! I have had a cold all week and we have been working on house, concreting all day Friday and things like that and I'm not built for lifting!" Paul then explained he had his newly married friend, Ian Wilkinson, in to help him - apparently Wilko is built for lifting!
"I think the form, or lack of it, is a combination of working too much, not training enough and I have been a bit ill this week. Can't make excuses, Jody and everyone rode well today and there is always next time. It was a hard course but I had nothing from the word go today. It was a day to forget!".
Photos of the senior race from Andy Whitehouse
More photos from Andy Whitehouse: Youth | Veteran | Junior | Women

Results - Full Results
1. Nicolas Bazin Cm Aubervilliers 93
2. Kevin Cant Van Goethem Prorace Cycling Team
3. Jody Crawforth, Hargroves Cycles
4. Lee Williams Team Wiggle
5. Kristof Kop Avb Cycling Team Under 23
6. Floris de Tier Babaco Cycling Team Belgium Under 23
7. Kris Lapere Mez Team Belgium
8. Liam Killeen, Individual Member
9. Stuart Bowers Hargroves Cycles
10. Paul Oldham, Hope Factory Racing
WOMEN'S RACE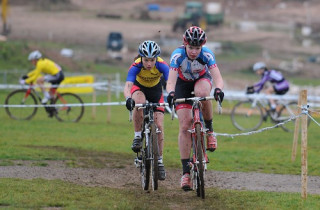 Lucy Garner (Leicestershire RC) was a runaway victor in the Women's race. She took control early on and never looked back, taking the yellow jersey from series leader Corrine Hall in the process. Off the start, Amy Roberts was the early pace setter but soon Garner and Hannah Barnes made their bids for victory and on a tough and, in places, quite boggy circuit, Garner went on to open up a gap on Barnes, who dropped back into second.
In third for much of the final half of the race was Halesowen rider Bethany Crumpton. However, she came up to Barnes on the final lap and managed to scramble past the Motorpoint rider to take second. Each of the top three riders in the race were juniors, showing just how strong the sport is in that age group.
Post-Race Rider Reaction
After claiming the win, Lucy Garner spoke about her race: "I'm really pleased with how it went. I kept putting the pressure on especially on the bits where I was strong. I knew on the muddy bits I wasn't going to do that well so I dug in on parts of the course I could. Amy was really strong through the muddy sections and on the first lap I couldn't really stick with her but then I caught her up on the flatter bits."
Results - Full Results
1. Lucy Garner
2. Bethany Crumpton
3. Hannah Barnes
4. Maddie Horton
5. Hannah Payton
Full Results
JUNIOR MEN'S RACE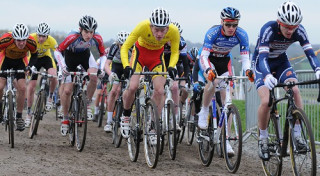 Series leader Alistair Slater (Hargroves Cycles) very convincingly won the Junior Men's race, taking the lead early on and he was never subsequently challenged. Riding the circuit confidently, bunny hopping over the half hurdles whilst most jumped off for them, Slater certainly seemed to be in a class of his own on the day. In second place for most of the race was Grant Ferguson (Dooleys Cycles) and that's how he finished. Third place went to Jack Clarkson for the third time in the series.
Post-Race Rider Reaction
Slater afterwards said "I think the course suited me with the drags and that. The guys pushed me all the way and I'm pleased with the result. Because of the mud, I made about three bike changes and probably could have made another one. It was quite muddy round the back of the course and changing bikes made a big difference. I preferred the course to last years, there was a lot of interest in it, a nice all round course, brilliant."
Results - Full Results
1. Alistair Slater, Hargroves Cycles
2. Grant Ferguson, Dooleys Cycles
3. Jack Clarkson, Pedalsport CC
4. Joseph Moses, Paul Milnes/Bradford Olympic
5. Taylor Johnstone, Team de Ver
VETERANS' RACE
After a two minute silence for Remembrance Sunday, the over 40's were the first to get away from the starting area followed a few minutes later by over 50's. The battle at the front of the over 40's race was intense from the start and in the middle of that was the yellow jersey, Darren Atkins, going for his third straight win. Lap by lap, the pace took its toll on many of the contenders and after the first quarter of the race, Atkins had managed to pull away in the company of Chris Young and local rider Phil Roach.
Meanwhile, in the over 50's, National Champion Ian Wright (Raleigh) was slowly opening up a gap on the series leader Steven Davies (Endura/Thule) who was doing his green jersey proud and putting up a stubborn fight for the lead of the race as he too went for his third win in a row.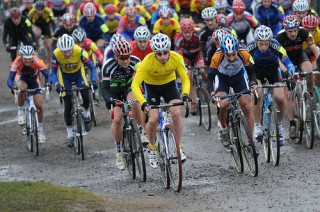 Darren Atkins, in yellow, leads off the start - Chris Young is on his left
Back in the over 40's category, going into the final third of the race the gaps began to open up between the three leaders. Young began to edge clear of Atkins with Roach hanging on some 15 seconds back. Atkins, though, was not finished and just as it looked like Young would win alone, the yellow jersey came back at him and into the final lap they were neck and neck with Roach unchallenged in third.

As Atkins led the race, Young noticed his rival slowing and guessed a bike change was coming. Sure enough, Atkins dived into the pits half a lap from the finish with a puncture and Young didn't need a second invitation to attack. Atkins chased for all he was worth, but Young wasn't going to be denied and he had time to celebrate the victory as he crossed the line. Atkins was second and Roach third. Atkins retains a healthy lead in the series.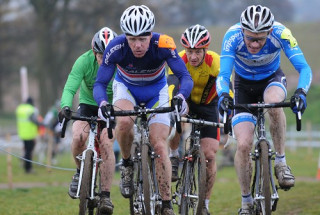 Ian Wright leads the Over-50 race
In the over 50's, there was another very exciting finish as Steven Davies came back to the rear wheel of Wright on the final lap. However, the national champion pressed on and saw off Davies challenge to win the race with Davies doing enough to hold onto the Green jersey.
Post-Race Rider Reaction
Winner of the over 40's, Chris Young, explained afterwards "Darren always gives me a good race. I was up there at the start and a few lads like Noel were really putting the pressure on. Then, everyone cracked and there were me and Darren and Phil Roach. I knew anything could happen on a course like this. I knew where I was going to attack if I was still with Darren but it didn't come to that. Halfway round (final) lap, I realised he seemed to be going slower and I knew his tyre was down and as he went into the pits, I just raced it to the finish".
Results - Full Results
Over 40s
1. Chris Young
2. Darren Atkins
3. Phil Roach
4. Gary Lingard
5. Dave Hargarth
Over 50s
1. Ian Wright
2. Steven Davies
3. Dave McMullen
4. Martin Eadon
5. Barry Kipling
YOUTH RACES
Joe Kirkham won the Youth race despite being pushed all the way by Jake Womersley and Chris Lawless. Meanwhile, Alice Barnes won the female Under 16 category, whilst in the Under 14 female category, Grace Garner was unfortunate to crash while leading and whilst she received medical attention, her clubmate Charlotte Broughton came through to win the race and keep her white leader's jersey. Arthur Green won the Under-14 male category race.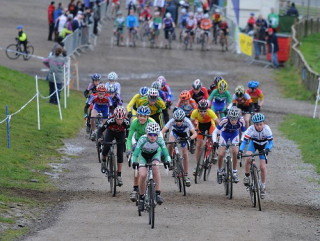 Youth Results - Full Results
Under 16 Male
1. Joe Kirkham Vc Long Eaton
2. Jake Womersley Sowerby Brothers Crt
3 Chris Lawless Sport City Velo

Under 14 Male
1. Arthur Green Matlock Cc
2. Jake Poole Cyclesport / Pygott & Crone
3 Joseph Fry Welwyn Wheelers Cc

Under 16 Female
1. Alice Barnes Palmer Park Velo
2. Imogen Buick Thetford Mtb Racing
3 Emily Nelson Halesowen A & Cc

Under 14 Female
1. Charlotte Broughton Leicestershire Rc
2. Ffion James Abergavenny Rc
3. Jessica Wilkinson Birkenhead North End Cc