Report: Wheelbase Cyclo-Cross
Saturday 27 November 2009, Rossendale
Report & Images: Joolze Dymond
Flickr Slideshow
Report

Up and down the UK numerous parks are awash with meters and meters of tape, winding this way and that ready for hundreds of riders to test themselves against each other as well as the elements, welcoming to the ever popular sport of cyclo cross. A 60 minute constant sprint from one corner to the next, heart pumping, leg burning adrenalin surging, fun!
On Saturday Rossendale was the venue of choice for organizer Dave Haygarth, to put a hundred plus riders through their paces in the buzzing North West CX scene. Novices and elites, alike all mastering the art of negotiating the bike clogging, soul sapping mud shoulder to shoulder. Intentions had been to provide a challengingly technical 1.2 mile course, however the inclement weather lead up to the event meant a certain amount of tweaking had to be done, removing a few choice lines leaving a compact, flowing and still testing 1 mile course that snaked it's way gingerly around the park taking the riders this way and that through numerous hairpins, matching them down avenues of stately trees and hurling round the clock tower, slipping and sliding as they went.
First up to tackle the course were the ever-eager youngsters with a healthy turn out of under 12's getting stuck in on a shortened version of the circuit. Next it was time for the youth riders to take to the muddy stage. With each lap completed the bikes became heavier and heavier, the lines stickier and stickier, with most riders resorting to pushing and shoving their machines as wheels became harder and harder to turn.
One rider seemingly unaffected by the testing conditions was eventual winner Dylan Kerfoot Robson (Rhos on Sea). Taking the lead from the gun, this young welsh rider kept up a constant speed easing himself steadily away from the chasing field straggling behind. With only one bike he had no option but to keep the pressure on and thanked his choice of tyre and turn of speed for his win. Battling through a healthy turn out of girls was Hannah Leyland, who took the muddy conditions in her stride, beating a fair few of the boys along the way to take the girls win.
With such a huge turn out for the senior race, the race start was moved to a tarmac road with a slight incline that would quickly lead the riders to their first taste of the muddy conditions. In the senior race, National Trophy Series leader Paul Oldham (Hope) lined up alongside Rob Jebb (Wheelbase / Cannondale), whilst further in the mix hoping to stir it up were youngsters Ian Bibby (Halford) and road teammate Jonny McEvoy (Candi TV / Pinarello). Oldham calmly went for gold early on with only Bibby and McEvoy joining him for company on the opening lap. Hot favourite Jebb, didn't seem to be able to get into his stride despite conditions ideally suited to this hotfooted running star. As the race unfolded many riders were reduced to running most of the course as conditions just got stickier and stickier, thanks to a rare sighting of the sun, though this was one day where a dose of rain might have been for once welcome!
Oldham continued to push hard on the pedals taking advantage of an off by Bibby to make his fond farewells, opening up a gap which took him in comfort to the win and the handsome first prize. Bibby despite a long absence in the dirt due to road racing duties recovered strongly to close the gap slightly put couldn't get on terms with the strong Hope rider and had to settle for 2nd, while Jebb had to consolidate himself and the wheelbase team with 3rd. Fortunately team mate Sue Clarke (Wheelbase / Cannondale) looking much happier after a disastrous Mallory Park where a painful back injury put paid to any display of her usual talent, took the win in the women's race upholding the team honour along the way while Dad Jim made it a good day out for the Thomas/Clarke household by taking the win in the over 70's!
Matt Denby (www.zepnat.com) secured a comfortable vet win whilst racking up and impressive 5th overall. The junior race was scooped by Martin Woffindin (Sport City Velo), while the under 23's was taken by Luke Beswick (Buxton). Many thanks to everyone involved with this cracking race and thanks especially to the Police who were quickly on hand when it seemed a rider mistakenly mislaid a bike! It was all quickly resolved and resulted in the event photographer being escorted to the local focal point to take some images of the ever-helpful officers!
Rider Reaction:
Hannah Leyland - Youth Women Winner
That was pretty sticky out there today, proper muddy especially going round those corners! I was lucky with having the spare bike that really helped a lot of the others girls didn't have that and the bikes were getting so clogged it just made it so much harder than I thought it was going to be. Great race though despite the mud the course was excellent! It was good that there were a lot of girls out there it made me even more determined to beat everyone!
Dylan Kerfoot Robson - Youth Winner
It was pretty muddy out there today which made it really hard to ride but I made a good choice of tyre before the start which gave me some good grip going round the corners so I came out of that race pretty well. I didn't have a spare bike so those tyres made a huge difference to me they helped me keep my speed up which in turn helps to clear out the mud, My race plan was to go out hard and try to get a gap early on and see what happens as the race went on and that pretty much what happened. I had a good start and just didn't look back. The course was excellent all that doubling back meant I could keep a real close eye on my competitors most of the time, the mud though just made it so hard but that's just part of cyclo cross.
Paul Oldham - Senior winner
That was a lot of running, it got really clogging especially with the sun coming out and started drying it up but the damage had been done. It was a good course but incredibly muddy. I thought Jebby might have done a bit better here as this type of course is more up his street running wise but I felt alright and with my lucky charm, Declan cheering me on I couldn't go wrong could I??
I had a bit of company for the first lap with Jonny and Bibbs and it was just a case of getting that gap and maintaining it. I'm racing again tomorrow so I didn't want to leave too much in the mud. I kept squeezing and got the gap and then just concentrated on keeping smooth and keeping calm. You couldn't really get any real power down as soon as you hit a good section you were pretty soon back to deep mud again, but it was good fun. The hardest thing now is washing everything ready for tomorrow!
There's a good chance it could be like this at Bradford in a couple of weeks so I'm pleased to have had a comfortable race here, gives me some more confidence going into that race. After Mallory where things didn't go to plan, racing back from 27th because of a mechanical with just 30 mins remaining was tough work and despite that I think I salvaged a good result, I wasn't overly happy but it was the best that could be achieved on the day given the circumstances. So hopefully Bradford will be trouble free and help me focus on the Nationals. The plan now is to trade in my medal from last year for one of a different colour and I don't mean bronze!
Ian Bibby - 2nd Senior
That were really hard I'd nearly forgotten how hard it can be. I've not done much at all really, in fact since switching to the road the Tour of Britain was my last race and that was quite a while ago now. I've just been out training a lot, just out doing long steady rides just enjoying the bike really.
I wanted to do the National CX this year, so this is part of the build up. I was going to do Bradford but I'm off on a training camp now, so regional races like this are a good alternative especially when you know the likes of Oldham and Jebby are going to be here, you know it's gonna be a tough workout.
This is the first time I'd been off road for a while, it was fun though but the running was a bit of a shock, I hate running so I always try and ride as much as I can. I was watching Paul as the race progressed and I followed his lead on a few sections and it was a lot quicker to run so I just got on with it, it was only the last quarter of the race so it wasn't too bad really.
Paul's got really good form, I was with him for the first lap then I slipped on a corner and he got a bit of a gap. I held him and towards the end I think I was coming back to him, I got within reasonable distance of him at one point, I knew I'd never catch him but was coming back, but I had a bit of a jam, so decided to ease off and save a bit for tomorrow and hopefully have him there.
Matt Denby - Vet winner
That was tough, very cloggy, very muddy, I could have done with changing my bike a bit more frequently but I just made sure I was riding sensibly. I could have done with changing every lap but with Sally Oldham looking after the 3 of us, well you can't ask her to do any more especially as she's 6 months pregnant! Towards the end of the race I found it a lot easier to run than ride certain sections, it certainly was a lot faster in places. It was tough and I never really got fully going I think, I've had a tough week, but I felt better as the race went on and the last 3 laps flew by but I had tomorrows race in the back of my mind so I guess I eased off towards the end to save a bit for then. I just went out to ride my own race and made a decsion to keep up with Roy (Hunt) if I could and for the first couple of laps that went fine and then I came past him and knew then I had the vets race in the bag. Overall I think I've come 6th or 7th too which is excellent considering who's here, not shabby at all really.
Dave Haygarth - Organiser
We've been getting a really good turn out in all the North West events so far this season though I think that is probably true of all cyclo cross events every where in the country. I'm delighted that we got such a great high profile turn out as I know there are two really big races tomorrow so I wasn't sure we'd get that many turning up to this. The conditions were tough and that was after we changed the course too. I'd planned this course ages ago and got it just right but with all the inclement weather we've had recently I had to revise the course on Wednesday and just make it a bit easier, it would have been more technical than this but with all the rain we've had we had to change it. You'd wouldn't know though that we had taken the tech stuff out, but it is a pretty straight forward course now, it was made tough by being so cut up. In these chipper events too you tend to feel sorry for those that don't have the pit crews that other riders do on days like this its hard work and they just have to soldier on as best they can, but I guess they like it as they keep coming back for more!
I'm not sure what the appeal is with the sport but it captures people's imagination. I guess we are somehow between the Americans who like cross cos they think it's punk, a bit naughty, a bit different and the British who like it as we're all stoic and we like to get on with something really hard and battle against all adversity and then on the continent it's just another pro sport. It's quite a good mix we have here though I thinking we are heading more towards the sport aspect of it now. Whatever the appeal it's working as riders are coming out in big numbers across the board and the sport is growing once again.
Sue Clarke - Women's winner
Yeah now Wheelbase are helping me with bikes for the cross season it stands to reason that we'd want to support any races they put on. It was a good race out there today; incredibly muddy so there was quite a bit of running. I think everyone was trying to get stuck in and do the best they could.
After Mallory where on hindsight I should never have started due to the back problem I had at the time, to come here and have a reasonable ride was a good step in the right direction for me. I crashed heavily on the road preceding Mallory and although I've had quite a bit of work done on it, it's still not a 100% but getting there. Fortunately the running today wasn't an issue, but pushing the bike through the mud was starting to tell towards the end.
There was a brilliant turn out of women today here, to be honest we are seeing a lot more girls coming into the sport recently and I'm trying to encourage them to keep on coming, if they're out there enjoying it when it's really tough going like today, when it eventually does get a bit quicker I'm sure they'll enjoy the experience even more. All credit to them for sticking to it when it's like this!
Barrie was out today having a go for a laugh, unfortunately a very close friend of ours passed away recently and that sort of thing drains you so to come and do something like this it helps clear your head and get a perspective on things. So he was out there really trying to egg me on a bit but I couldn't keep up with him in all that mud! He just does it for a bit of a workout and well if I'm here he may as well ride as well. Looking forward I've entered for Bradford, but I'll decide on the day whether I'll start or not, it's been a long season and I've decided that mountain biking is what I am going to concentrate on and cross is a bit of fun.
Jimmy Thomas - Over 70's
I found the going hard and soft both at the same time! Despite picking up numerous twigs along the way to try and keep the bike unclogged I was just fighting a losing battle. I tried to jump onto to Sue's wheel a few times but she seemed somehow to escape me all the time, after all those years where I taught her to hang onto my wheel she just didn't wait for me today, same with Barrie and Jebbie come to that no one waited to give me a hand. So I did my whole lap and half by myself, that's what I reckon I did compared to that lot anyway! I might be in my 70's but to be honest I don't feel any different, I haven't done a great deal this year so far and last year I did none at all, I only ended up doing this one cos Sue and Barrie came to the house last night and dragged me out this morning! I prefer the longer races like the 3 peaks to be honest though, these sprints are no good to me really! It's a laugh though isn't it!
Martin Woffindin - Junior winner
Great race, loads of mud and loads of riders! I know one of my rivals pulled out and I have no idea what happened to one of the others I just got on with riding my own race. It was great to be in with the seniors though I was just watching them sail past me most of the time, one day I'll be up there with them!
Paul Horridge - Cross Virgin
Yeah this is my first ever cross and I'm here because of peer pressure I think! I have friends who already do it and I like a challenge so here I am. That was a real baptism of fire! I do a lot of mountain biking so I'm used to the mud, so it was no surprise to me but this was a killer and definitely sorts the men out from the boys! The running was tough and I said to my girlfriend halfway round for her to throw me an extra lung out the rucksack as I could have done with one out there. But when all is said and done I absolutely loved it. It was a last minute decision too as I was supposed to be playing football instead but the game was cancelled so here I am, luckily I just live up the road so this is my local. Can't wait to come and have another go, hopefully the next one will be a bit easier!
More Images
The starts - seniors above, youths below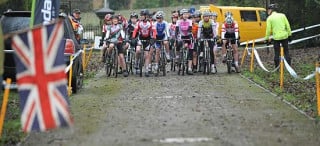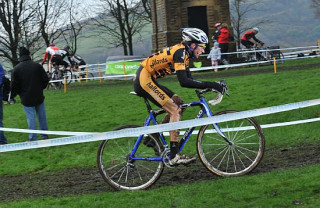 Ian Bibby keeps relatively clean
Organiser Dave Haygarth and two influential friends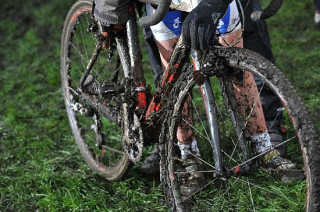 Mud was a major factor, though Sue Clarke (below) kept smiling through