Smithfield Nocturne News
Please take time out to back our "Keep Racing on the Roads" campaign to save Road racing by becoming a fan of our dedicated facebook page
Story posted May 14; Event Press Release

Smithfield Nocturne develops partnership with London Festival of Architecture
The Smithfield Nocturne returns for the fourth year on Saturday 19th June and has developed an exciting partnership with the London Festival of Architecture in 2010. The festival, which launches on the same day as the Nocturne, has always had a strong link with cycling due to its popular guided bike tours and its green credentials.

"We are very excited to link up with the Smithfield Nocturne" said Peter Murray, Director of the London Festival of Architecture. "The Festival's theme is 'The Welcoming City' and we believe that cycling and walking cities are nicer places to live and work. The Nocturne has always been a superb celebration of cycling in all its forms and is a brilliant example of the way our enjoyment and appreciation of London can be enhanced by temporary interventions and events."


The partnership will be celebrated by a whole day of festivities at Smithfield Market, with a real family feel and a host of interactive cycling attractions to enjoy. Visitors will be able to ride on the closed Smithfield circuit, test their legs on Rollapaluza racing rigs and compete in the Red Bull 'Stand Off' track stand competition. Adding to the festival atmosphere, the ancient St Bartholomew's Food Fair is being revived to fuel the energetic crowds. Top City of London restaurants will be selling their wares on street-side stalls from 2pm and into the evening for the Nocturne audience.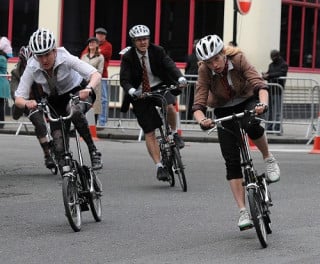 Other attractions linked to the London Festival of Architecture will include Children's Bicycle Workshops run by the Danish Cycling Federation, special bike parking designed by Cycle Hoop founder Anthony Lau and a Architect and Developer race which will feature in the Nocturne programme. Other races will include the Elite Criterium, Elite Women's Criterium, City of London Team Challenge, the hugely popular Folding Bike Race and the return of the Fixed Longest Skid Competition.

The festival will start from 2pm with the racing kicking off at 5.30pm. The event is free to attend and race entries are now open on www.smithfieldnocturne.com.

Following the London event the Nocturne Series will continue in Edinburgh on 3rd July and Blackpool on 7th August. Full details can be found on www.nocturneseries.com.