Follow britishcycling.org.uk on
Report: Sky Ride Bradford
Event: 29th August 2010, Bradford
Report, Video and Images: Eddie Allen
Above: Check out our video from the event

Above: Sky Ride Bradford Photo Gallery
Thousands of riders made their way to Peel Park on the northern outskirts of Bradford as Sky Ride made its first ever visit to the West Yorkshire city. With blue skies, closed roads and a host of entertainment on offer, the event was a real hit with cyclists of all kinds. British Cycling's Eddie Allen was there to report on the day's events.
The sun shines as riders start to gather in Peel Park for Sky Ride Bradford.
Bradford's Peel Park played host to Sky Ride on Sunday 29th August - a picturesque spot with great views over the city and the ideal location for the start and finish of the 7.1km closed to traffic circuit in and out of the city.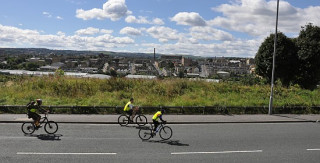 Above: The 7.1km route offered great views across the city.
Riders started arriving at the park from around 11am onwards, some early-birds wanting to be the first to sample the traffic-free course, which was closed to traffic from 11:30am right through to 4pm. By the time 11:30 came and the route opened, the Entertainment Village was packed with hi-viz vested riders, the sun was out and a blues band was in full swing on the Sky Ride main stage.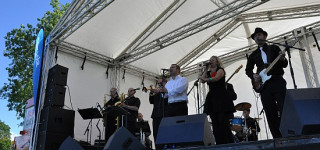 Above: Blue skies and blues singers greeted Bradford's Sky Riders.
Some riders were keen to get out onto the route, which left the park and descended into the city, providing a glorious and luxurious freewheel into the city centre before riders engaged low gear and hauled themselves back up to Peel Park. The route was perhaps the most challenging of all the Sky Ride routes - Bradford being surrounded on all sides by hills. However, this didn't seem to deter the crowds out on the route, who adopted a variety of approaches to conquer the "Col du Peel Park".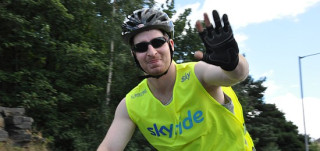 Above: What it's all about - fun, fresh air and traffic free cycling.
Fit, wiry team-replica types sailed up the hill past Bradford FC with nonchalant looks. "Have a go" types grinned and sweated their way up, while families with small children took a more philosophical approach, engaging 'low ratio' (i.e. walking) back up the hill, or coaxing their young children back to Peel Park with the promise of ice-cream, face painting and bouncy castles.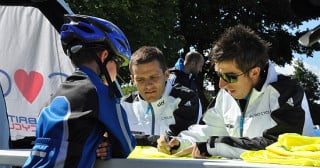 Above: Team Sky's Sylvain Calzati (left) and Russell Downing sign autographs for eager fans.
Those who opted to linger in the event village were treated to a huge variety of cycling and non-cycling activities to sample. Live bands graced the stage all day, which was next door to the bouncy castles and climbing wall. Further around the event arena, kids were having a go on recumbent trikes at the Get Cycling area, while next door, queues of young children stretched out of the face painting and bike-smoothie making tent. Also doing brisk business was the Evans Cycles bike maintenance area, which offered free tune-ups and minor repairs, while Gatorade and Drench delivered a seemingly endless supply of hydration to the thirsty folk of Bradford. Right next door, Adidas had their retail outlet, selling Team Sky merchandise.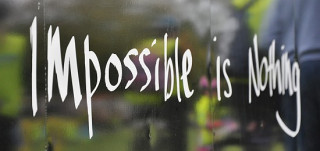 Above: The hi viz bibs of Sky Riders reflected in the gleaming black paintwork of the Adidas retail truck.
More cycling-based fun awaited visitors as they strolled around the far side of the arena. Local cycling group "Crank it Up" gave Sky Riders the opportunity to try an assortment of specialised and wacky bikes, with Team Extreme BMX demos right next door. Bradford BMX Bandits were also on hand at the nearby Peel Park BMX track to provide information on this great facility and the club's activities. Back at the event village, The Bygone Bike Club added a wonderful note of nostalgia, with a fine display of bikes ranging from Penny Farthings to classic 1960s racing machines.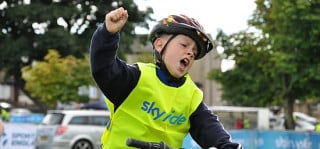 Above: Go Ride Racing made its Sky Ride debut at Bradford - and for this rider, it was all about the winning!
Making its debut at Sky Ride was Go-Ride Racing, which saw some stiff competition all day, delivered by British Cycling Go-Ride Coach Chris Young. Local Go-Ride Club East Bradford CC delivered the Go-Ride Skills test next door, and it was at the Go-Ride area where we met up with the Asquith family, whose daughter Sally (4yrs) is a regular at East Bradford CC's Saturday Bike Club. Sally had completed the entire 7.1km route unaided (apart from a 'little push' on the really steep bit!). Well done to Sally and to everyone else who completed the route.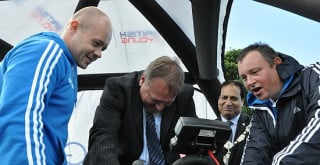 Next door to Go-Ride was British Cycling's Love Cycling tent, which hosted the Wattbike Challenge and celebrity bib signings from Team Sky's Russell Downing and Sylvain Calzati. Sky Ride Local was also popular, offering a range of rides throughout September and October for riders bitten by the Sky Ride bug.
However, no matter how much entertainment you lay on, an event just isn't an event without an enthusiastic crowd. And Bradford certainly showed its cycling colours on the day, with huge support from across the board, with families and beginners rubbing shoulders with died-in-the-wool club riders. We spoke to a few of Bradford's thousands of Sky Riders who summed up the event:
The Asquith Family from Bradford
"I'm with my daughter Sally, she's four years old and we've taken part in the Sky Ride today. She likes cycling so she's been waiting to come and join in - to ride around Bradford City".
Sam from Bradford
"I think Sky Ride is really good because it helps you get confidence riding on the roads".
Ben from Bradford
"I think Sky Ride is fantastic - with all the roads closed it gives you a completely new viewpoint of the city".
Ella from Skipton
"My best bit was doing the ride on the tandem with my Dad".
All in all, Sky Ride Bradford was a great, free family day out - a chance to get out in the fresh air, ride safe, traffic-free streets and find out more about local cycling opportunities. For more information on Sky Ride and Sky Ride Local go to www.goskyride.com.