UCI Mountain Bike World Championships 2011
Champery, Switzerland
---
Mountain biking's biggest race of the year, the UCI World Championships is officially live as riders from across the World compete for the rainbow stripes and British Cycling is in force in Champery with a team of 31 riders.
In a week where seventeen titles across cross country, downhill, fourcross and trials are on offer, each World Champion will don the rainbow jersey for one year, also earning the right to forever wear the rainbow bands.
Since 2007 Britain has secured at least one jersey and in 2011 Tracy Moseley defends her title of Downhill World Champion, while others on the team look to emulate the new World Cup Champion.
Racing starts on Wednesday with Junior women's cross country and concludes with downhill on Sunday.
CROSS COUNTRY
A team of nine riders represent Britain in the cross country events, which run from Wednesday through Saturday. However, Oli Beckingsale and Dave Fletcher will not compete - both out injured after being selected.

Annie Last headlines Britain's line-up and has been a revolution in cross country racing in 2011, scoring two top ten results in the elite World Cup she returns to the under-23 ranks for the World Championships. In 2010, Last secured a silver medal and will look to go one better in 2011, where she is expected to face off against France's Julie Bresset.
In the elite races Liam Killeen - seventh in 2010 - and Lee Craigie take to the line, while Kenta Gallagher debuts as an under-23. Another first-timer is Tracy Moseley, who will race as part of the team relay squad.
A strong development core of Junior riders including Grant Ferguson, Matt Sumpton, Katy Winton and Beth Crumpton - all of which have recorded top ten World Cup results - will compete in the under-18 category.
DOWNHILL
Six downhill World Champions in four years tells the success story of British downhill at the World Championships perfectly. Gee Atherton, Steve Peat, Tracy Moseley, Ruaridh Cunningham, Rachel Atherton and Josh Bryceland have all taken the rainbow jersey, but who will continue the tradition in 2011?

Moseley is a big favourite for the women's win; already World Cup series winner, the defending Champion has enjoyed the form of her last since taking the biggest win of her career, but Rachel Atherton is also a known threat on the Champery track. A second British World Cup Champion in 2011, Manon Carpenter starts as the favourite to take the junior women's win.
In the men's race a long list of riders who are all capable of the win on the right day. Four World Champions and three World Cup race winners makes for an eye-watering prospect. Gee Atherton won the Champery World Cup last year so starts as logical favourite, but such strength in depth makes it impossible to discount any of the six other selected other riders.
A strong British duo comprising Lewis Buchanan and Mark Scott are the juniors - Buchanan already with a bronze medal from 2010.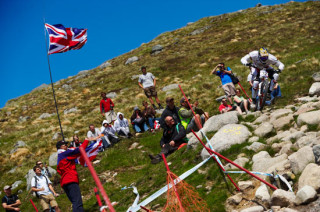 FOURCROSS
British fourcross has missed out on success in recent years following a relationship break-up from downhill and the talk in 2011 surrounds whether this will be the finalvever fourcross World Championships.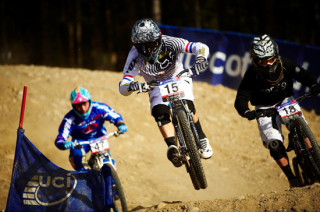 Regardless, Champery has a track sure to showcase the more spectacular side of the sport and four British riders - Scott Beaumont, Will Evans, Scott Roberts and Fionn Griffiths will hope to qualify Thursday for the big show on Friday night.
TRIALS
A six-strong team comprising of Andrei Burton, James Hyland, Ben Savage, Joe Seddon, David Kerr and Sam Oliver will lead British hopes in the trials competition which concludes with the 20-inch finals on Saturday and 26-inch finals Sunday.