The 2023 ICSF World Cycle Speedway Championships makes its long-awaited return after a four-year hiatus this month, with 38 British riders heading out to Australia in a bid for glory, with racing taking place between 17 November and 3 December.
Having been disrupted by Covid-19, this is the first championships to be held since the 2019 edition in Poland and will see riders from across the world tear up the tracks in Adelaide. Read on for more information on the competition format, venues, Brits to watch and how to follow.
The championships
The championships start with a welcome evening on Friday 17 November and conclude with the Best Pairs Championships on Sunday 3 December.
The official ICSF World Championships is made up of four competitions – World Individual Championships, World Team Cups, World Best Pairs Championships and Federations Cups.
The World Individual Championships are made up of the regular seven categories – open, women, juniors (under-18s), veterans (over-40s), grand veterans (over-50s), under-16 boys and under-16 girls. This year, two additional categories are also being integrated to compensate for riders that missed out on their age category championships over the past four years, with categories for under-21 men and under-19 women also forming part of the schedule.
The other three championships are team events with open, women, junior and veteran categories. The programme also includes several test matches, which are organised by the various federations outside of the world championship competition, but still highly-prestigious and keenly-contested.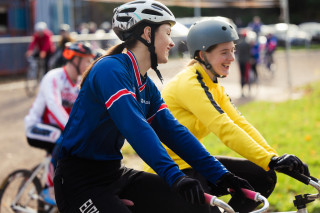 The venue
Findon, Salisbury, Le Fevre and Murraylands are the four tracks that will host the championships across the 15 days of racing.
Findon circuit has a rich cycle speedway history and is home to the Findon Skid Kids – the oldest cycle speedway club in Australia – while the Murraylands track is situated 50 miles away from Adelaide at Murray Bridge.
Brits to watch
A high-calibre squad of 38 riders are heading down under to represent Great Britain, and will have high hopes for success after strong domestic seasons.
In the open category, Ben Mould will be defending his world title, having last won in fine style in Poland in 2019. The 30-year-old Welshman also won the European title at Astley and Tyldesley in 2022 and is bound to be a strong contender this time round. Josh Brooke of Great Blakenham will also be a force to be reckoned with at the world championships, having been on the podium at the last six British finals.
Birmingham's Paul Heard successfully defended his British title at Astley and Tyldesley in August, taking his career total to three, and he will be Great Britain's team captain for the event.
Poole's Maddie Saunders also won the British title at Astley and Tyldesley this year and was second in the 2019 under-16 girls world final in Leszno, Poland. Saunders will also be competing in the under-19 women's championships this year, with high hopes of making another world podium. Leicester's Lizzie Rigley has had four podium finishes in the British women's finals and will be looking to make an impression on the world stage.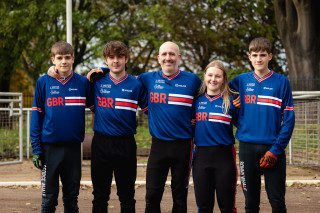 A strong cohort of British junior boys will touch down in Adelaide hungry for medals, with several riders tackling multiple age categories in the under-21 men, junior and under-16 events. Southampton's Leon Penketh is one of the hot favourites coming in as the British junior champion. Kesgrave's Torsten Jolly, Exeter's John Junior Wildman and Poole's Kenzie Bennett are other favourites to watch, as well as Hull's Lewis Foxley in the under-21 men's category, who is doubling up with the open category. Poole's Nataleigh Goulden will be the sole British representative in the under-16 girl's competition.
Norwich's Paddy Wenn won the over-50s world title in 2019 and will look to defend his title. Former world over-40 champions Steve Harris (Astley and Tyldesley) and Dave Murphy (Exeter) are two favourites to podium in Adelaide, having moved up an age category.
Current British veteran champion Gavin Wheeler will represent Poole on the world stage when he takes to the over-40 start line, and will be joined by former world champion in that age category, Craig Marchant.
How to follow
You can follow all the action through Cycle Speedway Australia on Facebook, with updates also available through our British Cycling social media channels and website. A live scoring system will be available online throughout the event, and can be accessed through this link.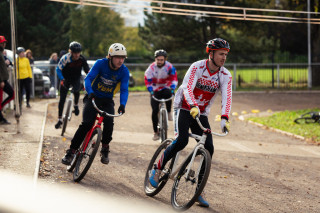 Rider list
Jason Ashford, Great Blakenham (Grand veterans, veterans)
Lee Ashman, Wednesfield (Grand veterans, veterans)
Amy Baynes, Coventry (Open women)
Kenzie Bennett, Poole (Under-16 boys, junior men, open men, under-21 men)
Joshua Brooke, Great Blakenham (Open men)
Stephen Copping, Norwich (Open men, veterans)
Andre Cross, Hethersett (Grand veterans, veterans)
Lewis Foxley, Hull (Open men, under-21 men)
Nataleigh Goulden, Poole (Under-16 girls, open women, under-19 women)
Steve Harris, Astley & Tyldesley (Grand veterans, veterans)
Paul Heard, Birmingham (Open men)
Rebekah Humphries, Birmingham (Open women, under-19 women)
William Jeffrey, Birmingham (Open men)
Torsten Jolly, Kesgrave (Junior men, open men, under-21 men)
Shaun Kell, Ipswich (Under-16 boys, junior men, open men)
Fez Langoo, Poole (Junior men, open men)
Ian Lawrence, Findon (Veterans)
Gary Lawrence, Independent (Grand veterans, veterans)
Craig Marchant, Great Blakenham (Veterans)
Samantha-Jayne Marsh, Coventry (Open women)
Ben Mould, Newport (Open men)
Leon Mower, Kesgrave (Open men)
David Murphy, Exeter (Grand veterans, veterans
Leon Penketh, Southampton (Under-16 boys, junior men, open men)
James Porter, Ipswich (Open men, under-21 men)
Lizzie Rigley, Leicester (Open women)
Maddie Saunders, Poole (Open women, under-19 women)
Oliver Saunders, Poole (Under-16 boys, junior men)
Chris Timms, Birmingham (Open men)
Kevin Wells, Norwich (Grand veterans)
Owen Wells, Ipswich (Open men)
Patrick Wenn, Norwich (Grand veterans, veterans)
George Whale, Southampton (Under-16 boys, junior men, open men)
Sonny Whale, Southampton (Under-16 boys, junior men, open men)
Gavin Wheeler, Southampton (Open men, veterans)
JJ Wildman, Exeter (Under-16 boys, junior men, open men, under-21 men)
Andy Yard, Exeter (Open men, veterans)
Harvey Yard, Exeter (Under-16 boys, junior men)