Charlie Aldridge and Evie Richards both did the double at the 2023 British National Cross-country Championships as they each claimed national titles in the short track and Olympic events.
The championships returned to Tong, which had hosted a wet and muddy National Series race back in April, and there was more the same for riders this weekend as continuous downpours added an extra dimension to an already technical and demanding course.
Short Track

Seniors
Evie Richards (Trek Factory Racing XC) escaped from the start of the women's race and wasn't seen again, easing her way to a first national title of the weekend. Behind her, Annie Last (Lapierre Mavic Unity) managed to keep ahead of Anna Kay (777 UCI CX Team), after a freak mechanical issue took Isla Short (Ghost Factory Racing) out of the running for a podium place.
It was a different story for Charlie Aldridge (Cannondale Factory Racing) in the men's race as his attempts to escape were consistently reeled back in. He was eventually able to make a move stick however, taking the win ahead of Joe Blackmore (Team Inspired) and Cameron Orr (Wilier Triestina Pirelli Team). Cameron Mason (Trinity Racing) just missed out on a podium having been in the mix all race.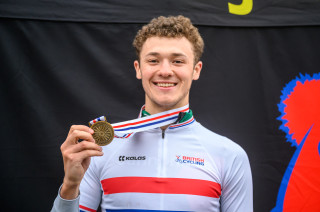 Juniors
In the junior women's race, Emily Carrick-Anderson (T-Mo) nudged ahead of Daisy Taylor (Royal Albert) and Bethany-Ann Jackson (Pine Sport) for the win after a very close 20 minutes of racing. Max Greensill (Hope) took another convincing win in the junior men's race, finishing ahead of Oli Akers (Albion Cycling Co) in second and Ruan Vorster (Scotia Offroad RT) in third.
Youth and juveniles

Maddie Moorhouse-Smith (Hope) led from the start in the youth girl's race but it took a sprint finish to split second, with Zoe Roche (WXC) finishing ahead of Aelwen Davies (Torq) in third. A group of four escaped in the boy's race, led by Alex Hart (Mid Shropshire Wheelers), but it was Leon Atkins (Welwyn Wheelers CC) who eventually took the win ahead of Innes McDonald (Scotia Offroad RT) and Dec Oldham (Hope).
In the girl's juvenile race, Olivia Poole (Deeside Thistle) stormed home to take a commanding victory with Katie Allsop (Rotor) and Macey Arrowsmith (Sherwood Pines Cycles Forme) completing the podium. Leon Parker (Rotor) had a thrilling race with Alarik Knox (Verulam) before escaping on the final part of the course to claim victory in the boy's race. Zac Hutchinson (Clifton CC) came home third.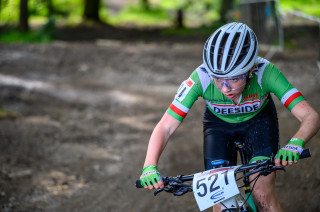 Veterans
Davina McLelland took a commanding win in the women's veteran race, followed home by Rebecca Leaper and Ruth Miller (Ben Thomas Coaching Club), who recovered well from a fall early in the race.
Paul Oldham won the men's veteran race ahead of Richard Freshwater (Hunt Wheels) who outsprinted Alan Gunner (Verulam) for second place. Nick Craig (Scott) won the grand veterans ahead of Dougie Cameron with Alan Murchison (HUUB WattShop) third. John Galway (Scarborough Coast CC) managed to edge out John Cocker (Here Come The Belgians) to claim the win after some very close racing with Brian Gough (Southport CC) in third.
Olympic
Seniors
It was a familiar story for Evie Richards on Sunday, as she once again escaped from the start and kept her lead to secure a resounding double. Isla Short redeemed herself from her short track disaster to take a convincing second place ahead of Annie Last in third.
Charlie Aldridge also claimed his second jersey of the weekend, but only after Cameron Mason had given him a tight battle round the old quarry. Cameron Orr brought home the rest of the field.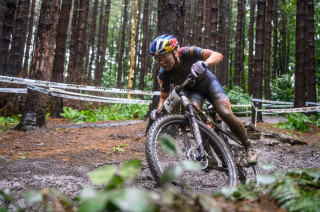 Under-23
Ella Maclean-Howell (Team Inspired) won the women's under-23 race ahead of Elena McGorum (Mighty Cycles) and her sister Anna McGorum (Edinburgh University CC). Joe Blackmore (Team Inspired) took victory in the men's race, ahead of Rory McGuire (Leslie Bike Shop-Bikers) and Corran Carrick-Anderson (T-Mo).
Juniors
Emily Carrick-Anderson also did the double as she won the hotly contested women's junior race with Kacey Eyeington (Derwentside CC) taking second just ahead of Bethany-Ann Jackson. Max Greensill (Hope) ensured he would be taking two stripy jerseys home with another commanding win in the men's race. Behind him, the battle for podium spots was won by Ben Coppola (Scott Racing) in second and Ben Allan (Peebles CC) in third.
Youth and juvenile

Maddie Moorhouse-Smith never looked back from the start to claim her double victory in the girl's youth race. Aelwen Davies was second ahead of Tulsi Bakrania (WXC). The boy's youth race was far more closely fought with a group of five leading on the starting laps. Positions changed every lap, but it was Leon Atkins who finally took the win. Local rider Noah Ellison (Shibden Cycling Club) took second with Alex Hart (Mid Shropshire Wheelers) finishing just behind him.
Olivia Poole continued her fine form this season with another win in the juvenile girl's category ahead of Orla White (Dartmoor Velo) and Rose Lewis (Halesowen A & CC). Similarly in the boy's race, Gus Lawson (Pentland Racers) dominated from start to finish with Luke Trafford (Shibden Cycling Club) and Noah White (Mid Shropshire Wheelers) bringing home the rest of the field.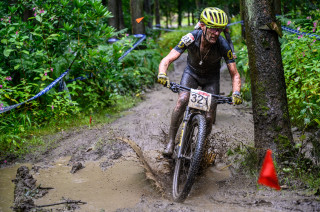 Masters and veterans

Josh Matthews took a great win in the championships masters category, with Ashley de Lotz in second and Lee Gratton (RR23) taking third. In the women's masters race, Helen Jackson (Kendal) took a clear win over Rebecca Leaper and Verity Appleyard (Velo Fixers).
Paul Oldham (Hope) won the men's veteran race convincingly ahead of Gary MacDonald (Nevis Cycles Racing Team) and Sam Humphrey.
Cheri Mills (Oneplanet Adventure) took a fine win in the women's grand veteran category, with Helen Pattison (Montezuma's Race Team) in second and Carolyn Spiers (Kendal) in third.
Nick Craig (Scott) led from start to finish in the men's grand veterans race. Marc Chamberlain (Hunt Bike Wheels) fought back after an early mishap to claim second with Dougie Cameron in third.
Stewart Coates (All Terrain Cycles Ride) brought home the field in the super veteran category, with defending champ Pete Harris (Pearce) having to settle for second. Andy Weaving (Cotswold Cycles RT) was third.