Neah Evans took a superb silver medal for Scotland after a powerful sprint finish in the women's road race in Warwick, while Finn Crockett claimed his first major medal with a bronze in the men's race at the Birmingham Commonwealth Games 2022.
Women's Race
It was Neah Evans' second silver of the Games, having also taken one in the points race, as well as a bronze in the individual pursuit on the track – making her the first female Scottish cyclist to claim a hattrick of medals at the Commonwealth Games.
Evans worked throughout the 112km race with her compatriot Anna Shackley to make it to the pointy end of the action and get herself on the podium.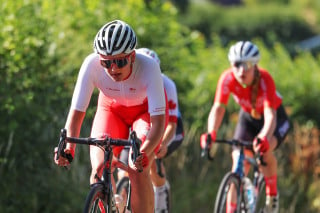 The entire race was flurried with attacks, with early surges breaking up the 56-rider peloton.
England's Anna Henderson put in frequent attacks throughout, showing extreme determination to get in a breakaway and add another medal to her silver in the time trial, but the strong Australian team neutralised and it became clear that the target on Henderson's back was too big to let go.
Maddie Leech from England also managed to gain a solo gap twice, while Shackley and Isle of Mann's Lizzie Holden also put in strong surges in a bid to get away, but the Australians were looking for a sprint finish with the depth of their six riders proving the strongest.
With 41km to go, Henderson, Fisher Black, Shackley, Australia's Ruby Roseman-Gannon, and Canada's Alison Jackson finally managed to break away to form a 16 second lead, but a counterattack from the Australians brought the group back together after just six kilometres.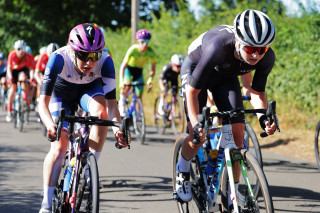 The pace continued to increase and with just eight kilometres left, Shackley looked like she could go clear, but the Australians were again too strong. Coming into the final few kilometres, England, Canada, Wales, and Australia were controlling the front of the race.
But it was all down to the sprint finish, with Australia's Georgia Baker storming to gold, while Evans showed incredible speed to take the silver and Australia's Sarah Roy won the bronze. Eluned King of Wales took eighth, England's Alice Barnes came in tenth, and Northern Ireland's Alice Sharpe finished 15th.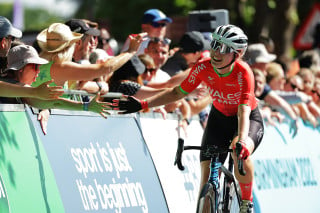 Evans said:
"There's been some fantastic Scottish cyclists, so to get three at one Games – that's going to take a while to actually sink in, especially because it's not just the track, it's across two disciplines. It was a big team effort behind it. Having Anna there to keep me right and move me up at the right time was just brilliant. I couldn't have done it without her.
"Absolutely exceeded my expectations. I really enjoyed the final bit – the last three kilometres was brilliant – I loved that!"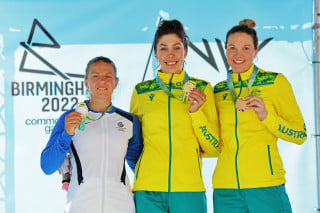 Men's Race
Scotland's Finn Crockett claimed his first major medal with a brilliant bronze in the men's sprint finish at the 2022 Commonwealth Games.
It was a high pace from the start, with the 160km race splintering early on. Joe Holt from Wales and Grenada's Red Walters had an early advantage, going up to 18 seconds, but were caught swiftly.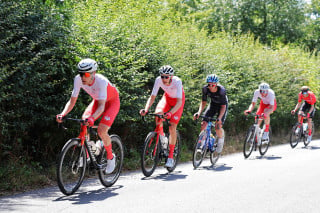 The riders continued to steamroll the pace, and with 113km to go, a group of 15 riders got away, including Scotland's Crockett and Sean Flynn, Geraint Thomas of Wales, England's Fred Wright, Ben Turner, and Sam Watson, Isle of Man's Ben Swift, Guernsey's Sam Culverwell, and Northern Ireland's Matthew Teggart.
The group managed to get a 1:40 advantage, while a chasing bunch including Scotland's Mark Stewart, England's Jake Stewart, and Isle of Man's Matt Bostock worked together.
The pace settled, before Australia's Lucas Plapp attacked in the front group with 45km to go to drive on the pace, with a flurry of attacks following.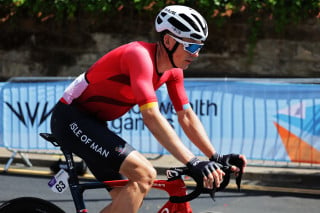 Teggart made his move with 36km to go, with Watson straight on his wheel, taking South Africa's Daryl Impey and New Zealand's Aaron Gate with him to make a breakaway of four. It looked to be a winning move as the gap opened to 24 seconds but were caught after less than 10km.
The front group settled, before the three English riders put in a relentless series of attacks that came to nothing but caused the group to splinter.
With 11km left, one of Watson's many attacks finally stuck, and he was quickly joined by Culverwell, gaining a 14 second lead.
The duo put in a brave performance, but Thomas made a last gasp effort to attack with just 1.7km to go, before being swallowed by the bunch with the line in sight.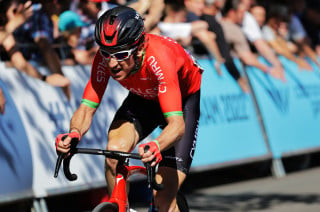 Wright sprinted for England but couldn't match the power of New Zealander Gate who took his fourth gold of the Games, having gained three on the track.
A close finish saw Impey take the silver, and Crockett got an incredible bronze medal on a photo finish with fourth placed Teggart from Northern Ireland.
Wright finished in fifth place, while Turner came seventh and Thomas eighth. Culverwell got a brilliant ninth place for Guernsey, while Flynn came in ninth for Scotland. England's Watson came 11th, while Swift from the Isle of Man finished 15th.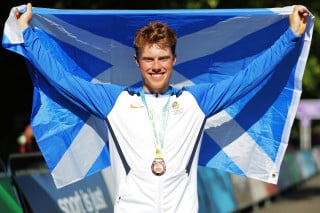 Crockett said:
"I'm just soaking it all in at the moment. There was that wave of pure emotion afterwards and I really just felt like crying. This is such a big thing for Scotland and Scottish cycling. To get two medals from the women's and the men's is just unbelievable and it just goes to show you how up and coming and talented these Scottish cyclists are. I just can't believe it!
"To show I can produce results at this level is great and hopefully it helps with next year and my progression throughout the sport. It's surreal. I can't wait to see my family and my girlfriend and celebrate with them."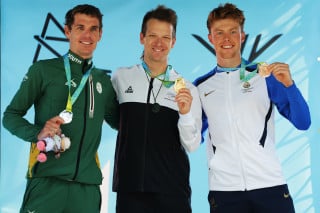 On Team England's peformance, Fred Wright said:
"We did everything right, I'm just sorry to the lads that I couldn't finish it off. I'm a bit disappointed, but the crowds were amazing and we had a good day out - just a shame about the result at the end."