Kesgrave Panthers were crowned overall winners at this year's British Club Championships with a total of 115 points, after a packed weekend of racing at Poole's harbourside track.
The Suffolk club showcased the strength of their young riders with solid wins in the Junior, Under-14 and Under-16 Boys' categories, backed up by further top three placings in the Under-12 and Under-16 Girls', en route to victory. Here's our full run-down of the weekend's racing.
Open
Horspath retained their title in the Open category with a solid team performance that saw them finish the day on 50 points - eight points ahead of Poole. Fielding a team that included the current British champion and current world champion was always going to be a tough ask for any team to challenge, however the points total really didn't reflect how close the racing was over the 16 heats.
Poole went into the interval with 24 points – three points ahead of Horspath - as Aaron Smith continued his recent good form with wins in heats one and six. However Horspath stepped up a gear in the second half, taking seven of eight wins to claim the overall victory.
Women
Poole took their first win in the women's event, with Maddie Saunders gaining 16 points, in what was the first championships that Leicester haven't taken the title since the competition began in 2006.
Sheffield claimed second on 27 points – 17 of which were claimed by Laura Watson – while Exeter took third on 25 points. Kesgrave came fourth on 24 points, while Horspath came fifth, with Rachel Lammin claiming 16 points. Leicester came in sixth on 19 points.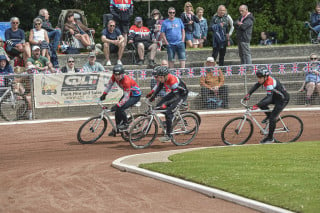 Under-16
Kesgrave took the Under-16 Boys' win to retain their title with solid performances from Noah Woodhouse, Charlie Parr, Torsten Jolly and Ryker Jolly.
A straight six team final saw the Suffolk team ease to victory over second place Exeter – with JJ Wildman, Owen Geach and Ed Selwood unable to break the Kesgrave grip.
Poole's Kenzie Bennett and Oliver Saunders took 17 points each to take third on 34 points.
The Under-16 Girls' race saw Poole take the win with Daisy Sherwood, Natalie Goulden and Lexie Curtis all putting out impressive rides to get 36 points overall.
Kesgrave took second on 34 points, with Lily Parr's 22 points proving vital, while Exeter finished third on 32 points and Newport fourth on 18 points.
Under-14
Continuing their dominance, Kesgrave A secured 33 points to win the Under-14 category, with Ryker Jolly taking 13 points. Coventry came second on 27 points, while Poole and Kesgrave B finished joint third on 23 points. Ipswich and Southampton claimed 22 points to take joint fourth.
Junior
Kesgrave took 38 points to secure another victory in the Junior category, with Woodhouse, Torsten Jolly and Parr matching their strength in the Under-16s.
Exeter finished second on 31 points, while Poole finished third on 24 points and Sheffield took fourth on 23 points.
Veteran
Leicester duo Craig Marchant and Norm Venson secured the win in the Veterans' pairs category for their B team, while the A team of Mark and Nicky Whitehead took the runners-up spot.
The Poole trio of Alan and Steve Nation and a returning Phil Gard, who rode to an impressive 19 points, took the third step of the podium.
Results
Open:
Horspath - 50 pts
Poole - 42 pts
Great Blakenham - 33 pts
Ipswich - 30 pts
Women:
Poole - 32pts
Sheffield - 27pts
Exeter - 25pts
Kesgrave - 24pts
Horspath - 23pts
Leicester - 19pts
Junior:
Kesgrave - 38pts
Exeter - 31pts
Poole - 24pts
Sheffield - 23pts
Under-16 Boys:
Kesgrave - 41pts
Exeter - 36pts
Poole - 34pts
Southampton - 31pts
Horspath - 23pts
Ipswich - 22pts
Hethersett- 17pts
Under-16 Girls:
Poole - 36pts
Kesgrave - 34pts
Exeter - 32pts
Newport - 18pts
Under-14:
Kesgrave A - 33pts
Coventry - 27pts
Poole - 23pts
Kesgrave B - 23pts
Ipswich - 22pts
Southampton - 22pts
Veteran:
Leicester B - 39pts
Leicester A - 35pts
Poole - 33pts
Exeter - 32pts
Newport - 29pts
Sheffield - 22pts
Hethersett - 14pts