British Cycling is pleased to announce today that Group CFO of Monzo Bank James Davies has joined the organisation's Board of Directors, while Member of Parliament for Chatham and Aylesford and former Sports Minister Tracey Crouch has joined the Board of Directors of British Cycling Events.
Both Davies and Crouch join their respective boards as Independent Directors, providing expertise and guidance to the Executive Leadership Team and wider organisation as it looks to deliver its 'Lead our sport, inspire our communities' strategy, which was published in September 2021.
James Davies is an ACA qualified accountant with more than 25 years' of experience in global organisations including Close Brothers and Deutsche Bank, and more recently he has held Group CFO positions in public and privately owned digital companies, including his current role at Monzo Bank.
Davies has extensive experience of advising and sitting on many global boards, with a focus on financial discipline, governance and value creation. He has been a keen cyclist all of his life having grown up in the hills of South Wales, where racing was a key part of his teenage years.
Following his appointment, he said:
"I am delighted to have the opportunity to join the Board of British Cycling. I have been a deep-rooted fan of all things cycling since I first learnt to ride my bike over 40 years ago. I am excited to put my corporate experience to use in an organisation I am genuinely passionate about."
Tracey Crouch is the MP for Chatham and Aylesford and was formerly Sports Minister from 2015-18. She recently chaired the Fan-Led Review of Football Governance and is passionate about good governance in sport. Prior to entering Parliament in 2010 she worked in the city for Aviva as Head of Government Relations, supporting all aspects of the business in legislative affairs.
Crouch is a keen sports enthusiast and a lockdown convert to road cycling, and has since done a number of challenges raising money for various charities on her bike.
She said:
"I am thrilled to be joining the British Cycling Events Board and hope to be able to provide some long term strategic thinking to how we can maximise the impact from events to grow elite and grassroot cycling across the country."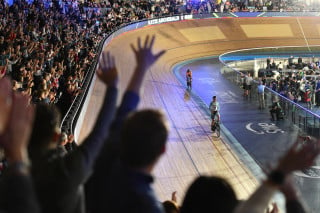 Both Davies and Crouch will serve an initial three-year term, and formally began their tenures in April. James Davies joins the Board of Directors following the departure of Senior Independent Director Marian Lauder MBE, who has served on the board since 2014.
In her time on the Board of Directors Marian chaired the Audit and Risk Committees; was responsible for commissioning the Cycling Independent Review and shaping British Cycling's response to it through production of a 39-point action plan; and provided expert guidance on how best to fully conform to the Code for Sports Governance.
British Cycling Chair, Frank Slevin, said:
"We're delighted to welcome James and Tracey to the organisation to support our strategic and major event objectives, and I am certain that they will provide us with a wealth of experience from their extensive careers in business and politics.
"From our conversations I know just how passionate they both are about our sport, and about ensuring that we are managed and governed in a way that best equips us to grow, innovate and capitalise on the opportunities in front of us in the years ahead.
"I'd also like to place on record my sincere and heartfelt thanks to Marian for her commitment and counsel over recent years. She has been a fantastic asset to the organisation over what has been a period of significant change, and I know that she will continue to be a firm friend and advocate of British Cycling for many more years to come."
To find out more about the British Cycling Board of Directors click here, and for the British Cycling Events Board of Directors click here.