Great Britain Cycling Team's Nathan Draper rode to eighth place in a gripping junior men's race at the UCI Road World Championships in Richmond.
The 18-year-old finished 13 seconds back from Austria's Felix Gall who attacked alone from the lead group on the final lap and hung on by less than one metre to be crowned junior men's road world champion.
France's Clement Betouigt-Suire was second with Dane Rasmus Pedersen third.
Draper's teammate Joey Walker came home in 19th, 36 seconds back from Gall, while Joe Holt did not finish.
"Really happy with the result," Draper said.
"I think today with it being the worlds, it was all about being patient. It was a bit of a nervous start, quite a few crashes.
"Once we got into the swing of things I started to keep at the front but not be on the front as such and then just looked for a break.
"On the last lap I managed to get between the front rider and the group. I think there were four of us trying to chase him down. We were getting closer and closer. A couple of guys came back and up that last hill I tried to follow but just didn't have the legs."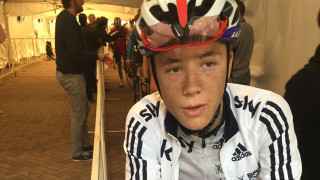 Wet conditions saw the two cobbled climbs of Libby Hill and 23rd Street on the 16.2-kilometre course become treacherous as numerous riders came off their bikes, some even opting to walk up sections of the pave.
The race was dotted with multiple attacks over the over 129.8km, eight laps of the inner-city road circuit.
Walker was active on lap three as he, along with Colombian Julian Cardone and Belgian Bjorg Lambrecht, went off the front but were quickly hauled back before the conclusion of the lap.
By lap five, the race was starting to split, Holt finding himself nearly six minutes down with Walker a minute back and Junior Tour of Wales winner Draper just behind the leading group.
The drizzle reappeared to end any hopes of the cobbles drying before the end of the race and by the penultimate lap Draper found himself in a lead group of 14 with Walker just behind in the bunch.
Gall then launched the deciding attack with Draper and the chasers splitting in their pursuit with the Austrian holding strong to earn the rainbow stripes.
"Top 20, I'm really happy with that," Walker said.
"The first three laps were just a crash fest. Every time someone hit a white line, they braked and went down.
"My positioning was alright for the first three, then one lap I got swamped at the bottom of Libby Hill, someone crashed in front of me and after that I couldn't recover, I was always on the back foot. A really hard day."
Result