With spring in the air, riders in the West Midlands can now access cycling routes in their local area thanks to British Cycling and Ordnance Survey, which have been made available through the OS Maps web and mobile app.
The two organisations' work will initially focus on the West Midlands, with the aim of supporting diverse communities to try cycling and discover fun and accessible routes on their doorstep.
In total, 80 free British Cycling routes will be made available digitally, while five physical maps within Birmingham will be available around the city. If you would like to be involved in displaying or distributing the maps in Birmingham, please get in touch with us at routes@britishcycling.org.uk.
The bespoke maps are designed specifically for families and aim to support riders to follow a route straight from their front door.
This innovative project is supported by Sport England, and forms part of British Cycling's wider work to enable more people from diverse communities to cycle regularly and narrow inequalities in the sport.
British Cycling's Regional Manager of the West Midlands, Nick Barr, said:
"It's great to see the partnership between British Cycling and Ordnance Survey launch in the West Midlands, showcasing local infrastructure and parts of the region which have benefitted from recent upgrades and improvements. We're keen to work with local stakeholders and partners to engage the local community with the routes and increase cycling participation as the days get longer and warmer."
British Cycling's Community Programmes Manager, Tommy Morrisroe, said:
"We're really proud of our fantastic cycling routes, and know that Ordnance Survey are experts at supporting people get outside, so we're really excited to partner with them and believe that their app can be a real game-changer for people looking to discover cycling opportunities in the West Midlands."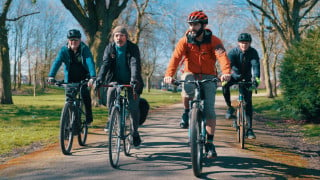 Managing Director of Ordnance Survey Leisure, Nick Giles, said:
"We are delighted to support this excellent project and help offer new cycling routes to audiences in the West Midlands who might not normally consider getting on bikes.
"We've provided OS data and developed the five physical maps, making sure the routes are accessible for new cyclists, and making sure they have all the right information they need for accessible, safe and enjoyable rides.
"It's great to be working with an organisation like British Cycling who have links into communities through its programmes.
"In the last few years, we've seen people across the country benefit from getting outside and cycling. During lockdowns, cycling became a key part of people's daily routines supporting both their physical and mental health. OS Maps, saw an 80% increase in downloads and huge activity across our urban maps including green spaces and cycle networks.
"It's vital that we build on this momentum and encourage more people to get outside and keep active."
All of the routes can be accessed for free, and you can download and follow them easily through the OS Maps app. To find out more about the routes, follow the link here.