Earlier today we published the dates and venues for our 2023 National Road Series and National Circuit Series. Here, our Acting Cycling Delivery Director Jonathan Day looks ahead to the new season and reflects on the challenges currently faced by organisers and funders.
Today we published details of the 18 races which will make up next year's men's and women's National Road Series and National Circuit Series, beginning in March with the ANEXO/CAMS 7th Women's CiCLE Classic and ending with the Beaumont Trophy and Curlew Cup in September.
Despite the enforced cancellations due to Covid-19 which disrupted the calendars in 2020 and 2021, and the great progress made by everyone involved in supporting the sport's recovery since, the picture facing organisers, funders and sponsors in 2022 remains incredibly stark. On behalf of British Cycling, I want to extend my heartfelt thanks to all those who work around the clock to ensure that these events can go ahead.
Planned roadworks on the Isle of Man mean that the Manx International Stage Race organisers are unable to run the event in 2023, however we look forward to welcoming it back to the calendar in 2024, and we're pleased to have further bolstered the women's circuit series with an additional round in Sheffield.
However, the picture elsewhere is clearly challenging, and the absence of the Stockton Grand Prix is reflective of the huge challenges being faced both by ourselves and a number of sports in securing vital financial support from local authorities for national-level events, at a time when incredibly difficult decisions are having to be made about support for the most basic frontline services.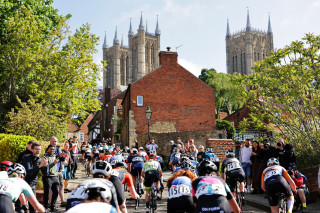 Alongside this we know that road event organisers, who already require significant resources and support to deliver their races, are being hit harder than ever by rising fuel and supplier costs – compounded further by the stubborn impact which Covid-19 and more recently the cost of living crisis has had on rider entries and racing frequency.
As the national governing body, we have and continue to provide extensive support for organisers, both financial and through event infrastructure and services, and through that support we have been able to safeguard a number of events over recent years which otherwise would not have been able to run.
However, as an organisation we are not immune from the wider financial landscape at play, and we need to ensure that the sport is sustainable and do all we can to protect its long-term future. We need to strike the right balance here, and while there are things which we can do and are doing, we simply don't have the means to underwrite all of our events without the required local partner or sponsor investment.
Despite the obvious challenges, our team continues to work proactively with those on the ground, and as I write this today, I remain very optimistic about adding a further round to the men's National Road Series. We also continue to have positive discussions about our plans for next year's national championships for time-trial, circuit and road – building on the fantastic success of our last two editions in Lincoln and the Scottish Borders.
Just as importantly, we're working to improve our support for new and prospective organisers to help them to further develop and raise the level of their events, with a view to welcoming new events to the series in 2024 and beyond. Part of this has included financial support from our Covid Recovery Fund and Entry-level Events Fund, both of which remain open for organisers to access, and which have played an important role in increasing the number of local racing opportunities.
With the combined efforts, knowledge and passion of our teams, organisers, officials, local sponsors, staff team at British Cycling and everybody else who makes our events possible, I know that we can deliver another year of high quality racing, and provide a platform for our country's brightest talents to shine.
If you're interested in supporting events near to you – whether that's as an organiser, volunteer or sponsor – you can find contact details for our regional teams here.