Just one year on from the launch of the first centre in Rushmere Country Park, British Cycling's network of Gravity Talent Development Centre's has now grown to cover six sites across England – setting an exciting generation of talented riders on the course to success.
A key element in our long-term plan for Gravity, published in June 2021, the centres are designed to support Gravity Mountain Bikers with aspirations to one day compete for elite podiums and provide a space for them to learn new skills and meet other riders.
The centres have been established with the support and assistance of riders, teams and coaches within the community, with coaches from a range of backgrounds – including World Cup level racers – now nurturing young talent and helping them to excel at a national and international level. The six current Gravity Talent Development Centres take place in the following locations, and you can find out more about upcoming sessions through our Events page:
Hopton and Eastridge, West Midlands, coached by Matt Simmonds
Gawton Gravity Hub, South West, coached by Jay Williamson
Rushmere Country Park, Central, coached by Ian Warby
Forest of Dean, South, coached by Ian Taylor and Olly Morris
Famer John's MTB Park, North West, coached by Jack Reading
Wharncliffe and Leeds Urban Bike Park, Yorkshire, coached by Jack Reading
With the Talent Development Centres now fully operational, a further development has been the creation of new Regional Gravity Training Days (RGTD), which provide another opportunity for talented riders to progress from Talent Development Centres and benefit from expert coaching and the opportunity to ride and learn alongside their peers.
The Talent Development Centres and Regional Gravity Training Days have both been set up under the guidance of Michael Vickers, DH/4X Coordinator and Talent Development Coach for British Cycling, and below Michael provides an overview of how the sessions work and why they've proved so popular.
Find a session via our Events page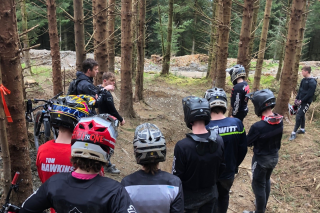 A day at a Regional Gravity Development Training Day
We held our first RGTD at Revolution Bike Park. Riders who attended had been nominated by their Talent Development Centre (TDC) and respective coach to attend based on the attitude and skillset they had demonstrated during their attendance at the TDC sessions.
At our first RGTD, riders worked with coaches Michael Vickers and Matt Simmonds on their approach to racing. The day started with a warm up demonstration, that addressed some of the practicalities of trying to warm up with limited equipment followed by a couple of runs to familiarise themselves with the track, including understanding the feature orders, grip levels and any pinch points. We then look to help the riders to find consistency on the track.
Building on this, to find consistency the riders highlighted areas where there were different line options that they wanted to check to see which was the best option for themselves. Taking the time to have a look also meant riders could see if there were any sections they could tidy up if they weren't quite on the correct line, or if they were struggling to negotiate a particular section.
Over the lunch break, we took the opportunity to watch some World Cup-level racing and break down the key elements to a successful run. Our young riders watched clips from a number of riders, including Thibaut Daprela's race run from the 2021 Leogang World Cup, looking at how they deal with unexpected challenges in a race environment and how controlling your breathing can help you to stay focused and manage energy.
This led us nicely into the final part of the afternoon. Now that riders had confirmed where they wanted to be on the track and were happy with their line, we asked them to break the track into three sectors, so that over the next couple of runs they could ride each with the right intensity, an approach used to help build speed on longer race tracks while managing energy.
The weekend after the session, several riders made the podium at the National Series round in Rheola – testament to their hard work and what they learned in the session.
There are further plans to progress the rider pathway and create a National Development Group for youth riders – so stay tuned for future updates!
Find a session via our Events page