Cross is coming! This weekend Moorways Leisure Centre in Derby will host the first round of this year's HSBC UK | Cyclo-cross National Trophy – and after such an interrupted season in 2020/21, we can't wait to get started!
All eyes on Derby
We have an incredible 800 riders signed up to race across the 12 categories this weekend, which is a record for a HSBC UK | Cyclo-cross National Trophy event! Last year's round of the series in Derby was sadly cancelled due to the impact of Covid-19, however the venue did host the opening round of the 2019/20 series, where Thomas Mein and Belgian rider Alicia Frank claimed victory in the elite races in treacherous conditions.
Derby typically provides fast, exciting racing, with the organisers finding creative ways to make the most of the twisting, grassy banks and cambers that define much of the circuit. The course is slightly different this year to accommodate for larger fields, with a new start loop, and also new for this year's series is a separate Junior Women's race, which will feature in every round.
While Saturday looks set to be a scorcher at the time of writing, if you're heading to Derby on Sunday, make sure you pack an umbrella!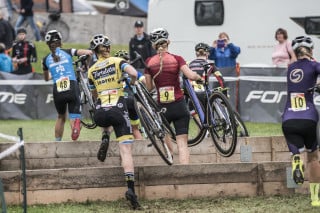 Ones to watch
As you'd expect in such a large field, there are loads of riders to keep an eye on, and with the lack of racing last season, riders progressing through the categories and randomised gridding, we could see a few surprising results.
In the women's race keep your eyes peeled for Amira Mellor (Spectra Wiggle p/b Vitus) and Sophie Thackray (CAMS‐Basso), and under-23 riders Anna Flynn (Edinburgh RC) and Amy Perryman (Montezuma's Race Team), who all secured top 10 finishes in the 2019/20 series.
There are plenty of big names to choose from in the 100-rider men's race too, where Thomas Mein (Canyon DHB Sungod), Ian Field (Spectra Wiggle p/b Vitus), Toby Barnes (SCHAMEL P/B KLOSTER KITCHEN), Lewis Craven (Wheelbase CabTech Castelli) and Jenson Young (Saint Piran) will all be hoping for a strong start. Keep an eye out for under-23 rider Lewis Askey too, who will be riding on Sunday before heading out to the UCI Road World Championships in Flanders next week.
Can I come and watch?
Absolutely! Cyclo-cross is a brilliant spectator sport and a great opportunity to get a front-row view of the country's best riders. This weekend's venue is Moorways Leisure Centre, Moor Lane, Allenton, Derby, DE24 9HY, and car parking is available on the Rolls Royce factory car park on Victory Road, for a price of £2 for the day.
If you're going to be at the event we'd love you to send your video clips, race footage and favourite moments to The Pit Crew too! You can do that here.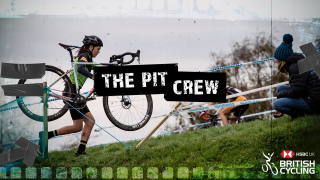 How to follow from home
We'll be sharing videos from Derby on twitter across the weekend (@BritishCycling), and a full report of the action will be published on our website and social media channels on Monday.
Where next?
This is the first of five rounds in this year's series, and you can find the dates for the remainder of the calendar below. Cyclo-cross events are a great day out for all the family, so why not try to get down to support if there's a round nearby?
Round 2: Westmorland County Showground, Milnthorpe, 9 - 10 October
Round 3: Callendar Park, Falkirk, 23 – 24 October
Round 4: Herrington Country Park, Sunderland, 20 – 21 November
Round 5: Cyclopark, Gravesend, 11 – 12 December
Round 6: Broughton Hall, Skipton, 15 – 16 January
HSBC UK | National Cyclo-cross Championships 2022
The South of England Showground, Crawley: 8 – 9 January