42 British Champions were crowned this bank holiday weekend at the BMX British Championships, held at Huncote Hornets BMX track in Leicester. With Olympic gold medallist and World Champion Bethany Shriever in the lineup, along with Kye Whyte Olympic silver medallist, the crowd knew they were in for a show.
Saturday was the turn of the 12 and unders, along with the cruisers. Weather was perfect on what was the first day of 2 days of competition.
Among the winners were Harry Donald, who was defending his title racing up a age category in the male 10, racing on his home track he was undefeated all day taking the title.
A great battle was had in Female 11, with Lexi Waite and Jessica Marriott battling it out all the way to the line, elbow to elbow, wheel to wheel, positions between the two riders changing throughout the lap. Lexi took the win after a great battle.
The 30+ female cruiser was action packed with Michelle Stupple and Rebecca Gohl battling it out down the last straight for the win, but it wasn't meant to be as they collided coming out of the last berm leaving Leah Pearson to take the win.
The action continued into Sunday which was the turn of the 13+, Junior Men, Superclass and Championship Women.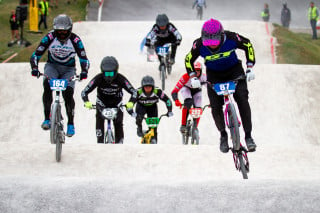 Both Beth and Kye were crowned British Champions this weekend.
In Championship Women Beth took wins in all her motos, along with the top spot in the final. Continuing her winning streak following on from the Olympics and more recently her World Championship win. The 2nd spot was taken by Markella Houli with Emily Hutt taking 3rd place.
The Superclass men was stacked, with both team GB riders Kye Whyte and Quillan Isidore battling it out. Quillan being the reining British champion wanting to retain his title. However it was Kye who led from start to finish to win the title.
Elsewhere Shaun Issitt took the win in the Masters. After 30 years racing and 7 British titles he has taken the decision to retire from BMX racing in doing so bowed out in true style!
Podium placing's
Male 6 & under
1. Charlie Dowsing
2. Tobias Groves
3. Seth Kucharik
Male 7
1. Jack Devine
2. Rex Beasley
3. Teddy Jones
Male 8
1. Joe Rooke
2. Issac Smith
3. Adrian Gailitis
Male 9
1. Freddie Parkinson
2. Jake Smith
3. Colby Williams
Male 10
1. Harry Donald
2. Coby Wrayford
3. Elisha Jamera
Male 11
1. Ben Larkins
2. Luke Willcocks
3. Lucas Sealey
Male 12
1. James Clitheroe
2. Finley Hough
3. Jamie Rabbett
Female 6 & Under
1. Holly Bishop
2. Phoebe Millar
3. Charlie Hargreaves
Female 7
1. Ella Lamb
2. Holly Bishop
3. Holly Richardson
Female 8
1. Brooke Fawcett
2. Poppy Bishop
3. Lily Perie
Female 9
1. Amelie Eaton
2. Dakota Tucker
3. Lily Stratford
Female 10
1. Amelia Everly
2. Isabella Rowe
3. Katie Millar
Female 11
1. Lexi Waite
2. Jessica Marriott
3. Lucy Gardner
Female 12
1. Sophie Ellwood
2. Ruby Moores
3. Megan Roy
9-12 Cruiser
1. Ethan Wink
2. Ben Longley
3. Charlie Keet
13-14 Cruiser
1. Kaishu Flukes
2. Zak Greene
3. Gabe Simpson
15-16 Cruiser
1. Adam Gilbert
2. Charlie Roy
3. Joshua Chiziwa
17-29 Cruiser
1. Joel Clarke
2. Jake Greene
3. Theo Pope
30-39 Cruiser
1. Nathan Parsons
2. Benjamin Martinez
3. Martin Brown
40-44 Cruiser
1. Sim Johnston
2. Tom Odling
3. Nigel Smith
45-49 Cruiser
1. Alan Hill
2. Darren Reidy
3. Zoltan Buday
50+ Cruiser
1. Ian Archibald
2. John Bentley
3. Karl Sanderson
13-16 Female Cruiser
1. Izzy Hurry
2. Skye Mavolwane Wright
3 Charlotte Jackson
17-29 Female Cruiser
1. Lily Chiziwa
2. Hannah Drew
3. Molly Nice
30+ Female Cruiser
1. Leah Pearson
2. Kim Batsford
3. Christina Walding
Male 13
1. Oliver Kendall
2. Jimmy Criddle
3. Freia Challis
Male 14
1. Lukah Mckenzie
2. Ben Cornish
3. Joshua Walls
Male 15
1. Casey Markley
2. Bradley Russell
3. Ben Fitzsimmons
Male 16
1. Ben Davey
2. Adam Gilbert
3. Ashton Cooper
Male 17-24
1. Brynley Savage
2. Joshua Wallis
3. Nathan Wood
Male 25-29
1. Taylor Andrews
Masters 30+
1. Shaun Issitt
2. Erik Chapman
3. Martin Brown
Veteran 40+
1. Matt Barnard
2. Alan Hill
3. Zoltan Buday
Grand Veteran 50+
1. Ian Archibald
2. John Bentley
3. Karl Sanderson
Female 13
1. Lucy Simpson
2. Akira Cooke
3. Micah Pritchard
Female 14
1. Theia Gaynor
2. Lucy Hutt
3. Tillie McCrum
Female 15
1. Shani Harris-Sherwood
2. Skye Mavolwane Wright
3. Sienna Harvey
Female 16
1. Betsy Bax
2. Lexi Carruthers
3. Mia Farrow
Female 17+ Challenge
1. Ava Brown
2. Hannah Drew
3. Caitlin Ellis
Junior Men (17-18)
1. Oliver Cope
2. Mackenzie Rennison
3. Alexander Talbott
Championship Women (17 +)
1. Bethany Shriever
2. Markella Houli
3. Emily Hutt
Superclass Men
1. Kye Whyte
2. Quillan Isidore
3. Eddie Moore