British Cycling has today welcomed a landmark package of measures announced by the Government to overhaul cycling and walking in England, which it hopes will herald the dawn of a greener, fitter and healthier nation.
Measures detailed in 'Gear Shift: A bold vision for cycling and walking' include: long-term funding for thousands of miles of protected cycle routes in towns and cities; cycle training for children and adults; investment in secure bike parking; the creation of 12 new 'Mini Hollands'; and at least one zero-emission transport city centre.
A new inspectorate body – Active Travel England – will be created to oversee adherence to updated design standards for cycling infrastructure, while the Highway Code will also be strengthened to provide better protection for people travelling by bike or on foot.
Responding to the announcement British Cycling Chief Executive, Julie Harrington, said:
"We're absolutely thrilled by today's announcement by the Prime Minister, which I know will feel particularly sweet for our 165,000 members, who have provided invaluable support for our campaigning on a number of these issues over many years.
"Working with Cycling UK, Sustrans, Living Streets, Ramblers and the Bicycle Association, as part of the Walking and Cycling Alliance, we have been able to provide Government with an irrefutable case for active travel, and I know that our organisations will have just as vital a role as we work together to transform Britain into a country which chooses cycling and walking first."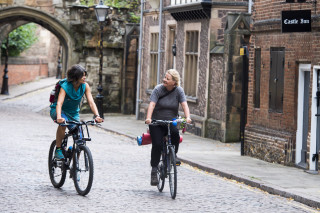 British Cycling Policy Adviser Chris Boardman, who is also Greater Manchester's Cycling and Walking Commissioner, said:
"The Prime Minister promised back in May that Britain was about to enter a golden age for cycling, and the package of measures announced today shows exactly the level of ambition required to transform the country.
"Many will focus on the health benefits of more people getting around by bike or on foot, but we know that these are changes which reap dividends in all walks of life, not least the quality of the air we breathe, the congestion on our roads and the economic benefit for shops, cafes and bars.
"Today's announcement is the culmination of years of work, campaigning and patience, but in truth the hard yards start now. Recent trials with temporary bike lanes show that now, more than ever, we need to hear from those saying yes to safer, healthier and cleaner streets, and less from those standing in the way."
British Cycling Policy Advocate Dame Sarah Storey, who is also the Active Travel Commissioner for the Sheffield City Region, said:
"Building activity back into people's lives won't just ensure they are less likely to suffer ill-health, but it will also create a stronger and more resilient workforce with higher levels of productivity, which could strengthen and protect the country for years and decades to come."