Human Race, organisers of the revamped Etape Cymru closed road sportive, are offering club members the chance to win a ride with Team Sky rider Geraint Thomas.
This exciting competition, which has been labelled the 'Geraint Thomas Club Challenge' is open to all cycling clubs who register three or more members for the 2012 Etape Cymru. Members of the winning club will have the chance to take to the saddle with Olympic hero Geraint Thomas and ride part of the 2013 Etape Cymru course.
The event, which is being supported by Thomas, takes place on Sunday 9th September 2012 on fully closed roads. It will again feature a hugely challenging route including the Horseshoe Pass, fantastic scenery and local support. The route and organisation will receive some major modifications from the inaugural event in 2011.
With over 2,000 participants expected to take part the event organisers are anticipating significant sums of money to be raised for the national charity partner, Macmillan Cancer Support and local charity partner Nightingale House.
Nick Rusling, CEO of Human Race, said: "Cycling clubs and their members have continually been the life and soul of our events. We are delighted to have such a fantastic opportunity and incentive for them, linked to what we hope will become a key date in their diary, the Etape Cymru."
Thomas, who won gold at the Beijing Olympics and been picked for the London 2012 squad, rode part of the Etape Cymru course earlier this year.
"The route of the Etape Cymru in North Wales is amazing," said Thomas. "People from all over the UK are going to have a fantastic day out, it's the kind of route that makes me proud to be a Welsh cyclist."
Thomas added: "The great local support that we're famous for is going to make this a very special day on the cycling calendar. I wish the best to everyone who is riding the event, it'll be tough but the closed roads are going to be a top experience."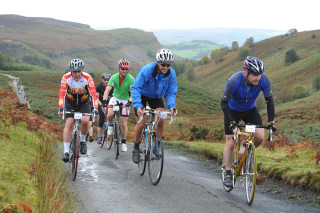 The competition is open until registration for the event closes and the winning club will be chosen at random and announced at the event. The date for the ride with Geraint Thomas will be scheduled for a mutually convenient time in 2013.
More information on the competition can be found on: http://www.etape-cymru.co.uk.
The 2012 Etape Cymru will cost £55 and entries are now open.