Day Two of the Scottish National Track Championships saw more national champions crowned and continued the great performances from Glasgow Track Racing Club and Alba Development Road Team as the first national track championships since 2019 concluded.
Sunday's racing opened with the Men's Kilometre, after a strong 1:06.42 by Bruce Croall (EH Star) it was up to the rest of the field including the strong contingent from Glasgow Track Racing Club to dethrone him. The last few riders claim close, but couldn't beat Croall's time, who was able to take the gold medal. The winner of yesterday's individual pursuit – Alexander MacRae came second with a 1:07.40 and Kieran Macleod finished with a bronze in 1:08.53.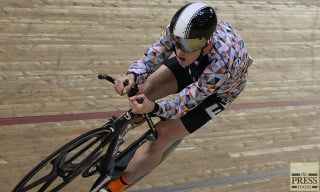 The women's sprints competition continued throughout the day with Ellie Stone (Black Line Racing) firmly putting her stamp on the competition, after the fastest qualifying. Stone progressed through the first round and into the semi-finals where a clear 2-0 win sent her into the gold medal ride.
In the gold medal final Stone faced off against Sylvia Misztal (Glasgow TRC) and was able to continue how she started the day, by winning 2-0 and claiming a second gold medal of these championships.
Men's team sprint saw another clean sweep by Glasgow Track Racing club, with three of their five squads in the medals. The GTRC C squad of Luthais Arthur, Lyall Craig and Niall Monks were able to beat the B squad of Jeremy Franks, William Munday and Anthony Young to the gold.
Monks was able to make it a clean sweep of Sprint Golds, with the Keirin. The Glasgow Track Racing club rider was able to beat teammate Marcel Laurenz in the final, while Jack Cruden was promoted to bronze following an infringement from another rider.
The triple gold medallist from this weekend told Scottish Cycling on the dominance of the Glasgow Track Racing Club riders:
"Competition has been very tough, very hard. A lot of it comes from the races we're doing in training, where we all race each other. Yeah, in the final sprint yesterday, it was tough even getting to but yeah happy to have won."
After winning the scratch race yesterday, Kate Richardson (Alba Development RT) was the strong favourite heading into today's women's 15km points race, however if she was going to double up on golds it was not going to be easy. Individual pursuit winner Eilidh Shaw, who just joined the Alba Development squad, was sticking to her teammate like glue as the duo with Sophie Lankford went clear of the field.
It came down to the final sprint where Shaw was able to take the win in the sprint, and a maximum of 10 points but it wasn't enough as Richardson's six points for second was enough to claim victory by two points, while Lankford came in third position.
In the morning's Women's pursuit, Shaw's time of 3:49.7 wasn't needed as she was able to make the catch on her fellow new teammate Evie White, while Lankford was able to catch Bella Butler in the Bronze medal final.
On her three medals this weekend Shaw had to say:
"It's been a good day out, it's my first race weekend racing for Alba Development Road Team so it's nice to get the podium for them and be at work riding with the girls.
The buzz after doing the team pursuit yesterday was great, it's great to get practising as one of our main goals is for the UK Champs in end of January, things are going up from there."
In Veteran individual pursuit over 2000m, Alison Winship MacKay (VC Astar Anderside) claimed the gold after making the catch on Lucie Hrnickova (Vanelli-Project GO) and Elizabeth Wisdish (Glasgow Wheelers) took home the bronze.
In the men's team pursuit, Vanelli-Project GO A squad was able to claim victory after catching and passing the squad from Glasgow University Cycling Club, while Vanelli-Project GO's B squad was able to claim bronze.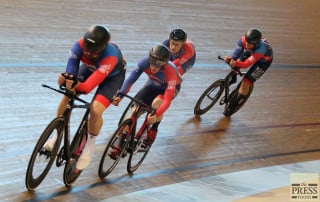 The final event of the championships was that of the Men's 30km Points Race. Matti Dobbins (Wheelbase CabTech) won seven of the sprints in the 120 lap race, to ease his way to victory. Last night's winner Callum Twelves (Team Ohten Aveas) looked dangerous and attacked on multiple occasions and won a silver medal for his efforts, while Andy Brown (Velocity 44 RT) came home in third.