Peebles Cycling Club - Youth Dirt Crit Race Series 2010
With over 80 youngsters having taken part so far, this has been a great start to this years Dirt Crit race series. Taking place in Glentress Forest on a Thursday evening, the race is run around the "Blue Velvet" circuit with its hard fire road climb where the competitors dig deep to be the first to the turn to begin the fast and furious single-track descent.
Each week so far the weather has been kind to us and with the under 8's very keen to be on the start line for the first race at 18:15. This is the biggest category by far with over 30 under 8's racing and more joining in each week. The Scottish Cycling coaches are there each week keeping a close eye on their future racers.
Ross Aitken (PCC), Mackenzie Reed (PCC) and Jaz Swinton(unattached) are currently in the top 3 under 8's boys category but should not relax as they have several riders close behind looking for an opening.
Anna McGorum (PCC), Ruby Swain (PCC) and Beth Hobbs (unattached) lead the girls field again with some stiff competition behind them.
Under 10's field is also hotly contested racing over 3 laps with a number of boys battling for a podium finish in the series. Currently the boys 1, 2, 3 is Calum Fernie (ERC), Joshua Grahame (PCC) and Ben Balfour (PCC). The smaller girls field is represented by Millie Hanlon Cole (PCC), Louisa Watt (PCC) and Laura Bell (ERC).

In between races all the spectators, competitors and race officials alike are treated to the delights of the feed zone with Hazel and Barbara baking up a storm and are always sold out by the end of the night despite the vast quantities of pre and post race high calorific/energy foodstuffs they prepare.

Racing over 4 laps the under 12's can be seen racing tactically to ensure their best performance as the competition is keen.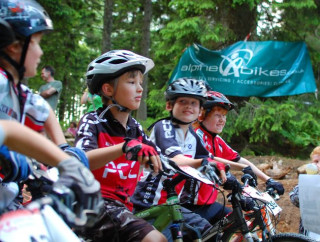 Again there is all to race for in the second half the series with PCC and ERC girls Eve Hanlon Cole (PCC), Emma Borthwick (ERC) and Lulu Bartlett (ERC) in 1st, 2nd and 3rd respectively, not to forget Shona Wilcox (PCC) in 4th. For the boys Calum Grant (PCC) in 1st, Ben Forsyth (I-Cycles) in 2nd and San McNeil (PCC in 3rd).

With the field thinning out as we move to the under 14 and under 16 categories these two groups have a combined start all racing 6 laps. The racing is truly fast and furious and very tactical with all the riders knowing each others strengths. The timekeepers and officials were kept on their toes as the bunch consistently lapped together looking for the advantage to make their move.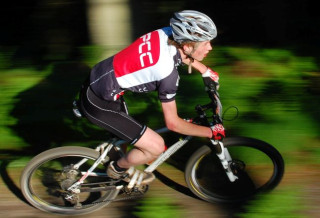 The last race of the series proved to be the most exciting of the series so far with only Scott Lindsay (I-Cycles) breaking away from the bunch with the remainder of the pack sprinting for the line crossing within seconds of each other. Under 14 girls are led by Louise Borthwick (ERC), Lucy Grant (PCC) and Catherine Angus (Carnegie Cyclones) with the boys led by Matthew Aitchison (ERC), Angus Millar (Kelso Wheelers) and Owen Gray (unattached). Under 16 1st and 2nd, boys and girls are Sam Waterston (PCC), Scott Lindsay ( I-Cycles), Hannah Ferguson (Glentress Riders) and Katy Winton (Glentress Riders).

So half way through the series with 3 out of 6 races complete the race leader board is already becoming very competitive. The series winners will be decided by best 5 results from the 6 races. There are still entries available on the night for riders wishing to experience the atmosphere and racing with the series recommencing on Thursday 12th August, Registration 17:00, 1st race 18:15.

Peebles Cycling Club would like to thank the Forestry Commission, Ken Whitson - Commissar, Scottish Cycling, PCC race officials and marshals, Barbara and Hazel @ the feed zone and PCC Sponsors - Alpine Bikes. All photos courtesy of Alastair Wilson - PCC Official Photographer
Full results can be found on PCC website http://www.peeblescycling.org/