No fewer than 19 Scots will take to their home trails of Glentress and Fort William, as the squads for the MTB events at the 2023 UCI Cycling World Championships have been revealed.
With 52% of the British Cross Country squad, and six representatives in the Downhill squad coming from Scotland, it's set to be a special few days for Scottish elite mountain biking this August.
Cross Country
Newly crowned British Marathon Cameron Mason and Isla Short will be Scotland's representatives in the Elite Cross Country events at Glentress Forest.
Short will be looking to match her excellent ride to finish in fifth place at the Women's Elite Cross Country Olympic in Leogang three years ago, and recent weeks have seen signs of that form returning. The diminutive Scot, known for her climbing and descending skills, will relish racing on the very trails where she learned to ride a bike.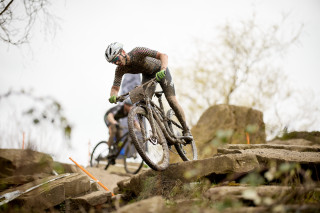 Mason, from Linlithgow, claimed his spot at the World Championships after finishing 12th in the recent European Championships in Poland, and will be targeting success in the Cross Country Olympic and Marathon events this August.
On these historic championships Mason told Scottish Cycling:
"The Worlds are going to be insane! I want to make the most of them being right on my doorstep, which is why I am going to shoot for two disciplines: the Cross Country Olympic and Marathon.
"I can't wait for these World Championships; they are going to be era-defining. We're going to be looking back on this in 10 years' time remembering when all the Worlds were in Scotland".
Former Junior World Champion Charlie Aldridge will be aiming to replicate that success in Glentress, as the Crieff rider leads a huge contingent of seven Scots in the Under-23 ranks. Rory McGuire and Sam Chisholm will be aiming for success in August, after strong seasons domestically in the SCX and British Series rounds, as well as forays into Europe.
There is a local feel to the team that will be competing in the Borders, with Peebles CC graduates Ben Allan, Anna McGorum, Elena McGorum, Corran Carrick-Anderson and Emily Carrick-Anderson all making selection to the Great Britain squad in the Junior and Under-23 ranks.
Daisy Taylor and Rueben Oakley have also been selected to compete in the Junior events.
Downhill
Fort William's Aonach Mor will play host to the MTB Downhill events at the UCI Cycling World Championships, and it's fitting that the Scots will be led by Fort native Mikayla Parton in the Elite ranks.
Looking forward to the prospect of racing on home trails next month, Parton told Scottish Cycling:
"It's so exciting for Fort William to be hosting the downhill events at the UCI World Championships in August and I'm so pleased to be on the Great Britain squad. I've learnt to ride bikes in Fort William and to be a part of such a big event on my doorstep is very special."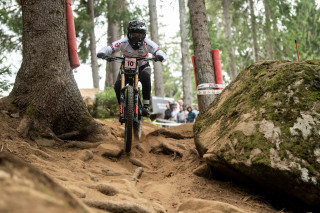 Joining Parton in the Elite Women's field is Louise-Anna Ferguson and Pheobe Gale, who have both produced excellent performance so far this season in the Downhill World Series circuit, while Greg Williamson will go in the Men's Elite event.
Invernesian Aimi Kenyon will be joined by Nina-Yves Cameron as the two Scots competing for success in the junior events – watch out for Kenyon who has been to the fore of World Series all summer.
With 19 Scots making selection for next month's UCI Cycling World Championships, Scottish Cycling's Performance MTB Coach Paul Newnham said:
"It's fantastic to see such a large contingent of Scottish riders selected for the Great British team for the 2023 UCI Cycling World Championships across both genders and all ages categories. I am sure that the Scottish crowd will be excited to see their home-grown heroes in action at Glentress and Fort William this August."
Great Britain squads in full
(Scots highlighted)
Cross-country
Elite men
Cameron Mason
Cameron Orr
Tom Pidcock
Elite women
Annie Last
Isla Short
Evie Richards
Under-23 men
Charlie Aldridge
Joe Blackmore
Corran Carrick-Anderson
Sam Chisholm
Huw Buck Jones
Rory McGuire
Under-23 women
Anna Flynn
Ella Maclean-Howell
Anna McGorum
Elena McGorum
Junior men
Ben Allan
Max Greensill
Nathaniel Henderson
Oliver Murphy
Reuben Oakley
Junior women
Emily Carrick-Anderson
Kacey Eyeington
Bethany-Ann Jackson
Daisy Taylor
Downhill
Elite men
Laurie Greenland
Danny Hart
Charlie Hatton
Bernard Kerr
Matt Walker
Jordan Williams
Greg Williamson
Phil Atwill (reserve)
Ethan Craik (reserve)
Jack Piercy (reserve)
Joe Breeden (reserve)
Elite women
Rachel Atherton
Louise-Anna Ferguson
Stacey Fisher
Phoebe Gale
Harriet Harnden
Mikayla Parton
Tahnée Seagrave
Jess Stone (reserve)
Rebecca Baraona (reserve)
Chloe Taylor (reserve)
Junior men
Rudi Eichhorn
Oscar Griffiths
Will Haines
Alfie Heming
Dom Platt
Owen Rick
Luca Thurlow
Archie Townsend (reserve)
Morgan Williams (reserve)
Leo Frater (reserve)
Will Savery (reserve)
Junior women
Nina Yves Cameron
Aimi Kenyon