Q&A with cycle speedway club, Kesgrave Panthers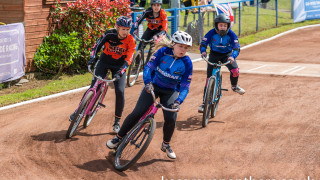 Published: 8 July 2021
Images: Andrew Parr
Following their recent victory at the Cycle Speedway British Club Championships, hear from Kesgrave Panthers about their club heritage, membership and why you should give cycle speedway a go. We spoke to club secretary, Marianne Woodhouse about why this Suffolk-based club is a great community for riders of all ages.
Tell us about the club and its history
Our cycle speedway team, Kesgrave Panthers, was formed in the 1950s. However it wasn't until June 1990 that the club opened a new track and moved to where we currently race, on the site of the Kesgrave Community and Sports Centre near Ipswich, Suffolk. At the same time, the club changed its name to the Kesgrave Kestrels. However, in 2008, the decision was made to revert back to the original name and the Kesgrave Panthers were reborn.
Who takes part and how regularly do sessions run?
As a club, we have riders of all ages taking to the shale-covered track. Currently, we have riders ranging from two to 62 years old, which clearly demonstrates that the sport we love, cycle speedway, really is open to everyone, regardless of age, ability or experience. Moreover, we are fortunate to have a dedicated team of volunteers and coaches, which enables us to offer three coaching sessions on both Monday and Tuesday nights. In addition to these training sessions, and the regional and national race meetings we compete in, we also operate our own, hugely popular, internal SPARK League competition. This takes place on selected Sunday mornings throughout the season and riders, after being sorted into teams and given their team jersey, compete against each other to score points and become SPARK League champions.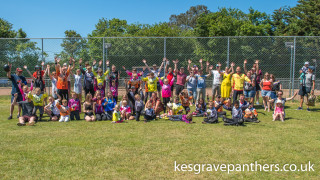 What's great about cycle speedway?
What we love most about cycle speedway is that it is great fun and enables absolutely everyone to spend time on a bike. When racing four abreast around Kesgrave's narrow, banked track on bikes with no brakes, the adrenaline can't be beaten. However, it's not all about competing and winning medals, as our club places equal importance on forming friendships and building teams that both support and challenge each other to get better.
What would be your advice to someone wanting to give the sport a try?
Simply find your local track, come down and give it a go. Whether you are a balance biker, a teenager who loves riding their bike or someone who wants to return to riding, you will always find a place and a welcoming face. Whilst it is important to ensure that every part of the body is covered, apart from the face, any new rider can always borrow gloves, a helmet, knee pads and elbow pads if they don't have their own. Indeed, they can even borrow a bike!
Tell us about the club's successes competitively
Over the years, Kesgrave has achieved a great deal. Our first national success was when Dean Webb won the British Indoor Championship in 1996 and, since then, we have won a further 15 British Individual titles, 11 British Youth & Junior League titles and 18 British Club Championships titles. Furthermore, last weekend, we were extremely proud to be crowned the overall 2021 British Club Champions at the British Championships, hosted by two local clubs, Great Blakenham CSC and Ipswich Eagles CSC.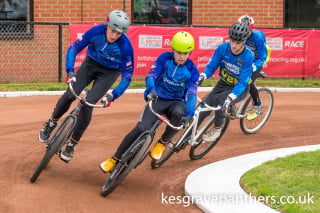 As a club, we entered teams in six out of the seven categories that were racing over the course of the weekend - U12, U14, U16, Junior, Women's and Vets - winning the U12, U14 and U16 titles. A total of 19 riders represented our club at the British Championships and an additional seven riders took part in an U10 demonstration event prior to the commencement of racing on the final day. Our Instagram and Facebook pages kept friends and family updated with all the results and many of our Kesgrave community of riders were in attendance, even if they weren't involved in the racing, simply to cheer their teammates on.
What's next for the club?
In terms of where we go next as a club, we want to continue to ensure that, first and foremost, our riders really enjoy their time with us, both on and off the track. Our aim is to continue to build strong teams in all categories and further encourage new riders into the sport. We have some incredible cycle speedway clubs and riders in Great Britain and would highly recommend that anyone wanting to try something new should find out where their local track is and simply give it a go. You won't regret it!
The cycle speedway rider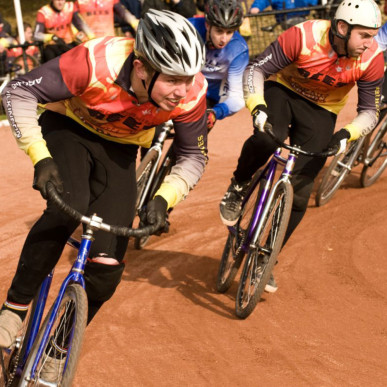 The best cycle speedway riders are explosive sprinters with great bike-handling skills, nerve and tactical awareness.
With two riders from opposing teams riding each heat, team working is also an essential attribute.
Although races are short, meetings are run over successive heats, so good endurance and recovery is essential too.
Cycle speedway
Riders explode from a standing start position and often bump shoulders to try and secure 4 points for first place or 3,2 and 1 point for second, third and fourth respectively.
Team Racing – Head to head matches between two clubs will see 2 riders take to the track in each heat. The team scoring the most points will win the match and spectators will get the chance to see a variety of tactics and manoeuvres as riders try to ensure their team accumulates the most points.
Individual Racing – Riders compete in a round robin style event where they will have the chance to race against every other rider in the competition with the riders scoring the most points wining the event.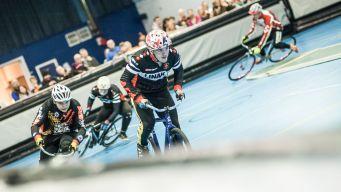 Cycle speedway bike
Cycle speedway bikes are simple and robust.
Steel and aluminium still rule in cycle-speedway. No suspension, upright handlebars, a low, single gear with a freewheel and 26 inch wheels with heavily treaded tyres.
They are purpose-built for taking in the sharp bends with minimum skidding and sliding, in theory!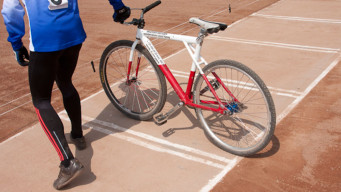 Protective clothing
Full length sleeves and trousers must be worn when riding in cycle speedway.
This reduces the risk of scrapes and bumps from the cinder track and clashes with other riders' bikes.
Riders must wear thick cycling gloves as they often clash elbows and handlebars and fingers need the protection of strong gloves.
Some choose to wear elbows and knee pads too, although this is not compulsory.
Helmet
Helmets became obligatory for all riders in cycle speedway in 1999, as accidents can happen.
The sport is proud to boast that, despite the rough and tumble nature of the racing, no serious injuries have ever occurred in speedway racing.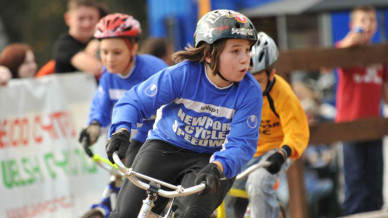 Get involved with cycle speedway
Watch cycle speedway
The short, sharp, explosive elbow-to-elbow action of cycle speedway makes it a great spectator sport.
So too does its friendly family atmosphere and its compact venue.
Most clubs don't charge admission fees for spectators and you'll definitely want to have a go yourself by the end of the match.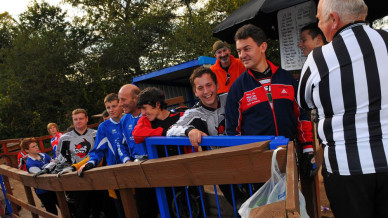 Cycle speedway clubs
Joining a club is a great way to get the most out of your cycling.Whether you are a seasoned racer or a complete beginner, there is nothing better than riding with like-minded cyclists to develop your skills and challenge yourself. Cycle speedway clubs (CSC) are keen to grow the sport and have taster sessions for all ages, from complete beginners through to more structured, event specific training for more experienced riders.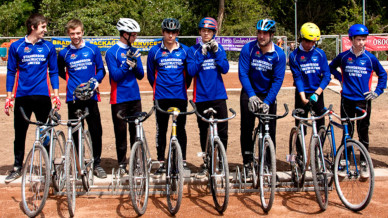 Cycle speedway events
The cycle speedway season extends from spring through to autumn, with regional and national leagues running throughout the season.
National championships for various team and individual categories take place throughout the season, including indoor racing in the winter. There is racing for all age groups and a range of abilities.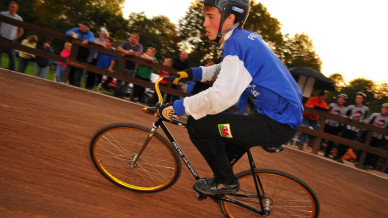 Volunteer
Support the sport by volunteering your time and skills at your local cycle speedway event.
British Cycling has a range of volunteer education courses to support your development.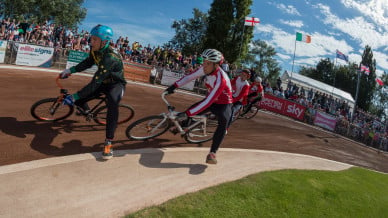 Race licence
A provisional race licence comes free with all Race Gold, Race Silver and Race Bronze memberships and is enough to get you into most cycle speedway races.