Help transform Britain into a great cycling nation by hosting a British Cycling HSBC UK | National Circuit Series event.
British Cycling is inviting applications to host events in the 2019 HSBC UK | National Circuit Series
Each round of circuit racing brings fast and furious bike racing to the heart of a town or city centre and delivers a multitude of benefits to the local communities. The honours in each round in the series are contested by the country's best riders and teams as they battle for individual and team glory.
Great Britain's cyclists have enjoyed huge success in recent years with our athletes leading the way from the Olympic Games to the Tour de France. This inspirational success has significantly raised the profile of cycling in the public eye - creating more opportunities for everyone to get active by getting on their bikes and helping our towns and cities become better places to live and work as we transform Britain into a great cycling nation.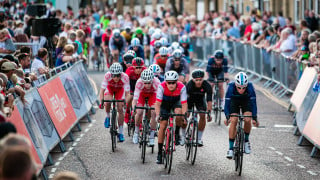 This success has transferred to our national circuit series which has been growing rapidly over recent years. The quality of competition means that the televised series generate a media reach of over 17 million across TV and digital platforms. Attracting more interest and attention from the public and media, offers host venues a significant opportunity to drive economic impact, whilst helping to promote the key health and cultural benefits of cycling.
Having no prior experience of delivering cycle racing will not hold you back. British Cycling is looking to partner with host venues across the country that can continue to grow the series, capitalise on the benefits of hosting a major cycling event and deliver the event to a standard that reflects the sporting status of the series. If you fit that bill, we want to hear from you, regardless of experience.
Parties interested in hosting an event should look forward to working with a national governing body that will be active in defining, promoting, planning and supporting the delivery of the event and the wide-ranging, positive impact it can have on the local community.
Expressions of interest should be sent to Jadesmith@britishcycling.org.uk by 7th September. On receipt of an expression of interest we will get in touch with further details.