The 2016 British Cycling BMX Series makes the switch from indoor to outdoor as Perry Park in Birmingham hosts rounds three and four on Saturday and Sunday.
After rounds one and two took place at Manchester's National Cycling Centre, the 12-round series travels south where the weather could have an impact on the action.
How it works
Riders earn points based on their finishing position at each round of the series. A rider's best seven results from a possible 12 rounds makes up their total. The rider collecting the most points in their respective category is crowned the series champion.
Entrants
Superclass
Braintree BMX Racing Club's Oliver Cutmore holds an early advantage in the standings thanks to third and second place finishes respectively at rounds one and two in Manchester.
Peckham Challenger's Kye Whyte is in pursuit having won the opening round at the National Cycling Centre with Preston Pirates rider Euan Hunt completing the top three.
Whyte and Hunt are not set to race in Birmingham but Great Britain Cycling Team and Peckham Challenger's Quillan Isidore, winner of round two, makes the journey, two weeks before travelling to the UCI BMX Supercross World Cup in Papendal.
Championship women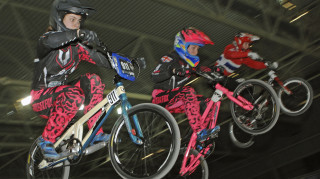 T.N.T's Bethany Shriever was unstoppable in Manchester as she won both rounds, the 16-year-old going on to reach the semi-finals at same venue in the UCI BMX Supercross World Cup for Great Britain.
Blaine Ridge-Davis took a brace of second-places in the opening rounds but an injury sustained in the build-up to the UCI BMX Supercross World Cup sees her miss the trip to the Midlands.
Burham BMX Club's Lauren Stack, Birmingham BMX Club's Charlie Hartwell and Peterborough Phantoms' Bethany Campbell offer a threat to Shriever's 100% record.
Venue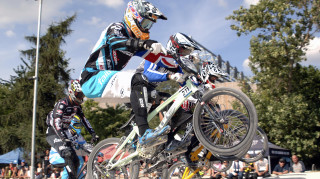 Part of the legacy from the 2012 UCI BMX World Championships in Birmingham, Perry Park - host of the Birmingham BMX Club - has gone on to host British Cycling BMX Series rounds and the British Cycling National BMX Championships and the outdoor track is popular amongst riders.
Coverage
A report from the weekend's racing with results and an image gallery will appear on the British Cycling website.