Over the last few days you may have read about the high-profile case of a cyclist who has settled a case for £30,000 following a collision with a pedestrian who stepped out into the road. As a result, we've pulled together a few of your FAQs.
Whilst this unfortunate incident has undoubtedly had a devastating impact on everyone involved, it has also helped to highlight the benefits of having access to expert legal support and peace-of-mind insurance when they are needed most – especially for those who ride their bikes regularly.
Since the incident made the headlines we have seen a substantial rise in people taking out British Cycling membership and making enquiries about the cover membership includes. Whilst it is encouraging to see more people taking proactive steps to avoid finding themselves in a similar situation, we know many still have questions about how they can protect themselves.
So, if you're still scratching your head, we've pulled together a few of your FAQs:
Do I need insurance to ride my bike?
No. No cyclist is legally obliged to have insurance to ride their bike and while we offer insurance through membership, we do not feel it should be compulsory for all cyclists to have insurance cover. Our mission is to transform Britain into a great cycling nation and research from nations like the Netherlands and Denmark shows that we can help to make our towns and cities safer by getting more people on bikes.
However, unfortunately incidents do happen, and they can vary a lot in terms of seriousness and which party is at fault. We know that the most important thing for our 160,000+ members, the majority of whom ride their bikes most days, is peace-of-mind liability cover and knowing they have the support of a first-class legal service, should the unfortunate happen.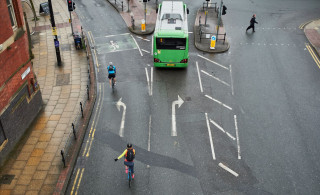 Am I covered for incidents like this?
Most British Cycling membership packages (excluding Fan and Bronze membership) ensure that individuals are insured against incidents which are, or are alleged to have been, their fault and have access to lawyers who are leading experts in helping cyclists who have sustained injury, financial losses or damage to their bike as a result of incidents which are not their fault.
You can find out more about the different British Cycling membership packages here.
What does British Cycling membership include?
Most of our membership packages (excluding Fan and Bronze membership) include:
Liability insurance for your daily cycling for claims up to £15m and no excess to pay in the event of a claim against you which is your fault.
Legal support and representation in the event of an incident which is not your fault.
Access to our members' incident helpline.
Liability insurance covers:
Incidents in which you are involved whilst riding or wheeling your bike where you are partly or wholly at fault.
Physical injury to third parties or damage to third party property caused by your actions.
Legal costs incurred in forming your defence.
Damages awarded against you following a successful claim by a third party.
Total cover for legal costs and awards of up to £15m.
Legal support is available for:
Members in need of expert legal support from British Cycling to recover damages due to injury, property damage or other financial loss.
Incidents in which you are involved while cycling where you are not at fault. This may involve being knocked from your bike or suffering injury.
Incidents where, in the assessment of our appointed solicitors, there are reasonable prospects of succeeding with a legal action against a third party.
It is important to check our website for the full details and exclusions of cover before joining.
On our website you will also find the full range of other member benefits and some great examples of how your membership supports cycling.
What should I do if I have an incident?
If you have suffered injury and you are able to, seek medical attention as soon as you can and keep a record of any treatment
If possible, make a record of the time and place of the incident and details of any other vehicle(s)/property or person(s) involved
You should not have any discussion with the other party with regard to liability.
If you are a member get in touch with us to report an incident
Additionally, always make sure you obtain:
Contact details for the Third Party driver(s)
Make, model and registration number of the vehicle(s) involved
Insurance details of the driver(s) and vehicle(s) involved
Contact details for all witnesses
Witness accounts
Details of the incident location - including photos of the location and highway defect(s)
We recommend that all incidents are reported to the police immediately and where insurance particulars are not obtained from the motorist at the scene of an incident they should be obtained at the very earliest opportunity. If a motorist fails to provide this information or you have any concerns that the information given to you is incorrect or incomplete, this should be reported to the police immediately.
If the incident does not involve a driver but a pedestrian, cyclist or even a horse rider, the same applies – try to obtain contact details of everyone involved, plus any witnesses and report this to the police, then contact us.
It's also worth noting that cyclists can upload any footage of an incident using the Nextbase National Dash Cam Safety Portal and it is sent directly to a their local police force (within England/Wales).
For more information about British Cycling membership, including further details of legal and insurance benefits, click here, and for general road safety tips, click here.