The second round of the National Youth Circuit Series took place at the weekend with the Pembrey 2-day, with Youth A wins for Rory Gravelle and Carys Lloyd, and Youth B wins for Albie Jones and Mabli Phillips.
Youth A Boys
The Youth A boys opened the weekend with the 1.7km time trial, as riders put down times over a one lap loop. Sebastian Grindley (North Cheshire Clarion) set the quickest Youth A boys time with 2:13.80 minutes, followed two seconds behind by teammate John White. Sam Fisher (Evolution Racing Academy) took third in 2:15.27, while eventual winner Rory Gravelle (Velo Myrddin CC powered by Y Beic) finished fourth.
The stage two criterium saw the boys race for an hour, with Fisher taking the win in a tight bunch sprint, following an exciting race with plenty of attacks. The final lap saw Max Hinds (Evolution Racing Academy), Ryan Oldfield (Cystic Fibrosis Race) and Tom Mead (Lee Valley Youth Cycling Club) get away but were caught in the last 500m, with Hinds just pinching third behind second-placed Gravelle.
Fisher continued to lead into Sunday but was overtaken by Gravelle after the Welsh rider won the stage three sprint stage. Grindley took second, while Jamie Stewart (Cystic Fibrosis Race) claimed third in a sprint finish.
Fisher tried to bring it back with a stage four victory in the hour and ten minute criterium, but a third place finish for Gravelle saw him take the overall win for the weekend, while Fisher had to settle for second after a commendable performance. Grindley completed the podium in third.
Youth A Girls
Carys Lloyd (VC Londres) started her weekend on a high with a win in the prologue time trial, after posting the fastest time of 2:29.10. Amelia Cebak (Team Milton Keynes) finished second, just under a second behind, while Mia Rutterford claimed third.
Stage two's hour long criterium saw Nicola Quaye (Team RL360 Isle of Man) take the top spot in a sprint finish after an active race. Izzy Mayes (JRC INTERFLON Race Team) attempted a solo breakaway with two laps to go before being caught. Lloyd maintained her overall lead with a second place finish while Mari Porton (Halesown A & CC) took third.
Stage three's sprint stage saw attacks from Mayes, Porton and Zoe Parker (Solihull CC), but it went down to a sprint finish, with Rebecca Gardiner (Lee Valley Youth Cycling Club) crossing the line first. Lloyd took another second place to keep the overall lead, while Quaye claimed third.
Porton claimed the final stage win of the 21 lap criterium to finish second overall on the podium, with Lloyd's third place finish good enough to see her take the top step. Quaye finished second on stage four to take third overall.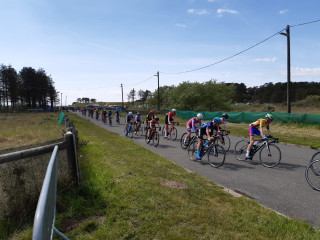 Youth B Boys
Albie Jones (North Cheshire Clarion) posted the quickest time in the opening time trial for the Youth B boys, with Alex Coles (Evolution Racing Academy) finishing seven seconds behind, and Joshua Jewitt (Stockton Wheelers CC) taking third.
Jones continued his success with a win in stage two's criterium from a bunch sprint, despite suffering a mechanical early on which left him chasing for five laps. Casey Humber-Kelly (LVC Racing) took second after putting in a number of attacks throughout the race, while Coles claimed third.
Sunday's stage three sprint stage saw Coles claim a victory, with Jones getting pipped to take second, and Humber-Kelly third, leaving Jones still 16 seconds ahead in the GC.
Coles claimed a final victory in stage four's 50-minute criterium but it left him just shy of the overall top spot. Jones' fourth place finish proved enough to take the GC win, while Humber-Kelly took third overall. Coles' teammate Oliver Treager finished second on stage four, while Aaron Cocker (RTD-J'sCycleShack) took third.
Youth B Girls
The Youth B girls topped off the weekend with Anna Lloyd (VC Londres) taking the stage one win in the time trial. Rose Lewis (Halesown A & CC) finished two seconds behind, while eventual overall winner Mabli Phillips (Maindy Flyers CC) claimed third.
Stage two of the event saw attempts to split up the race with plenty of attacks, but it came to a bunch sprint, with Lloyd taking her second victory, followed by Phillips and Phoebe Taylor (Eastlands Velo).
Sunday's sprint stage was relatively quiet, with Lloyd repeating her sprinting antics to lead overall, while Taylor took second and Phillips third on stage three.
However Phillips had a final effort to get the overall GC win with a fantastic solo getaway in the criterium and took the stage four win 57 seconds ahead of second-placed Lewis, while Eloise Ward (Lee Valley Youth Cycling Club) took third. Lloyd claimed second on the GC after fantastic performances, and Taylor completed the overall podium.