We're launching a new Team of the Week feature to shine a light on our domestic teams – finding out how they've adapted to life without racing, how they're keeping fans and sponsors engaged and what they've got planned for the months ahead. We're starting the feature with Crimson Orientation Marketing RT.
Manchester-based Crimson Orientation Marketing RT has made rapid progress since it's formation in 2018. The team acts as a support system for the Northern racing scene. Developing future talent and providing opportunities for riders to progress their cycling careers has always been their priority.
Crimson Orientation Marketing RT is uniquely positioned in the domestic cycling scene – a start-up team founded to promote a start-up business. The team is underpinned by professional bike fitting services and a power-based online training platform, and The two services – essential for anyone with a serious interest in riding a bike – are perfectly aligned with the goals of the squad.
This year marks the team's third year on the road, and team owner Matt Hallam was able to source increased sponsorship to embark on an ambitious programme of racing in the UK and Europe. With 14 men and six women on a diverse 20 rider roster there is no question that the team has strength-in-depth. Speaking to British Cycling, he said:
"Ambition has been built into the foundations of the team from day one and our sponsors have fully backed the vision for the team. Our infrastructure, riders and supportive sponsors are making heads turn on the UK domestic scene."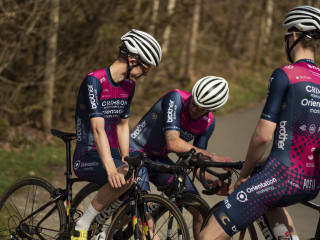 The global pandemic has means that the 2020 race season has taken a different trajectory to the one originally planned, and the team has been quick to adapt to the 'new normal'. Hallam adds:
"The start of the 2020 race season has been decimated by the coronavirus pandemic, but we have been quick to launch a host of sponsor-friendly initiatives to help keep the team visible. It can be hard to regroup but acting swiftly and decisively, revising race programmes, training regimes and content plans, is the only rational response.
"The virtual cycling platform Zwift has been a great outreach tool to embrace. The racing provides a competitive outlet for our riders as well as keeping sponsors visible in the digital world. We maximised the opportunity presented by British Cycling's virtual Race Series.
"Success breeds success and the team has won four rounds so far with Alistair Thomas registering three wins alongside a podium finish for Melissa Greaves in the women's elite race. Indoor racing is a bit of fun and we don't take it too seriously. Still, by continuing to flood the top ten, we provide visibility to sponsors and prove to them that our plans for serious results on the road in 2020 were built on substantial foundations."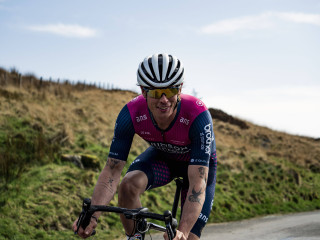 We asked Matt what tips he had help keep cyclists motivated during lockdown:
"Firstly, ride for the simple enjoyment of being out on your bike, but still include a couple of specific sessions in your training week to keep things ticking over. Explore new roads that you have always wondered 'where does that go'? They often lead to the best adventures!
"Get involved in racing opportunities and group rides with friends or club or team members on Zwift.
"Don't give up on your goals, this current situation is a big detour on your cycling journey, but it won't last forever. And finally, be grateful for your health and remember things will get better."
Find out more about the team here.