The 2015 British Cycling Women's Road Series reaches its penultimate round with a trip to Staffordshire on Saturday for the Francesco Group Women's Grand Prix.
Part of the Staffordshire Cycling Festival that includes rounds of the British Cycling Elite Road Series and British Cycling Elite Circuit Series, the sixth round of the Women's Road Series starts at 6pm.
Form guide
Five rounds of the series - and six races when including the two stages of the Tour of the Reservoir - have produced six different winners so far.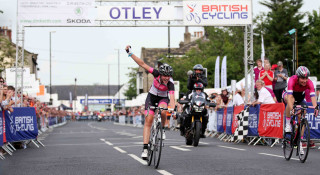 Dani King, Joanna Rowsell, Dame Sarah Storey, Grace Garner, Laura Massey and Annasley Park, winner at the Otley Grand Prix on Wednesday, have been victorious.
But it has been the consistency of Nicola Juniper, defending champion, which has given the 33-year-old a handsome 36-point lead in the overall standings.
As in 2014, Juniper could seal the overall title with another rock-solid performance. Third in Otley behind the breakaway duo of Storey and Park for Team Giordana- Triton rider Juniper was combined with further bad luck for nearest series rival Charline Joiner.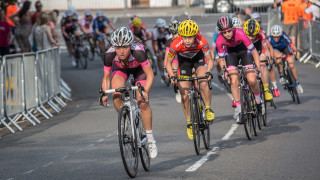 The Team WNT rider suffered a second puncture in as many Women's Road Series races after a flat tyre scuppered her chances at the Curlew Cup.
Joiner's Team WNT and Juniper's Team Giordana- Triton will field the strongest line-ups in Staffordshire. Elsewhere Annie Simpson of Hope Factory Racing and Lucy Shaw of the Matrix Fitness Development Squad will hope to upset he numbers of Team WNT and Team Giordana- Triton.
View the 2015 Francesco Women's Grand Prix start list
The course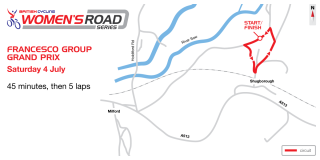 Riders will race for 45 minutes plus five laps on a tight and twisty circuit around the roads of the tight and twisty circuit around the roads of the Shugborough Estate.
How to follow
A report, results, images and reaction will appear on the British Cycling website.
Updates will also appear on Twitter @BritishCycling.