There are so many deserving volunteers across Welsh Cycling who deserve this spotlight. April's Volunteer of the Month however is being awarded to Anne Arnold. A Welsh Cycling Track, Circuit & Road Commissaire.
Meet Anne Arnold
Anne has been a Commissaire for Welsh Cycling for two years. She devotes over 5 hours a week to making sure circuit, road & track events are successfully delivered across West and South Wales. Anne is an integral part of the Welsh Cycling workforce and is always willing to stand in last minute to lend a hand. Anne lives in west wales and is always willing to travel to and from venues on a regular basis to Commissaire events, showing even more dedication to Cycling. A further reason as to why Anne deserves this recognition award.
Anne added "I will sometimes travel 3 hours to an event. I would rather do that than these races not take place."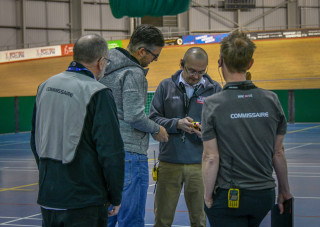 Commissaire Duties
Anne is a Regional Track Commissaire, a Regional Circuit Commissaire and hopefully by the end of April will have qualified as a Regional Road Commissaire, based on the number of road events she has lined up to attend over the coming months.
Anne's Commissaire journey started off as an email from her club secretary, asking if anyone had any interest in attending a road Commissaire course back in 2017. From there she found her passion for it.
When Anne was asked why she loves her role so much, she answered with; "It's very rewarding seeing the look on the cyclist faces when they have achieved something regardless of how long the race or where they finished. And for me that is what it is all about.......the cyclists."
Anne's overall goal is to achieve National Road Commissaire status, allowing her to be able to Commissaire at Elite road races.
Beth Nesham, Welsh Cycling Volunteer Coordinator
Beth Nesham, Welsh Cycling's Volunteer Coordinator for Wales said "Anne is a vital volunteer to ensuring that cycling events can go ahead and run smoothly. She treats her role as a Commissaire very professionally and is a brilliant advocate for the sport and deserves to be recognised for all her hard work."
Nothing is ever too much for Anne and she is always willing to lend a hand and step in last minute to ensure an event can go ahead.
"Well Done Anne, cycling events in Wales would not be possible without commissaries and you definitely do more than your fair share of running events. We are very lucky to have you as part of the Welsh Cycling Volunteer Workforce."
Thank you to Anne Arnold for becoming our Volunteer of the Month for April, Anne will automatically be entered for 'Volunteer of the Year' Award at the Welsh Cycling Annual Awards 2019 later this year.
To find out more about becoming a Commissaire and how you can become part of the Welsh Cycling Volunteer Workforce click the link here