From cycling with friends to officiating at national cycling competitions, Welsh women are making their mark in the cycling community.
During March, Welsh Cycling will be celebrating the achievements and sharing the stories of volunteers, cyclists and elite athletes in Wales to mark International Women's Day on Tuesday 8 March 2016.
Becky James, Elinor Barker, Ciara Horne and Emily Nelson are leading the way for Welsh women as they begin the month at the UCI Track Cycling World Championships in London. Their achievements on the world stage will inspire more women and girls to take up cycling.
SheCycles Wales
The results from the latest Active Adults survey from Sport Wales suggest that 71% of women would like to do more sport or physical activity. The types of activities in demand are similar to those that people are participating in most, such as cycling. The survey also indicated 16% of women are already taking part or wish to participate in cycling. Welsh Cycling offers many opportunities for women to get involved through SheCycles Wales, our programme of activities for women which includes the Breeze Network.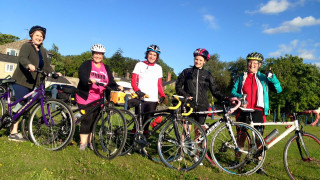 Since the pilot launch of Breeze in Wales in 2014, there have been more than 4,200 opportunities for women to take part in a Breeze ride across Wales, with a team of 111 Breeze Champions leading the way.
Esther Griffiths from Gwynedd became a Breeze Champion last summer: "Cycling helped me to reconnect with my body after pregnancies and breastfeeding, and became essential for my mental health.
I am the sort of person who always like to do things in groups and share my love of something, so the Breeze network really appealed to me. Supporting other women to share the many benefits of cycling is an incredibly rewarding experience."
As well as joining your local Breeze ride, there are women-only coached activities, taster track sessions and novice races for women supported by SheCycles Wales across the country.
#BehindEveryRace
The Active Adult survey also revealed only 9% of adults volunteer in sport, giving on average 10 hours a month of their time. This puts an enormous amount of pressure on the volunteer workforce, but with more people contributing their time each month more could be achieved.
Volunteers are integral to cycling, and we have a strong network across our 140 clubs in Wales, as well as race organisers and event volunteers. The Welsh Cycling volunteer workforce extends to commissaires, CSAS and coaches where 22% are women. Welsh Cycling would like to see more women become part of the cycling community, with more opportunities for women to become involved in 2016 as part of the #BehindEveryRace campaign.
Alison Durston from Newport is a volunteer CSAS marshal, assisting at road cycling events in Wales each year: "I became interested in cycling in the last ten years, as I could not run any longer, so I am relatively new to the sport.
I volunteer for as many races as I am able to, which is usually about 12 a year and they range from multi-stage races over a number of days to one day national events. We desperately need more CSAS marshals on the roads, and it would be great to see more women involved in Wales."
Get Involved
If you want to get involved in cycling, sign up to our SheCycles Wales E-News, or follow SheCycles Wales on Facebook and Twitter.
Get on your bike and share your ride with us in March using #SheCyclesWales