Roger Sims, a passionate cycling fan and dedicated CSAS marshal gives an insight to the experiences of race day at the 2014 Welsh Cycling Road Championships, as we recognise the people #BehindEveryRace
Red flag, whistle, florescent bib and absolutely no authority whatsoever to do anything other than warn motorists of an approaching cycle race. How times have changed and I can say after many years of being a CSAS trained marshal, my own safety and that of the riders has been vastly improved. Add in our motorcycle escort team, NEG Wales, and organisers have all the tools to run safer road racing.
The police training is brilliant and what you get from just giving one day to our sport is immeasurable. Most importantly, it gives race organisers and CSAS co-ordinator, Will Pring, a pool of people to ensure races are safely manned. At times, that pool is shallow and the same faces appear at the roadside. We need more. If it's in the back of your mind, bring it to the front and be part of road racing.
Earlier this year, I was at Llandrindod Wells for the Welsh Cycling Road Race Championships. Early planning by Will Pring told me of my position and Google Earth gave me the pictures I needed days in advance to plan where to park and assess the spot: a roundabout at the bottom of a short downhill, guiding the race on to an industrial estate road that was to be the finish at the end of lap 5 for the E/1/2/3/4 event and a third lap finish for the Masters/Juniors/Women's event. The two races were run simultaneously with a 15-minute split start for the two race convoys.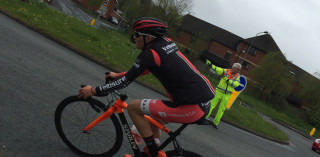 Now 16-mile laps with blustery conditions meant I was going to be there on my own for three hours plus. Boring? Never. Typical of any race, there was plenty of interest from locals and plenty of questions from race followers; Where's the feed zone? What lap are they on? How many riders are there? That kept me busy and entertained in between the safe segregatting of cars and riders.
One thing I have noticed increasingly over the years, not a single complaint from motorists, although some riders flirted with white lines! As planning, signage and road racing profile has increased, drivers are far more road race-friendly and far more interested than in the days when windows wound down and fists were waved, accompanied by un-Sunday school language. No longer do we get asked the question What right have you got to stop traffic? the CSAS scheme has fixed that. Now I make a point of acknowledging drivers' help and without exception I get a positive response, a wave of a thumbs up. I suppose it's a case of what you put in, you get out.
Shortly after 2.30pm race radio fell silent and I was able to leave my roundabout billet and return to race HQ for tea and cakes with the great Reg Pharaoh and swapping experiences of the day with other marshals. To be honest, I get that much out of it, I'm already looking forward to my next event!
Best part of the job? The junior events. The NFTO Junior Tour of Wales and Cadence Junior Road Race have seen the likes of Geraint Thomas, Luke Rowe, Pete Kennaugh, Scott Davies and Mark Cavendish race pass within earshot of my whistle. I've also noticed increasing numbers of girls entering the sport and would love to see more events for our young female cyclists.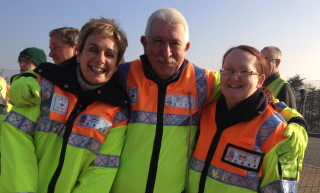 More than anything, the sport has given me a group of friends I never expected. Always a leisure cyclist, I was roped in 20 years back by John Richards, the Junior Tour of Wales founder. Getting to know people of his quality has been the bonus while still being thrilled by the skills and courage of the many competitors I've got to know. You could be missing something.
Welsh Cycling appreciates the support given by volunteers and officials and cycle events week in week out. If you want to find out more about becoming a CSAS marshal, click here for more information. #BehindEveryRace