| | |
Day 4
Date: 3rd July 2012
Elinor Barker claims gold in the Junior Women's Individual Pursuit, beating German Anna Knaeur by almost three tenths of a second to win the European title.
Elinor Barker on the podium at the U23/Junior European Track Championships
In the qualifying rounds this morning, Elinor Barker qualified fastest with a time of 2:25.725 a personal best.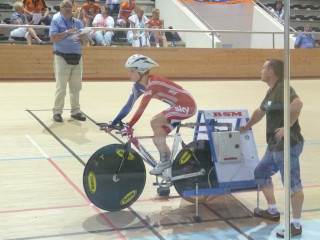 That put her in the gold medal final this evening against Anna Knaeur of Germany. Amy Roberts also rode in the Individual Pursuit, getting a personal best of 2:30.560 putting her in fifth place, just missing out on a medal ride this evening.
---
Day 3
Date: 2nd July 2012
This morning, the team went on a steady one hour training ready for the final practice session tonight, before the competition gets underway tomorrow.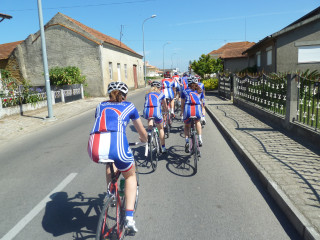 The ODP riders on their training ride in Portugal

The mens team pursuit and womens individual time trial will start the Championship event on Tuesday. The Individual Time Trial will see both Elinor Barker and Amy Roberts take to the track in the pursuit for the first medals of the championships in Anadia, Portugal.
---
Day 2
Date: 1st July 2012
Today saw Elinor Barker, Amy Roberts and Lucy Garner do a standing 1km and then a flying 2km as preparation for the team pursuit.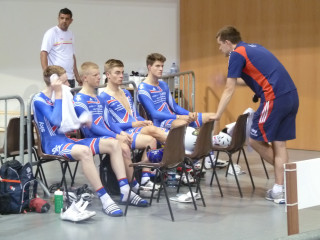 GB Junior Men with ODP coach Matt Winston
Both efforts by the Junior men and women were on schedule and the riders are making the most of the limited track time to make their final pre-race adjustments to lines and rider changes. The unique layout of the track is very different to the layout at Newport or Manchester and so getting the lines right could mean the difference between winning and loosing.
The Junior Mens team also did a standing 1km and a flying 3km and they too worked on adjusting their lines and changes to enable them to stick to schedule and ride the days worth of travelling out of the legs.
---
Day 1
Date: 30th June 2012
Elinor Barker, Amy Roberts and Becky James all took to the track for the first time today with some steady efforts just to get a feeling for the track.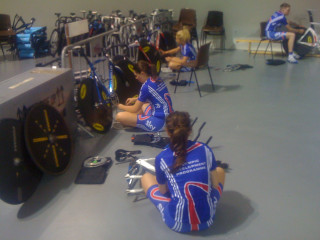 Amy Roberts and Elinor Barker preparing their bikes for training

The venue for the Championships is like no other the riders have seen before with the track 30ft above the track centre. All 3 riders are in good form and their morale is high. The first events of the championships will get underway on Tuesday with the Junior mens Team Pursuit, Junior Womens individual pursuit and the first of the sprint competitions. Welsh Cycling will keep you updated with results and news as the event progresses.