Your cycling club can now join the Velothon Club community and enjoy a number of benefits.
Becoming a listed Velothon Club is free, and is a must if you're planning on signing up for Velothon Wales, taking place on Sunday 9 July.
As a Velothon Club your team can ride together, with the same start pen allocation, personalised club bibs and reduced entry fees.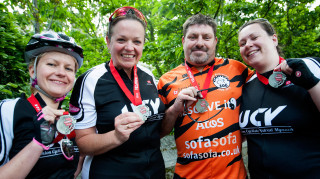 Club entry for Velothon Wales will be available soon, so make sure your club is registered ahead of the launch. The fully closed road sportive takes place alongside a UCI sanctioned professional race and offers the choice of 140 or 110km courses, both taking in some of Wales' most breathtaking scenery. Tackle the 140km if you're tough enough, with the 6km 10% incline Tumble climb.