S4C will be providing Welsh language coverage of the Tour de France this summer, as Cardiff duo Luke Rowe and Geraint Thomas bid for success in France with Team Sky.
As we approach the world's most famous bicycle race, professional cyclist Gruff Lewis says that Wales deserves to hold a stage of the Tour de France in the future.
Gruff will be part of the S4C Seiclo: Le Tour de France team as they follow all 3,519 kilometres of the race, with live coverage and highlights of each stage.
"Having a stage of the Tour in Wales would be fantastic," said Gruff, in response to the recent news that the Welsh Government hopes to attract the event to Wales.
"The terrain is great here - with plenty of challenging mountains - and everyone who does the Tour of Britain says Caerphilly Mountain is a great course. The Tour de France has been in Yorkshire, the Giro D'Italia has visited Ireland and so many quality cyclists have come from Wales, so why not? "
Leading the Seiclo presentation team again this year is Rhodri Gomer, while Llinos Lee will be bringing us the latest news from the peloton. The ap Gwynedd brothers, Rheinallt and Peredur, both cycling enthusiasts will be commentating, alongside Wyn Gruffydd, John Hardy and Gareth Rhys Owen.
Gruff, from Talybont near Aberystwyth, believes it will be an exciting event this year as reigning champion Chris Froome goes for a fourth Tour De France.
"The favourites are all in the mix and no-one has been injured in the run up to the race. People like Alberto Contador and Nairo Quintana are bound to push Chris Froome but I don't think that any particular rider has stood out recently."
But Chris Froome's campaign to capture the yellow jersey depends on the efforts of his fellow riders on Team Sky - Geraint Thomas and Luke Rowe, from Cardiff. The Tour will see Geraint Thomas return to racing after his Giro d'Italia ended prematurely with an accident back in May.
"While it's disappointing Geraint crashed in the Giro, it was quite early in the race and he's had time to rest since then. He'll be in perfect shape for the Tour de France," says Gruff.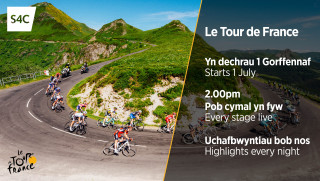 Seiclo: Le Tour de France
Live coverage and highlights
Starts Saturday, 1 July, 2.00 and 10.00, S4C
Website: s4c.cymru
A Sunset+Vine Cymru production for S4C