AberCycleFest are proud to announce that our annual 'Seafront Criterium' cycle races are now open for registration.
In collaboration with Ceredigion County Council, AberCycleFest are planning a full day of entertainment on the prom and around the town with no less than fifteen races between 1.30pm and 9.00pm on Friday 26 May.
After six years of being host to the Pearl Izumi Tour Series televised town centre cycle race, the festival are now able to continue the legacy of this event by adding the Ceredigion Grand Prix as the final event of the evening, preceeded by the Storck Bikes Women's Grand Prix. Professional male and female cyclists will continue to race in the streets of Aberystwyth, expanding the scope of the festival.
With street entertainers, trick cyclists and a mini pump track also in place, along with an estimated 500+ cyclists who will be taking part, Aberystwyth will be full to bursting.
Eager adult riders wishing to register should online today.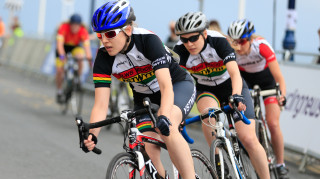 The hugely popular children's races are back, and the new processing system will ensure faster post-race results and a new podium area and more time between each race. Entries will be administered by each school individually and entry is only possible for children who live in Ceredigion. This process will also begin shortly and any interested children should look out for information on their school noticeboard or ask their teacher.
With the focus on fun, the former Town vs Gown race will now become the 'Aberystwyth University Fancy Dress Challenge' with prizes given for effort in donning fancy dress rather than any athletic prowess.
This is followed by a beginner adult race, a new Cat 3/4 race for those wishing to move to the next level, and finally the Eilte Women's and Men's races at the end of the evening.
The 1km closed circuit race course will encompass Pier St, Upper Great Darkgate St, St James Place, Seaview Place, South Promenade & New Promenade.
Our volunteer registration form is now also live and anyone wishing to get involved can sign up HERE.