Jon Mould, ONE Pro Cycling, and Ruby Miller Hargroves Cycles - Ridley RT have been crowned champions in the 2015 Prostate Cymru Welsh Cycling Criterium Championships in Porthcawl.
Jon Mould, 24, was away with a lead group of ten riders from the beginning of the race that included top Welsh riders from NFTO and Pedal Heaven. After 40 minutes of racing on the tough course, on the seafront the lead group lapped the peloton, with the winner decided amongst them.
As they took the final turn around the harbour and a up short climb, it was a sprint between Mould and Steven Roche, Cycle-Tec, that decided the Welsh champion.
Jon Mould said: "It was a tough course here in Porthcawl, but great to be back racing in Wales. It was hard from the off but it was a nice win at the end of the season for me. It's great to be racing with all the Welsh boys, I'd like to see it come back here next year."
In the women's event it was Ruby Miller, Hargroves Cycles - Ridley RT, who took the title ahead of Bethany Taylor, Bonito Squadra Course, and Janet Rees, Cardiff JIF. The three women battled it out over the course, with Ruby Miller breaking away and secured her win before starting the national cyclo cross series next weekend.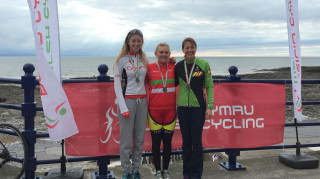 Ruby Miller said: "There were only three women in the race which was a shame, but it was a fun race being out on the course in Porthcawl and great to win the jersey."
In the Junior Men's race, late entry meant Peter Kibble, Velocity Globalbikes, won the race but the Championship title went to Alex Harvey, NFTO Race Club ahead of Will Roberts, County Cycles and Jack Williams, Energy Cycles.
In the Masters C+ Gerry Bowditch, Dream Cycling Race Team, became Welsh Champion in his category, with Del Delaronde, Cardiff JIF winning Masters E+. Steven James Hargroves Cycles – Ridley RT won the 2/3/4 race.
Earlier in the day, the youth races proved exciting with large fields of boys and girls battling for the Welsh titles up for grabs. Rhys Britton, Bush Healthcare CRT, won Youth A boys with Emily Tillett, Cardiff JIF, taking the Youth A girls title.