Stephen Williams, Pedal Heaven RT, claimed the Welsh Road Race Champion title in the E/1/2/3 event in Llandrindod Wells.
The 2015 Welsh Road Race Championships set off from the centre of Llandrindod Wells on a mild May morning, the racing was hard from the start in the E/1/2/3 event as teh best of Wales' road cyclists battled for the title pushing eachother on the undualting championship course in mid Wales.
With five laps of the 16 mile circuit to be completed, James Lewis, NFTO, made an early attack leading the race into the second lap. However, it was Williams and teammate Gruff Lewis made the winning move breaking away form the peloton, and as the peloton climbed for the final time, Williams attacked and took the solo win and Welsh Champion title.
In the second race of the day, the Welsh Road Race Championships Masters/Juniors/Women it was Cwmcarn Paragon's Richard Harris who was dominant throughout the 3 laps of the 16 mile circuit, and as the rain started to hammer down at the finish line, Harris was rewarded with the Masters C/D title in another solo win, with Courtney Rowe, Cardiff JIF honoured with Masters E+ and Fellow Cardiff JIF rider Janet Rees taking the Senior Women's title.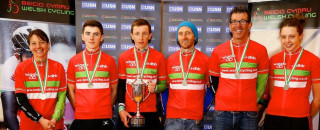 In the Junior Men's category it was another victory for Cwmcarn Paragon as Alex Touche took the title, with junior rider Megan Chard M&D Cycles/Fusion RT/WORX taking the Junior Women's road title for 2015.
Welsh Cycling would like to thank all event officials, volunteers, competitors and clubs for producing an exciting Championships in 2015.
Results
Overall
1st Stephen Williams - Pedal Heaven RT
2nd Gruffudd Lewis - Pedal Heaven RT
3rd James Phillips - Dream Cycling Race Team
Second Cat
1st Andrew Williams - Cwmcarn Paragon CC
2nd Dylan Kerfoot-Robson - Mountain Trax RT
3rd Josh Burns - Velosure Starley Primal
Third Cat
1st Ashton St. Hill - Forza Cycles Racing Team
2nd Dan Taylor - Acme Wheelers CC
3rd Gethin Llewellyn - Swansea University RT
Fourth Cat
1st Alex Thomas - Onit Cycle
2nd Lee Perrott - Swansea Wheelers
3rd Andrew Rowles - Cardiff Ajax
Junior Men
1st Alex Touche - Cwmcarn Paragon CC
2nd Alex Harvey - NFTO Race Club
3rd David Tudor - NFTO Race Club
Master C/D
1st Richard Harris - Cwmcarn Paragon CC
2nd Matt Beckett - Cardiff JIF
3rd Graeme Boswell - Cardiff Ajax
Master E+
1st Courtney Rowe - Cardiff JIF
2nd Richard Lawrence - Pontypool RCC
3rd Del Delaronde - Cardiff JIF
Senior Women
1st Janet Rees - Cardiff JIF
2nd Catherine Coley - Ludlow CC
3rd Charlotte McKernon - Rhos on Sea CC
Junior Women
1st Megan Chard - M and D Cycles/Fusion RT/WORX