|
---
The Project 2018 Race Series is now well underway with four of the twelve rounds already complete. Round five, the Marsh Tracks Spring Criterium, will take place at Marsh Tracks Closed Circuit in Rhyl on Sunday 14 April.
Marsh Tracks hosts regular circuit races on the purpose built track with competitors regularly travelling from across north Wales. And at Sunday's Project 2018 road circuit event they hope to see a larger field with riders from all over Wales.
Marsh Tracks Spring Criterium is open to all categories of youth riders, from A to E and there are also events for juniors and seniors on completion of the youth races.
Sign on opens at 1.00pm at the Marsh Tracks building, with the track available for warm up from 1.00pm until racing begins. There will also be an opportunity to warm up for a short time between races. Youth racing will start promptly at 2.00pm with adults starting at 3.30pm.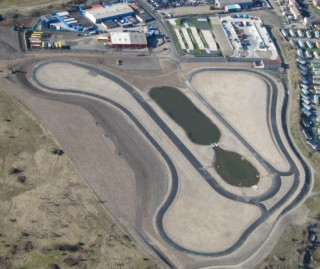 The circuit is 1.25km with fast sweeping corners and a 300m long and 8m wide finishing straight, which with the usual prevailing wind can make it a tough sprint.
Alan Overson, organising the event with Marsh Tracks Racing Team, is looking forward to the event: "I'm looking forward to seeing the youth and junior riders from the area who have been training throughout the winter on the road race circuit compete in the Project 2018 Race series at their home venue. They have shown dedication through the winter and early spring in challenging conditions which has been inspirational. It will be great to see them race against their peers from all over Wales here at Marsh Tracks."
Online entry is encouraged and is open until Thursday 11 April.
Find out more about the Project 2018 Race Series and check the series standings.