Report: Hannah Pole
Photography: James Hansell and Huw Fairclough
_________________________________________________________________________________
If Welsh cycling track star Elinor Barker clinching yet more World Championship titles on foreign shores isn't enough to wet your cycling appetite, so the outdoor road season sets in motion on home turf this weekend with two opening criteriums at Marsh Tracks and Llandow.
Amid the rush to shed the wintery cobwebs and get everything prepared, event organisers David Bees and Mark Colclough share some time to tell us their inspiration behind setting the domestic season off to flying start.
Racing at Llandow. Photo: Huw Fairclough
Marc, a member of Rhos-on-Sea CC, is organising the first of a new race series at Marsh Tracks in Rhyl, a pan-flat, fast-flowing race circuit, and a thriving community hub for cycling that has continued to flourish since its opening just over two years ago.
His event, the first of three in the Race to the Spring Series, takes place on Saturday.
"It's about bringing about that buzz of enthusiasm for the season," explains Marc, a keen time trialist and road cyclist.
From the outset, it's encouraging to see events being born on the back of an unrivalled passion for getting on the bike, and a desire to share it with others.
Marc's enthusiasm for cycling was reignited in 2010 when he got back on a bike to stay healthy. A cycle-to-work scheme got him started and he hasn't looked back since, joining Rhos-on-Sea CC and becoming the club's top time trialist and most improved rider.
It's clear the Forza RT Season Opener will be inspired by the same means when it brings Llandow Circuit to life on Sunday.
"I've taken a lot from the sport as a rider," explains David, who has spent the best part of his career racing bikes on the continent, "So I like to give as much back as I can. It gives others the chance to enjoy racing like I did at a local level. It also shows what even the small clubs and teams can achieve."
Indeed, Forza Cycles Race Team anticipate around 100 riders taking part this weekend, from elite to youth.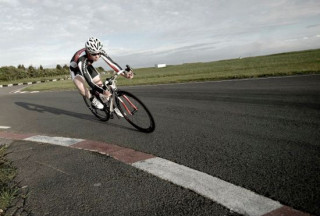 Forza Cycles Race Team and race organiser David Bees in action. Photo: James Hansell
It's not come without the help of local volunteers and supporters. Infographics Ltd will supply bespoke race numbers, with digital timing equipment from Timothy Cummings and further support from Kingswood Insurance.
Meanwhile, Race to the Spring has been boosted by significant input from Rhos-on-Sea CC committee members, and experienced Commissaires like Dave Robson. Not to mention the volunteers who will give their time to making both events possible.
What's certain is that this weekend will see racing that responds to riders, and both organisers have clearly put in their homework to get these events off the ground.
"Last year feedback from local road racers suggested it would be good to have a crit this early on, to get a feel for bunch racing before the main road races come," says Marc.
David too is quick to recognise the importance of early-season openers for giving riders 'the bug' for racing, including Wales' thriving youth membership:
"For the youngsters new to the sport, it will help them to learn a little race craft before the season kicks off for them," he explains
"The seniors will use the opportunity to blow off the cobwebs and see how effective training has been throughout the winter. That's important for gaining a perspective of the competition for the season ahead."
Their experience of bike races has certainly helped to shape these events with riders in mind: "It's an early season test, a good lung opener to test the engine," Marc explains.
"It's great for riders to steal some points and see where they are for the rest of the year," he says, though a long winter season spent pounding the turbo has clearly fuelled a few appetites, and there is something in his response which suggests early-season racing is as much about rekindling spirits and gaining focus, as it is a gauge of progress.
"It's a chance to get re-acquainted with familiar faces, meet new racers and enjoy the feeling of pinning a race number on again," he adds, with a smile.
A chance to shake off the winter cobwebs.Photo: James Hansell

So what can riders expect this weekend?
"Llandow offers a safe and quality environment for everyone to race," confirms David. "The youth racing is always great to watch, and the 3/4 race is well-attended and one of the more competitive events," he finishes, and we can sense his excitement.
For Rhos-on-Sea CC the highlight of the weekend will be demonstrating what Marsh Tracks has to offer: "Despite being in North Wales, Marsh Tracks is not so remote as it sounds," Marc says. "We want to attract more riders from the North West, show the travel distance isn't all that far and what a great facility it is."
Guaranteed to make an impression, it is too. With its notoriously challenging but thoroughly rewarding headwind and flowing bends, it's particularly suited to the sprinters and anyone looking for an exciting finale down the finish straight.
But with expectations high for setting a quality precedent that riders may continue to expect, we wonder if there's any pressure affixed to running the opening events of the circuit season.
David is not deterred: "What we run is very small in comparison to the likes of the Etape de la Defonce two-day stage race, which requires a lot of effort and time. We simply aim to run a successful event where everyone wants to come again.
"Everyone's keen to race, we're expecting big numbers and everything's provided for. If you forget you race food, don't worry," he assures. "Everything you need on the day will be supplied from Forza Cycles."
For Rhos-on-Sea CC, it's a chance to put Marsh Tracks in the spotlight and show the circuit is well worth a second visit. The club hopes to learn from the experience this year so they can refine the event and know what to expect next time.
Both organisers have exciting plans lined up for the year, with possible closed-road racing and a series of criteriums already in the British Cycling Online Calendar. With every possible detail in place, it's down to the riders to come along and enjoy some quality racing.
Upcoming events at Llandow this year
Forza Summer Criteriums (beginning May)
JIF Summer Criteriums (July-September)
Upcoming events in North Wales
Great Orme Road Race (September)