The Tour of Britain will return to Powys for a third successive year this September, as Welshpool hosts the start of Stage Six of Britain's biggest professional cycle race.
Following the success of last year's Welsh Stage, a repeat is on the cards for 2012 with the National Trust's Powis Castle providing a scenic backdrop to the start of one of the toughest stages of the race.
Officials from Welshpool and Powys launching The Tour of Britain Stage

Helping launch the stage at the National Trust's Powis Castle were Rapha Condor Sharp's Luke Grivell-Mellor and 1955 Tour of Britain winner Tony Hewson, both of whom live locally.
Cllr Graham Brown, Cabinet Member for Regeneration and Culture, said: "We are delighted that the race is returning to Powys for a third year in succession. The event is the country's best known and most viewed cycling event and provides a wonderful showcase for the county. The first two events proved a huge success with thousands of visitors flocking to Powys, providing a welcome boost to the economy."
Race Director Mick Bennett said of the course: "We've designed a spectacular Welsh stage this year to start off what will be three very tough days for riders in The Tour of Britain. The race start at Powis Castle may be one of the most picturesque in professional cycling, but that doesn't undermine what will be a very challenging route that is sure to play a key part in the battle for the race leader's IG Markets Gold Jersey."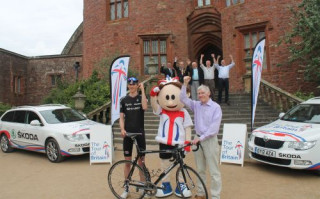 Luke Grivell-Mellor with Tony Hewson outside Powis Castle

Riders will depart from the National Trust's Powis Castle at 10.15 on Friday 14th September, taking in a ceremonial lap of Welshpool town centre, before tackling a 189.6 kilometre route through the heart of Mid-Wales to the finish in Caerphilly.
On the way through Powys almost 100 of the world's top cyclists will race through Montgomery, Newtown (host to a stage start in 2010), Llandrindod Wells, Builth Wells and Brecon, before the SKODA King of the Mountains climb of the Brecon Beacons takes the race into South Wales.
Familiar roads from the 2010 and 2011 editions of The Tour of Britain guide the peloton through Powys as far as Builth Wells, before this year's route takes the race up and over Epynnt for the SKODA King of the Mountains climb of Cwm Owen, via the B5420 Builth/Brecon Upper Chapel Road, adding an extra challenge to the Stage Six route.
For details of The Tour of Britain, go to www.tourofbritain.co.uk
You can follow The Tour of Britain on Twitter, via www.twitter.com/tourofbritain