End of the season - 2011
I came into 2011 with three main targets; the Welsh RR in May, the US Masters Nationals and the UCI World Masters, both September. I came pretty close to winning the Welsh in 2010 so figured it was worth a shot again. To clarify to those intrigued in my eligibility, it has been researched by myself and the necessary officials and the bottom line is that I can compete in either the US or Welsh but not in the same classification. I don't have the resources for numerous flights and so for two years now I have chosen to do the Welsh Senior RR Champs (having won the vets in 2009) and the US Masters, which my green card gives me eligibility for. Maintaining my Welsh roots is very important to me, having lived in South Wales until aged 36. So I race for Cardiff Ajax in Wales whenever I am home and another team in Atlanta, Ga which is where I have lived for twelve years.
The first part of the season went very well and I came into the Welsh in good form, and with a course that provided separation opportunity I was looking forward to it. Having the UK youth team fire the race up was very exciting and it made the tactics simple, hang on and try and get away with one of them at the right time. Everything went well, and Gruff Lewis and I jumped away for the last 6 miles. I threw everything at him the last mile or so, but he was too strong. I never mind losing if I raced well and gave it everything, which was the case here. Although two years running and a bike length each time from the win makes me think at 48 those were my chances.

A close 2nd at the Senior Welsh Road Race Championships
I came back to Atlanta and won back to back road races at Elite level and was starting to wonder how I could hold this form and avoid becoming stale between June and September. The answer came in the form of a decent sized Deer which I hit head on at 37 MPH going downhill in a Crit (The Deer died). I really don't remember the impact, but I do remember sitting awkwardly in the road with a dislocated shoulder, broken clavicle, six broken ribs and only half a lung working while my HR was still at 170. I know cyclists are supposed to be tough, but I'm not, I can deal with the internal suffering, but external pain I struggle with. I bleated to someone else brought down that he should keep an eye on me in case I passed out, to which he replied "I've got my own *******problems". Six nights in a Trauma center, with lung tube between my broken ribs was no fun, but with a sympathy purchased ipad from my wife I had plenty of time to plan the ten weeks to US Nationals, which included 4 weeks recovering and six weeks training like hell. My wife did me a huge favor by not allowing me on the roads to train. I had to be driven to an old disused and now converted path called the Silver Comet Trail. It is pancake flat, no stop signs, no traffic lights, but it runs all the way to Alabama (about 50 miles). So 2 hrs out and back on a regular basis both weekend days ended up being an amazingly hard 90 mile tempo ride that brought fitness back very quickly and with almost no risk of crashing and aggravating my injuries. During the week it was 6am jaunts around Central Park in NY before work.
US Masters Nationals TT, Bend Oregon. This is just a fantastic place for bike racing; great roads, not much traffic and set in the foothills of the cascade mountains, plus wonderful weather 8 months of the year. The TT couldn't have gone much better, a steady 4% climb for the first five miles, then a fast return on the same road followed by a six mile undulating circuit. I was defending champion and really wanted to defend successfully, which I did so with a 29 second margin.
Crit: Two days later I was racing for my team mate. A very fast 0.7 mile four corner city center circuit made it very difficult to actively find each other with a 110 rider field. I got him near to the front at the bell, but it wasn't to be. I was just happy to avoid the crashes.
RR: This was the one I really wanted to win. Another 110 strong field, and a lovely course with enough hills to enable it to be broken up. I thought I had screwed it up early with a solo attack that nobody bridged to, but by the start of the third and final lap I had someone with me on a second attack and we worked great together building a 70 second lead with 8 miles to go. However, he asked to ease up but wouldn't give it to me, so we ended up racing way too early. I finally got away with 4 miles to go and managed to hold 30 seconds to the finish (he was caught).
I was delighted to say the least to come away with two jerseys, especially after the crash, but the next four days got worse. I had to drag two bike boxes and one other check in bag through Portland Oregon with two hours sleep to Atlanta, and two sore shoulders. Then a red eye to Brussels the following day meeting up with my family. My right shoulder was in a right state with just three days to the UCI Masters
TT in Stavelot Belgium. I took two days completely off the bike and then tried the TT bike the day before. I could not rest my forearm on the aero bar, so just rode in the bull horns when checking the course out. Hoping that race adrenalin would mask the pain on race day. The course was great for a climbing TTer like me, but the final descent into Stavelot had me full of nerves, 11% downhill with a 90 degree turn onto the cobbles and then 400 yards to the finish. I just prayed it wouldn't rain any more.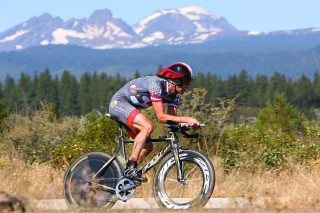 The morning of the TT was damp, but not raining. Twenty minutes before my start time I was 10 minutes out on a warm up when my disc flatted. I had to ride the thing back flat and sliding on the damp road leaving just enough time to put my road wheel on, then at the start the heavens opened up. So, recently broken bones, sketchy descents, pouring rain, Aero helmet visor not allowing me to see properly and I was off. I gave it everything and sensed that the climbs were going well. I had one slide on the final descent but managed to stay upright, many didn't. I wanted to win, sure, but I got second. The Russian winner was far enough ahead of me so I have no illusions that if I'd done something different it might have been me, and in fact I was only 1 tenth of a second ahead of third, so I am chalking this one up as the best I could have hoped for. Even though the UCI Masters is for old folk, and not the real thing I have to say it was a very nice experience to get the medal.
Two days later the RR was supposed to be in sunshine. It poured the whole race again, this was Belgium I guess. The course was fantastic though. All too often course designers make Masters races too soft, too short, but this was done the right way; 67 miles with seven great climbs, many of which figure on Liege Bastogne Liege. The final climb of 1.1k was a 15% gradient up the cote de Stockeu, just great. About 150 toed the line, having qualified at one of the eight qualifying races throughout the last year. The first 35 miles was flat and then the climbs started. Each climb shrunk the race substantially, and while I was coming unglued on the descents I managed to just about stay in touch. We were down to about 15 on the sixth climb which was about 5k. I wish I could have this part of the race again, two guys jumped half way up (Italian and Dutch, ended up 1st and 2nd), I missed them and wasn't strong enough to bridge. Eight of us separated from the rest and crested that climb in pursuit, but we couldn't get organized to chase, and nobody sacrificed themselves as we were all representing different countries. We hit the base of the cote de Stockeu and I tried everything to secure 3rd place but only got 4 seconds at the top over four riders. They all passed me on the descent to the finish, but one crashed out and I came in 6th, 4 seconds off 3rd place.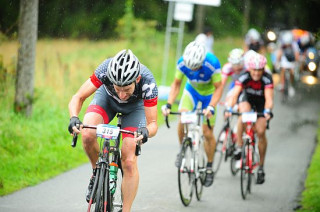 All in all it was just great fun racing. I am lucky to have a family that allows me to get my priorities in life so horrendously wrong thereby enabling me to be somewhat competitive at 48.