Sunnybank Farm, Monmouth, hosted Round 2 of the HSBC UK | National Cross Country Series with a strong turnout of riders from across the country this weekend. Despite a course rethink on the Saturday due to poor weather conditions, the track was open in full for racing on Sunday.
Hope Factory Racing's William Weatherhill stormed to victory with a 90 second lead in the Sport Male Category, looking cool and collected as he crossed the finishing line.
The track played havoc with both riders and their equipment, with major mechanicals early on in their races, with one rider completing the race with only one gear; a hard feat considering the gruelling climbs, but absolutely crucial in gaining those valuable points for the series.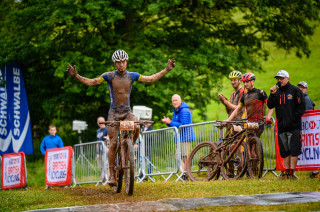 Next on the grid were the women's races, lining up in weather that could only be served up in the UK. The track was grippy but humidity set in, and with that came its own challenges, with riders struggling to keep up the pace in the heat.
Anna Kay took the victory in the Elite Female category and Carolyn Speirs rode for the win in the Female Super Vets, having left everything she had on the course.
As the afternoon went on the rain fell… heavily. The Male Elite, Junior and Expert categories geared up for a soggy race as the puddles formed.
However, there was no time to think about the weather as a mechanical caused a five-rider pile up on the start line as the whistle blew. Thankfully, all riders were able to get up, with just a drivetrain the main casualty.
As the race progressed the track became a mud-fest and the Commissaires had to make the difficult decision to end the race early due to treacherous conditions, limiting the number of laps to seven across all categories (to the delight of all riders and soaked spectators). Ben Wadey took the win in the Elite Male.
Massive thanks to the team at HSBC UK | National Cross Country Series and the landowners for ensuring a well organised event. Extra kudos to the timing guys for coping under the added pressure of the expanding lake upon their timing tent, threatening a very soggy cave-in!