British Cycling can today announce the dates for the 2021 domestic mountain bike calendar, which begins with the first round of both the cross-country and downhill series on the weekend of 17-18 April.
While the entire 2020 season was lost to the Covid-19 pandemic, a number of the cancelled events in the downhill series have been successfully rescheduled, including the rounds in Llangollen, Innerleithen and Caersws, and the national championships in Rhyd-y-Felin. The round at Innerleithen will be the first to take place at the venue since 2014.
A close-fought 2019 series ended in victories for Becci Skelton and Joe Breeden, while Stacey Fisher and Danny Hart will be looking to retain their national champions' jerseys following their victories at Revolution Bike Park.
While we are not currently able to announce the venues for the HSBC UK | National Cross-country series, the five-round series will run from 17-18 April to 14-15 August, with the HSBC UK | National Cross-country Championships taking place on the weekend of 24-25 July. The venues for the series will be announced in due course.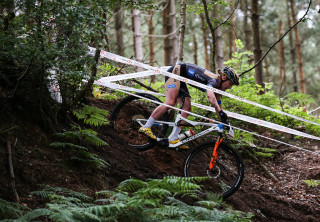 In the 2021 series Kerry Macphee and Grant Ferguson will be defending their national series titles, while Frazer Clacherty and Annie Last were victorious in the 2019 HSBC UK | National Cross-country Championships at Cannock Chase.
The HSBC UK | National Marathon Championships will take place on Saturday 7 August 2021, with the venue also to be confirmed. Ben Thomas and Ruth Miller will return as defending champions.
HSBC UK | National Downhill Series (Updated)
Round 1: Hamsterley – July 10-11 (New venue and date)
Round 2: Innerleithen- August 07-08 (New date)
Round 3: Caersws – September 25-26
Round 4: Antur Stiniog - October 09-10 (New date)
Our team is continuing to work hard to add an additional round into the series, with more details to be confirmed. Event entries will open on Friday 21 May 2021 at 12:00.
HSBC UK | National Downhill Championships
Rhyd-y-Felin, Wales, 17-18 July
Event organiser: Pearce Cycles
HSBC UK | National Cross-country Series (Updated)
Round 1: 5 - 6 June, Woody's, Fowey
Round 2: 3 - 4 July, Sunnybank Farm, Monmouth
Round 3: 14 - 15 August, Crow Hill, New Forest
Round 4: 4 - 5 September, Newcastleton
Round 5: 11 - 12 September, Cannock Chase
*Discussions with the Round 3 venue are ongoing and further information will be released once we are in a position to do so.
HSBC UK | National Cross-country Championships
Newnham Park - Plymouth, 24 - 25 July
HSBC UK | National Marathon Championships
Kielder Forest, 7 August