Dylan Kerfoot-Robson, Team Wiggins, secured his third consecutive Welsh Mountain Bike Cross Country title in the blistering heat at the Royal Welsh Show Ground this weekend.
Making a return to mountain biking, Kerfoot-Robson took the win, completing 7 laps of the challenging 4.5km circuit to become the senior men's champion.
Denbighshire's Dylan Kerfoot-Robson said: "I'm super happy to retain my Welsh title for a third consecutive year.
It was a great course and weather to match. The racing was flat out, with a very competitive field, I was pushed all the way for the race win.
I'm not sure what the rest of the season holds for me off-road, but will be heading to the Isle of Man for the HSBC UK National Road Championships at the end of this month."
Lee Williams, Unattached, and Stephen Hodge, Plymouth Corinthian CC, completed the Championship podium, whilst Joe Griffiths and Steven James, Hope Factory Racing, were second and third in the series results.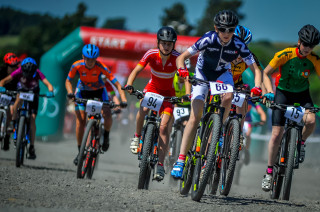 The weather added another element to the days racing, with the scorching heat challenging the competitors in all fields. The course also offered a preview to the HSBC UK National Cross Country Series round that is heading to the Show Ground in August, promoted by John Lloyd Racing Ltd and The Bulls.
In the youth races, Alfie Davies, Cycle-Tec and Freya Evans, The Bulls, were the first champions of the day to be crowned in the Under 12s race. Ben Bright, Marsh Tracks RT, become Juvenile Boys champion, with Abergavenny RC's Maddie Osbourne crowned Juvenile Girls champion. Josie Nelson, Litchfield City CC, took the Youth Girls title from Towy Rider Eluned King, whilst Marcus Holmes, Litchfield City CC, won the Youth Boys race but it was second place Scott Williams, Marsh Tracks RT who claimed the Welsh title. Katie Hesden, Dreigiau Coed y Brenin Dragons, and Joe Beckingsale, Abergavenny RC, were the winners in the Junior categories.
Samantha Toop, Army Cycling RT became Women's Masters champion, and Hafren CC's Ashley Banks became the Men's Masters champion. CC Abergavenny's Tim Davies won the Grand Veteran Men's title, Andy Firman, Cycle-Tec, won the Super Veteran championship and Dan Lewis, RAF CA, won the Veterman Men's title.
The Welsh Mountain Bike Cross Country Series concludes on Sunday 30 July, where the series winners will be confirmed.
Results
Welsh Mountain Bike Cross Country Series Round 4
Welsh Cycling Mountain Bike Cross Country Championships
Under 12s
Boys
1st Alfie Davies, Cycle-Tec
2nd Luke Williams, Clwb Beicio Mynydd Dyffryn Conwy
3rd Oscar Davies, CC Abergavenny
Girls
1st Freya Evans, The Bulls
2nd Evelyn Higgins-Worrall, Abergavenny RC
3rd Layla Bradbrook, Marsh Tracks RT
Juvenile Boys
1st Ben Bright, Marsh Tracks RT
2nd Spencer Davies, CC Abergavenny
3rd Sam Holwill, Hafren CC
Juvenile Girls
1st Maddie Osbourne, Abergavenny RC
2nd Hollie Bradbrook, Marsh Tracks RT
Youth Boys
1st Scott Williams, Marsh Tracks RT
2nd Iwan Evans, The Bulls
3rd William Harding, Marsh Tracks RT
Youth Girls
1st Josie Nelson, Litchfield City CC
2nd Eluned King, Towy Riders
Junior Men
1st Joe Beckingsale, Abergavenny RC
Senior Men
1st Dylan Kerfoot-Robson, Team Wiggins
2nd Lee Williams
3rd Stephen Hodge, Plymouth Corinthian CC
Master Women
1st Sam Toop, Army Cycling RT
2nd Jane Rayner
3rd Lucy Marshall, North Wales MBA
Master Men
1st Ashley Banks, Hafren CC
2nd Richard Morgan
3rd Ian Fairley, Gower Riders
Veteran Men
1st Dan Lewis, RAF CA
2nd Jon Roberts,
3rd Lee Davies, Cycle-Tec
Grand Veteran Men
1st Tim Davies, CC Abergavenny
2nd Ross Porter, Cwmcarn Paragon
3rd Martin Hughes-Dowdle, Gower Riders
Super Grand Veteran Men
1st Andy Firman, Cycle-Tec
2nd Clive Powell, Dambusters
3rd Michael Smith, Dreigiau Coed Y Brenin Dragons